Month 7:15, Week 2:7 (Shibi'i/Sukkot), Year 5935:186 AM
SUKKOT SHABBAT 7:2, Sukkot (1/8)
Gregorian Calendar: Wednesday 12 October 2011
Sukkot 2011 I
The Tent of Perfect Tavnith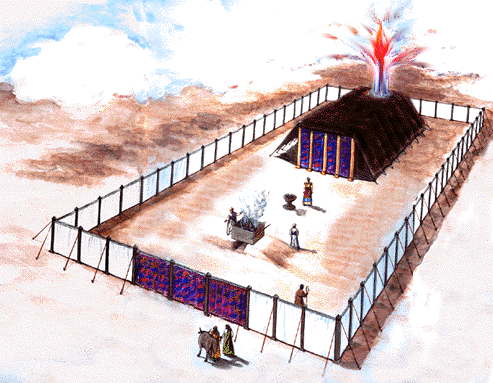 "The fifteenth day of this seventh month shall be the Feast of Tabernacles for seven days to Yahweh. On the first day there shall be a holy convocation. You shall do no customary work on it. For seven days you shall offer an offering made by fire to Yahweh. On the eighth day you shall have a holy convocation, and you shall offer an offering made by fire to Yahweh. It is a sacred assembly, and you shall do no customary work on it" (Lev.23:34-36, NKJV).

"You shall observe the Feast of Tabernacles seven days, when you have gathered from your threshing floor and from your winepress. And you shall rejoice in your feast, you and your son and your daughter, your male servant and your female servant and the Levite, the stranger and the fatherless and the widow, who are within your gates. Seven days you shall keep a sacred feast to Yahweh your Elohim (God) in the place which Yahweh chooses, because Yahweh your Elohim (God) will bless you in all your produce and in all the work of your hands, so that you surely rejoice. Three times a year all your males shall appear before Yahweh your Elohim (God) in the place which He chooses: at the Feast of Unleavened Bread, at the Feast of Weeks, and at the Feast of Tabernacles; and they shall not appear before Yahweh empty-handed. Every man shall give as he is able, according to the blessing of Yahweh your Elohim (God) which He has given you" (Deut.16:13-17, NKJV).
Chag sameach Sukkot and Shabbat Shalom kol beit Yisr'el - a blessed Feast of Tabernacles and peaceful Sabbath to you all! It is the 14th day of the 7th month and falls on a regular sabbath according to the Creation Calendar as does its reflection, Chag haMatzah and the mid-way festival of Shavu'ot, the three pilgrimage festivals which a male representative from each family had to attend each year. Therefore we do not need to add all these extra 'High Sabbaths' invented by the Talmudists since Yahweh has ensured that all three moedim (appointments) occur on regular sabbaths, including Shemini Atseret which concludes Sukkot. I just love things when they are simple and tidy!

Sukkot is the concluding festival of the annual cycle of Yahweh's moedim or divine appointments with His people. It is the culmination of a long journey that started all the way back at Pesach with the childen of Israel huddled in their homes as the destroying angel passed them by, protected by the lamb's blood on the doorposts, and it ended with the entry into the Promised Land. A huge spiritual journey of salvation and deliverance is depicted between these two festivals, starting with individual conception in Messiah and culminating with the highest degree of heaven, the resurrection of the 100'ers. This might therefore also be called the Festival of the Hundredfold - it is the place where as stewards of the Most High we have multiplied the gifts orginally given to us and qualified, by our emunah faith, to inherit all that the Father has to give to us. May we all, one day, come up to this great blessing!

There is so much that could be said about Sukkot and fortunately we have eight days in which to do so, but I do have one very special prophetic message for you today, this being a sabbath with the promise of gifts of emet (truth) from Yahweh. Sukkot is the plural of sukkah and literally means a 'booth', 'tabernacle' or 'hut' and is so named, exoterically, as a reminder of the simplistic, spartan lifestyle that our forefathers had in the wilderness of Sinai during their long wandering. But though their homes were simple, they were also supernaturally provided for: clothes and shoes never wore out and manna rained down from heaven six days a week! Imagine not having to shop for new robes and sandals for an entire generation! Now that might not suit the fashion-minded among you but than surely that is one of the points: Yahweh provides for our needs but not necessarily for our wants.

One of the things I like about the Swedes, for which they are well-known, is that national virtue of being frugal and thrifty. They are careful with the resources that they have and as a result have become prosperous. This is without doubt one of the Israelite ideals and was something imposed by Yahweh on the people in their long desert journey. It is a lesson we would do well to learn now given the hard times that are coming to Western nations once prosperous but alas also careless with abundance. The harsh wintery landscape of Sweden has forged this national trait just as the desert forged Israel's. And we can apply this lesson further: Yahweh puts us through restrictions, gives His genuine talmidim (disciples) only what we need and no more, to teach us to develop essential qualities that mark those who belong to Messiah.

Interestingly enough, the same period of time in the Sinai desert also finds the construction, for the first time, of the mishkan or tabernacle. After 40 days in the mountain, Moses returned to the children of Israel with precise instructions for the construction of His set-apart (holy) Bayit or House, the place where Yahweh would dwell with His people. Not only will you have noticed the numerical relationship between the 40 year wandering and the 40 day communion Moses had with Yahweh, but hopefully you have by now seen there is a relationship between the small sukkot the people lived in and the big Sukkah required by Yahweh as a place for Him to abide with His people on earth.
"Let them make Me a sanctuary, that I may dwell among them. According to all that I show you, that is, the pattern of the tabernacle (mishkan) and the pattern (tavnith) of all its furnishings, just so you shall make it" (Ex.25:8-9, NKJV).
Many scoff at the idea of a physical space being made for Yahweh to live in, given that He inhabits the whole Cosmos, but they betray their ignorance and the way dimensions connect. Unlike the permanent structure that would become the Temple of Solomon in Jerusalm several generations later, the Mishkan or Tabernacle was portable. In other words, it could be packed away and reassembled anywhere in the desert and, presto, there was that Sacred Space again! Think about that for a moment for what this is showing us is precisely that Yahweh is not limited by physical space. Where was He when the Mishkan was on the move? Did He suddenly disappear? That may appear to be the case when adjudged with the physical eye with its programming to measure in three dimensions only but, no, Yahweh's dwelling place did not vanish when the tabernacle was packed away and the caravan of immigrants was on the move. That sacred space was still there even though it was no longer visible when the Mishkan was dismantled.

One of the tendencies of the flesh is to reduce everything - especially Elohim (God) - to our own level. One thing the B'rit Chadashah Scriptures (New Testament) teach us is that Yahweh dwells in another kind of mishkab called a physical body. And not only that, but the complete assembly of Messianic Israel - every spiritual regenerated soul that belongs to Yah'shua (Jesus) is also a mishkan, even as Paul taught:
"Do you not know that you are the temple of Elohim (God) and that the Ruach Elohim (Spirit of God) dwells in you? If anyone defiles the temple of Elohim (God), Elohim (God) will destroy him. For the temple of Elohim (God) is set-apart (holy), which temple you are" (1 Cor 3:16-17, NKJV).
Now it is not too difficult to visualise a single human body as a temple or mishkab but it does stretch our earthly sense to visualise Yahweh's Temple as the sum total of all true believers, living and dead, which Scripture also calls the Body of Messiah. And yet it is. Yahweh is not limited by three-dimensional space even though He manifests in it. He is in all dimensions and exists in the tiniest atom as well as the Cosmos as a whole. The space He dwells can be metaphorically 'folded away' as the portable tent in the desert was, and then be 'opened' once again so that He is once more visible. That is how Yahweh manifests to us today. He 'comes' and He 'goes' and yet He is always there. We are never alone. When we cannot see or sense Him, we are to walk by emunah (faith) that He is there, remembering the principles of the portable tabernacle in the wilderness.

I hope you find this comforting and that it will expand your awareness of our Heavenly Father. He moves between dimensions and yet He simultaneously inhabits all of them. Yahweh said in the earlier passage we read that He commanded the building of the sanctuary "that I may dwell among them". What exactly does that mean? To establish a relationship between individuals there must be moments of intimacy, of accute awareness of the presence of the other. The purpose of the Tabernacle was to enable precisely that. But when the camp of Israel was on the move, and the Tabernacle was folded up, was Yahweh no longer visible or present? On the contrary, He manifested Himself in two other different ways as a pillar of fire by night and cloud by day.
"And Yahweh went before them by day in a pillar of cloud to lead the way, and by night in a pillar of fire to give them light, so as to go by day and night. He did not take away the pillar of cloud by day or the pillar of fire by night from before the people" (Ex.13:21-22, NKJV).
But those pillars were not only present while the nation was on the march. It was also there as a visible sign to the people of the sacredness of the Mishkab:
"Whenever Moses went out to the tabernacle, that all the people rose, and each man stood at his tent door and watched Moses until he had gone into the tabernacle. And it came to pass, when Moses entered the tabernacle, that the pillar of cloud descended and stood at the door of the tabernacle, and Yahweh talked with Moses. All the people saw the pillar of cloud standing at the tabernacle door, and all the people rose and worshiped, each man in his tent door. So Yahweh spoke to Moses face to face, as a man speaks to his friend. And he would return to the camp, but his servant Joshua the son of Nun, a young man, did not depart from the tabernacle" (Ex.33:8-11, NKJV).
Now what is interesting here is that in the original Hebrew Yahweh's Sanctuary and the tent at which each man stood to worship are both 'ohel, the Hebrew word for 'tent'. Strictly speaking the translators ought to have called the "Tabernacle" the "Tent" - Yahweh's Tent and each man's tent because the latter is supposed to be a similitude of the former, whether it be a man's bayit (household) or his own body, which is also described in scripture as a "tent". Paul said:
"For we know that if our earthly house, this 'ohel (tent), is destroyed, we have a building from Elohim (God), a bayit (house) not made with hands, eternal in the heavens" (2 Cor.5:1, NKJV).
All of this should be sending us multiple waves of revelation. We are built like Yahweh because we are made in His image. Therefore, if we want to walk like Him, we need to do certain things. What are these things? These things are hidden up in the construction of the Mishkab, the tavnith or pattern which Yahweh was so strict about saying had to be reproduced in the minutest detail. For in this tavnith is the secret to a close walk with Him and a continual awareness of His presence.

Yahweh wants to dwell with you and me, and Sukkot or 'Tents' is His way of showing us how we can do that if we follow tavnith (pattern). Each year we remind ourselves of these things and I use the tent or sukkah we are worshipping under as an illustration. I hope you will always remember the symbolism for it is they key to our very way of life with Him. The construction of the portable Sanctuary is to teach us about holiness and relationship, how to approach Him and how not to, how to understand dimensions and how to move between them, something that will become increasingly important in the days of violent persecution that lie ahead. Even as things are, we struggle, and yearn for closer communion with our Master, do we not? Thus Paul would say:
"For we who are in this tent groan, being burdened, not because we want to be unclothed, but further clothed, that mortality may be swallowed up by chayim (life)" (2 Cor.5:4, NKJV).
Do you hear that? We are admonished not to want death (being unclothed of our physical body) but by being "further clothed". And to what end - for what purpose? So that "mortality may be swallowed up by chayim (life)". feeling as ill as I have been for the past two weeks, I can relate to Paul's words here, because in illness we get a taste of death, that hideous thing which has been conquered by Messiah! Therefore I yearn the more for chayim (life) - I want to put it on like a set of clothing so long as I am in this mortal tent, until one day I can put it off entirely and put on an immortal body:
"Behold, I tell you a mystery: We shall not all sleep, but we shall all be changed -- in a moment, in the twinkling of an eye, at the last trumpet (Yom Teruah). For the trumpet will sound, and the dead will be raised incorruptible, and we shall be changed. For this corruptible must put on incorruption, and this mortal must put on immortality. So when this corruptible has put on incorruption, and this mortal has put on immortality, then shall be brought to pass the saying that is written: 'Death is swallowed up in victory'" (1 Cor.15:51-54, NKJV).
I am tasting this death now as I speak to you and the enemy has come seeking to make it a reality. But I choose the chayim (life) of my Messiah, 'to put Him on', as it were, so that I may have victory even while I walk in this mortal sukkah (tent). Peter spoke of this too:
"Yes, I think it is right, as long as I am in this tent, to stir you up by reminding you, knowing that shortly I must put off my tent, just as our Master Yah'shua the Messiah (Lord Jesus Christ) showed me. Moreover I will be careful to ensure that you always have a reminder of these things after my decease" (2 Peter 1:13-15, NKJV).
I will consider my life to have been well spent if after I have gone that you remember these things too. I will be glad if it stimulates within you a constant hunger for emet (truth) so that you may never find yourself desolate and alone.

There is one other thing I want to mention about this word 'ohel because it has an emphasis that is not necessarily present in our English word 'tent'. It carries with it the sense of visibility, of being clearly conspicuous from a distance. Yahweh ensures ALWAYS that He is conspicuous in our lives in some way, even in those times when we think He is far away. We have that promise. Just as we - our tent - is always visible to Him, so He ensures that He is always visible to us in some form or another. Learning to recognise these forms is therefore rather important, for certain things, as we well know, are veiled, which we can only see past at certain times and in certain ways when He gives permission to do so.

This festival is known as Sukkot - many tents, not just one Sukkah, and its reason should by now be obvious, because it is about many kinds of tent, both human and divine. To enter into the Sanctuary for close, intimate communion with Yahweh requires that we have the same attitude as Moses did, an attitude represented symbolically by the simple lifestyle the Israelites lived, namely humility. For it is written:
"Now the man Moses was very humble ('anav, meek, lowly), more than all men who were on the face of the earth" (Num.12:3, NKJV).
This scripture appears in parentheses, moreover, to explain why Miriam his sister and Aaron his brother were not humble enough:
"Then Miriam and Aaron spoke against Moses because of the Ethiopian woman whom he had married; for he had married an Ethiopian woman. So they said, 'Has Yahweh indeed spoken only through Moses? Has He not spoken through us also?' And Yahweh heard it. (Now the man Moses was very humble, more than all men who were on the face of the earth.) Suddenly Yahweh said to Moses, Aaron, and Miriam, 'Come out, you three, to the tabernacle of meeting!' So the three came out. Then Yahweh came down in the pillar of cloud and stood in the door of the tabernacle, and called Aaron and Miriam. And they both went forward. Then He said, 'Hear now My words: If there is a prophet among you,I, Yahweh, make Myself known to him in a vision; I speak to him in a dream. Not so with My servant Moses; He is faithful in all My house. I speak with him face to face, even plainly, and not in dark sayings; and he sees the form of Yahweh. Why then were you not afraid To speak against My servant Moses?' So the anger of Yahweh was aroused against them, and He departed. And when the cloud departed from above the tabernacle, suddenly Miriam became leprous, as white as snow. Then Aaron turned toward Miriam, and there she was, a leper. So Aaron said to Moses, 'Oh, my master! Please do not lay this sin on us, in which we have done foolishly and in which we have sinned. Please do not let her be as one dead, whose flesh is half consumed when he comes out of his mother's womb!' So Moses cried out to Yahweh, saying, 'Please heal her, O Elohim (God), I pray!' Then Yahweh said to Moses, 'If her father had but spit in her face, would she not be shamed seven days? Let her be shut out of the camp seven days, and after that she may be received again.' So Miriam was shut out of the camp seven days, and the people did not journey on till Miriam was brought in again" (Num.12:1-15, NKJV).
Now it is not clear whether Miriam's criticism of Moses was the fact that he was polygamous, being married to both the Ethiopian woman and his Midianite wife, or because she was a black woman and Mirian was racist, or because the Ethiopian was an unbeliever since tradition tells of Moses, when he was a Prince of Egypt, marrying such a woman from MeroŽ. It could be any of these reasons, or all of them. The point is, though, that Miriam wrongly concluded that because she had had revelation like Moses that she had some special merit or privilege. She broke tavnith (pattern), challenged the toqef (authority) Yahweh had given to Moses, and demonstrated that in her lev (heart) she was diseased, as revealed outwardly by her contracting leprosy. To prove that she lacked this humility, Yahweh brought them to the Mishkan and demonstrated that He had quite a different relationship with Moses than He did with Miriam and Aaron, a relationship based on Moses' proper submission to divine tavnith (pattern) and toqef (authority) which were the source of his humility or meekness. Moses behaved and lived his life according to the divine tavnith (pattern) that was hidden up in Yahweh's Tent whereas Miriam and Aaron were not.

There is something else about Moses which we must not miss in this passage. Unlike Miriam and Aaron, "he (Moses) sees the form (temunah) of Yahweh". Note that Catholics, Protestants and Jews - Yahweh has temunah or FORM. The King James Version renders this "similitude" because it is to be clearly understood that Yahweh is anthropomorphic, or to be more accurate, man is theomorphic - made in the literal image of Yahweh. But this emet (truth) was hidden from Miriam and Aaron, because they did not converse with Yahweh as their brother did. Therefore Yahweh silenced them for their arrogance and presumptuousness.

Moses was given many privileges that the others were not (note that Joshua the Ephraimite, his successor, was the exception) because Moses was faithful and obedient - he strictly followed tavnith (pattern) unquestioningly. The whole matter was resolved at the entrance to Yahweh's Tent, where Moses and Joshua dwelt, because the Tent is the place that contains all the heavenly tavnith (pattern). There is a reason that so few were permitted to enter Sukkot or the Promised Land, and this is it: those who refuse to see and imitate tavnith (pattern) - the whole lifestyle mandated by Yahweh, inwardly and outwardly - never can see or enter the fullness. So I ask you a rhetorical question today: how many of you can describe the design of the Tabernacle? And having described it, how many of you can describe what each of its components and dimensions represent? Don't you think, in light of what we have been discussing today, that this is rather important? Indeed, we should be devoting much time to its study! And if we do, and yield to the tavnith (pattern) and what it represents spiritually, then I promise you we will become more like Moses and less like Miriam and Aaron. If you will all individually research this matter out, then we will make a study of this vitally important subject. And living out the Torah, as we seek to do, will make its understanding considerably easier. It will give our emunah (faith) a visible and recognisable form.

One of the names of Sukkot is "the season of our simcha (joy)" and there is indeed much to be joyful about when we consider what this fantastic festival represents. I don't know about you but I am hungry for emet (truth) and divine tavnith (pattern) because Scripture testifies that not only will I be able to draw closer to Yahweh but that you will also find simcha (joy)! It does, though, require some work on your behalf to do this, as in all fruitful Scripture study, and you will discover that those apparently 'uninteresting' and 'boring' parts of Scripture are actually treasure troves.

May the shalom of Yahweh go with you today and until we assemble here again tomorrow. Amen.

Continued in Part 2

Coments from Readers

"I read your devotional and your challenge to all about describing the tabernacle and what each component represents. The description is quite lengthy covering Exodus chapters 25, 26 & 27. Chapter 25 is basically the Holy of Holies where God is made visible above the mercy seat (Throne of God) which contain God's testimony (God's laws) which is what mankind shall be judged by and should live by. Chapter 26 would be the Holy Place outside the Holy of Holies followed by Chapter 27 the courtyard. In essence the 3 orders of resurrections: i.e. Sun, Moon & Stars. The full description of every component within these 3 places would take up far more space than can be alloted. I hope I haven't condensed this too much and missed the point. But this is what I got out of it" (SJ, USA, 12 October 2011)

Exactly correct, though as you say there is far more (Lev, 16 October 2011)

Share