Month 7:5, Week 1:4 (Revee/Shavu'ot), Year 5935:176 AM
Teshuvah 35/40
Gregorian Calendar: Sunday 2 October 2011
Universal Graded Salvation
Important Questions Answered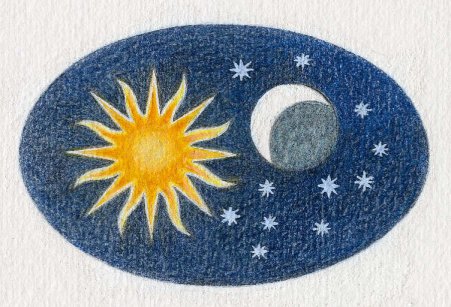 continued from Part 1
It has been a while since I originally prepared a study on Universal Salvation and what we believe concerning this subject. Since publishing it yesterday it has caused quite a storm, as I knew it would. However - as is often the case - this doctrine not only has different permutations but it is easily misunderstood and misrepresented. My purpose today during this 35th day of Teshuvah (Repentance) is to clarify some things.
The greatest fear that ministers have about this teachings is that it somehow nullifies the whole Gospel of Salvation. To quote a friend and fellow pastor:
"If what you say is in reality before YHWH, truth, then what need have we of preaching? What need have we of scripture? All one needs to know is that God fixed it, and no matter how you live your life, in the end, it will all be under the blood and all will be saved. SAVED FROM WHAT? According to you, there is nothing to be saved from."
Finally, he quotes what for him is the clincher, reminding me that this passage is, unlike the ones in the New Testament (which are open interpetation), in a Semitic language:
"And many (rab) of those who sleep (dead) in the dust of the earth (decomposed) shall awake, some to everlasting (olam) life (chayim), some to shame (cherpah - disgrace) and everlasting (olam) contempt (dera'on - repulsion)" (Dan.12:2, NKJV).
Let's start with this passage which, even as it stands, I completely agree with (obviously).

The first rule of exegesis we must follow is not to superimpose a pre-conceived doctrine into the text. We must remember the time this revelation was given, what was known at that time about the resurrection, the afterlife, and so on, remembering that the New Testament revelation contained far more information about these topics than the Tanakh (Old Testament) did. There was, for example, no knowledge of the first and second resurrections at this time. As far as the Hebrews were concerned, there was only 'resurrection'. There was no revealed concept at that time of one resurrection at the beginning of the Millennium and one at the end.

The second rule we must follow, where there is uncertainty about the meaning of a word, is to compare that word as rendered by other translations. Not any translation, mind you, but one that was authorised and made by fluent contemporary classical Hebrew-speakers who were also fluent in a second language. We have such a work, the Greek Septuagint (LXX), which was an authorised translation of the Tanakh for use by Greek-speaking Judahites in diaspora. What is particularly useful about this translation is not only that it was in use in Yah'shua's (Jesus') and the apostles' time, and was used by them to witness to the Greek-speaking community, but that ambiguous Hebrew words could be rendered into a tongue that used words which give great clarity of meaning. If we look at the passage in Jeremiah in the Greek Septuagint we are at once struck by the fact that the word we render "everlasting" or "eternal" in English - meaning 'without end' - is a wholely inadequate and erroneous translation. Let us look at the LXX:
"And many of them that sleep in the dust of the earth shall awake (arise), some to aeonian life, and some to reproach and aeonian shame" (LXX, Sir Launcelot Lee Brenton English translation - Samuel, Bagster & Sons Lts, London: 1967).
The rabbis chose the word aeon deliberately because it does not mean 'everlasting', 'eternally' or 'forever' but 'AGE-LONG' - in other words for a fixed period of time - the duration of an age or an epoch. So what 'age' or 'epoch' could Yahweh be speaking of here?

Let us return to the text. What point of time being referenced here? It is the moment immediate preceeding the final Yom Kippur, the point in time at which judgment takes place. It is at this point that "many" (notice, interestingly, it doesn't say 'all') will discover whether they will receive chayim (life [in Messiah]) or shame for the coming aeon. What is that aeon? The Millennium. This passage does not tell us what happens beyond the Millennium, even though we know about that from the New Testament. It is only concerned with the aeon that lies ahead as the dispensation switches.

This is very important to realise. The righteous will inherit chayim (life) and the wicked cherpah (disgrace, shame). Where will they be physically (or spiritually)? Well, Jeremiah doesn't tell us because he didn't know - all the Hebrews knew about were the shammayim (heavens) and Gehenna (hell). Only the B'rit Chadashah Scriptures (New Testament) tell us what happens beyond. And it is that "aeon of aeons" (eternity) where the dispute about 'eternal damnation' and 'universal salvation' begins.

So we can set aside the passage in Jeremiah as it is not going to answer that question. What it does tell us is that the wicked are going to be alive during the Millennium - the latter will not be annihilated. They will be in hell, suffering in shame and disgrace, but it will not be forever. It will be for the duration of the aeon.

This raises many interesting and important questions. As proven in other articles (linked in the previous part of this series) there is not one iota of evidence in the New Testament for a doctrine of eternal torment. Indeed, the doctrine of the Jubillee shows (to my satisfaction at least) that there will be an end to hell and therefore an end to the suffering of the wicked.

Which brings us to the second question of my evangelical pastor friend who is basically asking (if Universal Salvation is true): "Then what's the point?"

We must be very careful through which theological lens we are viewing this question. If we assume - as evangelical Christians do - that there is only one Heaven and one Hell, then his question is indeed valid - what indeed would be the point? It would mean that Genghis Khan, Napoleon, Hitler, Stalin, Mao, Pol-Pot, Judas, Herod, Aniochus Epiphanes, Claudius, Nero, and every evil person you can imagine who was never saved in life will be sharing heaven and the same table with Abraham, Isaac, Jacob, Moses, Elijah, Paul, Peter, John and all the other set-apart ones (saints) who have trusted Messiah and obeyed Torah faithfully. And I agree, that would be ridiculous - preposterous - and a travesty of Justice. I would quit evangelising if that were true too.

As it happens there isn't just one heaven and one salvation and one resurrection and one glory but THREE. Two of them are for believers like Paul, and one for unbelievers like Hitler. We know this to be true (as I have demonstrated elsewhere) because Paul says so. The atoning blood of Messiah is applied to all three but not in the same way and not at the same time. If you don't believe this, then you need to start ripping out pages in your New Testament and calling into question the infallibility of the Scriptural witnesses. The table below summarises the Scriptural witness:
Resurr- ection
Attitude to Messiah
Attitude to Torah
Quality of Glory
Time of Salvation
Talents Parable
Millennium Location
First
Messiah-
trusting
Torah- obedient
Sun
Beginning of Millennium
5ø10ø11
Earth Paradise
Second
Messiah-
trusting
Torah- disobedient
Moon
End of Millennium
2ø4
Spirit world paradise
Third
Messiah-
rejecting
Torah- disobedient
Stars / Twilight
End of Cosmic Jubilee
1ø 1ø0
Hell
For those still asking the question, "What's the point?" you need to remember several things. First, that there is a HUGE difference between the brightness of the sun, the brightness of the moon and the brightness of distant stars as viewed from earth. The rewards of these three categories of people as described by the Saviour in the Parable of the Talents match the luminosity of these three glories. What did each receive at the end of their probation and stewardship: 11, 4 and 0 talents, respectively, having started with 5, 2 and 1. The Master likened the 'reward' of the faithless servant to "outer darkness" (Matt.25:30, NKJV), and so it is compared to the brightness of the other heavenly bodies. Indeed when the sun is shining, can you even see the stars? No. But the moon you usually can see, though it is faint.
So there is a huge point because there's a huge difference between salvations. And in all of them there is Yahweh's grace - His undeserved loving kindness, His unmerited favour. Those who were in hell will be far, far away in outer darkness (as viewed from the place of the saved), a twilight world where there will be life but not the life that comes from being in the presence of the Messiah forever. They won't be punished any longer because they will have served their Yahweh-decreed sentence until the end of the Cosmic Jubilee. They will be alive and will only know that twilight life ordained for the profitless servant - the glory of believers will be something far, far away and incomprehensibly brilliant to them, just as heaven is to us now from the vantage point of earth.
So, no, please do not get the idea that what I teach about Universal Salvation means that the wicked inherit the same as believers, because that is manifestly untrue and unscriptural. All I am saying is that their punishment is not forever but is aeon-long.
This to me bespeaks both perfect ahavah (love) and fairness. Yahweh cannot possibly reward the disobedient in the same way as He does the faithful, and yet He cannot either destroy or permanently torture the disobedient either. He told us to forgive our oppressors in the same way that He will also forgive - but with zero reward - those who rejected His Son and rebelled against Him.
That is what I mean by 'Universal Salvation' which, for the sake of clarity, I am going to call Universal Graded Salvation.
I will have more to say on this subject as other questions present themselves.
Continued in Part 3

Share