Month 1:14 (Aviv14), Week 2:6 (Sheshi/Kippur), Year:Day 5940:14 AM
2Exodus 3/40, Yovel - Year 50/50
Gregorian Calendar: Thursday 21 April 2016
Pesach 2016
1. Review and Invitation
Introduction
Chag sameach Pesach kol beit Yisra'el and to Mishpachah Lev-Tsiyon, welcome to the start of the Passover Season as we simultaneously mark the beginning of the Third Year of the Final Exodus in this year of Yovel (Jubilee). For the benefit of those unfamiliar with, or still adjusting to, the Creation Calendar, I am including a simple chart (below) that details the various times of the moedim (appointments) this spring. This is a voluntary assembly this morning before we gather to partake of the Pesach Seder this evening.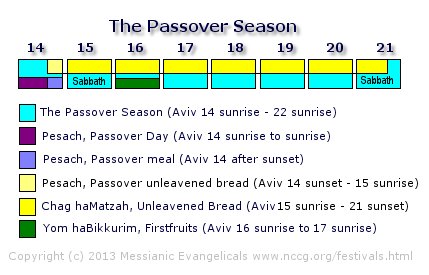 A Seson of Massive Changes Underway
Because we are in such a critically important prophetic cycle right now, with so many things going on simultaneously, I want to put a number of things in perspective for our new investigators and friends. As you can see from the 2014-2018 calendar (below) we have arrived at a critical historical juncture. We have just entered the year of the Great 2016 Reset. Tribulations have been steadily building up for some time now and we know that we are but a very short time away from financial collapse (see the Mishpatim (Judgments of) Yahweh). This biblical year of 2016-17 is going to see major earth upheavals of an economic (financial collapse), political (war and dictatorship) and religious (persecution) nature. You can expect major natural terrestrial and cosmic disasters (earthquakes, volcanoes, tsunamis, etc.) causing massive geographical devastation, drout, famine, epidemics, etc.. You will find all of these documented on our website in detail as we can't possibly cover them here now. But keep your eyes closely on 1-3 October when Yom Teruah begins which I suspect will be some kind of climax to the judgments. I suspect that from then onwards there is going to be a complete lock-down. At any rate, it will be major as it seems to be tied in to the judgments of London, Washington DC and Rome.
The Spiritual Ark, NCAY, MLT and the Future of This Ministry
Finally, we are ourselves as a ministry poised for a new beginning. We have been on a spiritual 'ark' for a year which has now landed on our 'Ararat'. This was preceeded by the suspending of NCAY (New Covenant Assemblies of Yahweh) pending further revelation from Yahweh and we have been expecting some further direction on this to be forthcoming during this spring Passover Season. We will keep you posted as we know more. 'Disembarcation' is not until the end of the Second Month, and specifically, "the twenty-seventh day of the second month" (Gen.8:14, NIV), which is 2 June 2016. So even though we are on the 'land', it isn't fully dry, and we are commanded not to move out until it is.
The MLT Ark has completed its journey and will soon disembark
The Several Arks Throughout History
Why, aside from Yah's mitzvah (command) to do so, did we board this spiritual Ark? For the same reason that Noah did - to save our wives and children. It was an act of chen or grace then and it is an act of chen (grace) now - of Yahweh's undeserved loving kindness. Noah was preserved because he "alone in [that] generation [was] righteous before [Him]" (Gen.7:1, CJB). This act of Yah's undeserved loving kindness in Noah's day was foundational to the saving of Israel as a nation out of Egypt, which we are assembling to celebrate this Pesach (Passover) which in its turn was foundational to the promise that all Israel - all the true Torah-obedient overcomers in Messiah -will be saved at the end of time too (Rom.11:26). This 'ark' we are soon to disembark from is not that final spiritual 'ark', consisting of thousands of the Twelve Tribes of re-gathered New Covenant Israel - our ark is far, far smaller, just as Noah's was. Like Noah, we are here for our wives and children, and especially our children who must be the final Standard-Bearers of this last Restoration.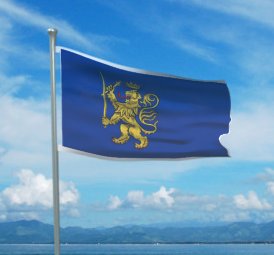 The banner of the seed of the Final Gathering of Messianic Israel
Revelation is Not Needed Until It is Needed
None of us know how this is going to pan out and it is well that both we and the Enemy are kept ignorant of Yahweh's designs until the last minute when it will be too late for the Enemy to do anything anyway. Most of the revelations we have received are specific for the moment which is why, for the last three days, His Davar (Word) to us has been about the imminent storms, the coming drout and famine and the return amongst us of the nephilim. We need not therefore concern ourselves unduly about what is further down the line, only with what is here today. And our primary task, each day, over the past few years has been to:
1. Preach the Besorah (Gospel) of Salvation in Yah'shua the Messiah (Jesus Christ);
2. Teach the fullness of New Covenant Torah; and
3. Warn the Body, and those of the world who will listen, to repent and get ready for global judgment.
The Symbolism of Water and Fire Floods
As the waters lifted the ark of Noah to safety, these same waters created chaos and resulted in the judgment of all life on earth (Gen.7:17,22). It was a total submersion which is why we are to baptise by immersion and not by sprinkling or any other method, because we must ourselves be submerged in death - death to the flesh and carnality - so that we can arise to the newness of everlasting life through Yah'shua (Jesus) our Messiah. Likewise the fire which cleanses and purifies the Remnant of the dross of sin brings chaos and destruction to the unrepentant, the more violent to the more wicked.
Seventy Nations and Seventy Souls
So, brethren and sisters, we do nothing until it is our hour to do so, beyond getting our witness out. When it is time to leave the 'ark' we shall be leaving it to establish a new household. When Jacob left his parents' home to start a new household in Haran it was to escape the wrath of his elder brother whom he had cheated of his birthright (Gen.28:10). This household would grow to 70 people in the same way that Noah's household of 8, upon disembarking from the Ark, would found 70 nations. Jacob's 70 soon multiplied exponentially into a great nation, the nation of Israel.
The Seventy Special Witnesses
The nation of Messianic Israel is to be raised in a parallel fashion. Twelve apostles will be raised and then seventy special witnesses:
"The Master appointed seventy others also, and sent them two by two before His face into every city and place where He Himself was about to go. Then He said to them, 'The harvest truly is great, but the labourers are few; therefore pray the Master of the harvest to send out labourers into His harvest. Go your way; behold, I send you out as lambs among wolves. Carry neither money bag, knapsack, nor sandals; and greet no one along the road. But whatever house you enter, first say, 'Shalom (peace) to this house.' And if a son of shalom (peace) is there, your shalom (peace) will rest on it; if not, it will return to you. And remain in the same house, eating and drinking such things as they give, for the labourer is worthy of his wages. Do not go from house to house. Whatever city you enter, and they receive you, eat such things as are set before you. And heal the sick there, and say to them, 'The kingdom of Elohim (God) has come near to you.' But whatever city you enter, and they do not receive you, go out into its streets and say, The very dust of your city which clings to us we wipe off against you. Nevertheless know this, that the kingdom of Elohim (God) has come near you'" (Luke 10:1-11, NKJV).

"Then the seventy returned with simcha (joy), saying, 'Master, even the demons are subject to us in Your name.' And He said to them, 'I saw Satan fall like lightning from heaven. Behold, I give you the toqef (authority) to trample on serpents and scorpions, and over all the power of the enemy, and nothing shall by any means hurt you. Nevertheless do not rejoice in this, that the spirits are subject to you, but rather rejoice because your names are written in heaven" (Luke 10:17-20, NKJV).
The 70 Judges of Messianic Israel
I cannot precisely delineate the exact mission of the latter-day Seventy from the Remnant at this stage other than to remark that it will obviously be concerned with the start of the gathering of the 12 Tribes. That is approximately three pairs of witnesses for each tribe to commence the Final Gathering [1]. The number 70 is number that reflects the seat of judges in Israel. 70 Elders served with Moses (Ex.24:1), there are 70 princes in Israel (Judg.9:56). 70 men sat on the ruling council of the Sanhedrin. The raising of Isarel's 12 apostles and 70 ruling judges is therefore one of the first steps of the restoration and regathering of Messianic Israel.
The Sweden-South Africa Axis
We start in this work on a very humble and slender axis stretching from Sweden to South Africa, nations representing the tribes of Naphtali and Zebulun, respectively (though there are remnants of other tribes too in these nations). This work will move from this line to the east and the west until all has been accomplished for the return of Israel [2] to the Promised Land in the years ahead. Both these nations are going to go through their baptisms of fire, the many to destruction and the few to deliverance and exaltation. The pioneers must be as the first Seventy in Yah'shua's (Jesus') day.
Overturning the Days of the Beast
Between now and the day of disembarcation next June, we have to pass through the three festivals of the Passover Season which begin this evening, then a month later on precisely the same days of the month, there will be a Late Pesach (Passover) and at the same time the annual Jericho March which should prove top be a most interesting time this year. However, that is a full month away, and we must now - from yesterday - contend with a major Enemy assault which will not finally end until his own debauched May Day observance. For the next 12 days, then, we go onto the offensive in the Name and power and by the toqef (authority) of Yah'shua (Jesus) the Messiah, shattering his alters and platforms of wickedness.
The First Assemblies
This evening we shall be telling the story of Pesach (Passover). Those of you not familiar with our practice are invited to study, and use, the Messianic Evangelical Haggadah. There will be a sermon and assembly tomorrow morning, Yah willing, to mark the first day of Chag haMatzah (Feast of Unleavened Bread). We shall also assemble the day after for Yom haBikkurim (Day of First) and Resurrection Day.
Conclusion
May Yahweh guide our footsteps as we seek His face once more, honour His set-apart moedim (appointments) and engage in spiritual warfare. Please join with us in spirit and in emet (truth) and if you are able to join us online during the services, please do. And may the grace of our Master Yah'shua and Messiah be with you all. Amen.
Continued in Part 2
Endnotes
[1] Other MSS record "seventy-two" witnesses (e.g. NIV, NRSV) which divides precsiely into three pairs, or six, witnesses per tribe
[2] This has nothing to do with Judaism or Zionism - please see the important series of sermons, Jacob's Trouble