Month 10:24, Week 4:2 (Shanee/Matzah), Year 5935:282 AM
Gregorian Calendar: Tuesday 17 January 2012
Berlin
The Prophetic Picture
"The city of Berlin will become the financial centre of the new Europe. And the division will be great, the good on the one side and the evil on the other" (Olive Branch, 279:11-12, 26 October 1990).
On 3 October 1990 the western and central parts of Germany (officially 'West' Germany and 'East' Germany, also known as the Federal Republic of Germany and German Democratic Republic) were officially merged after their forced separation following the defeat of the Third Reich in 1945. At the same time, West and east Berlin, were also merged, and the commencement of the dismantling of the infamous wall separating them began.
Like the original revelation received on 17 March 1989 by this ministry proclaiming the reunification of Germany (Olive Branch 119), the revelation that Berlin would become the financial centre of Europe was met with disbelief by the few who were aware of it. But today, in spite of the economic and social problems caused by the combining of these two disparate territories, the city of Berlin today is an economic powerhouse generating more capital than the whole of Belgium put together.
Identifying the prophetic rôle of Germany in the end times has, unfortunately, been obscured in nearly all Christian and Messianic circles by Zionist propaganda. Few know - or even want to know - that the German people are the 'lost' tribe of East Manasseh in diaspora because of the lie sown by Zionists that the Germans are Assyrians. Nevertheless those same Zionists who recognise that the English (Ephraim), Dutch (Zebulon) and Scandinavians (Benjamin, Naphtali, Dan) are Israelite tribes are unable to reconcile the fact that all of these tribes are recognised Germanic tribes that were originally a part of the German people. The same ridiculous arguments used by the so-called Black Hebrews to 'explain' why the Afro-Americans are 'Hebrews' but not the blacks in Africa, is used by Zionists to explain why Germany is Assyria - they (Yair Davidy et al) claim that the true 'Israelite Germans' all migrated to America leaving the 'Assyrian Germans' behind to organise the holocaust. Hopefully I don't have to waste my time and yours today exposing the total absurdity of that racist argument. And the reason why Germany was involved in two terrible world wars, and the holocaust, is explained elsewhere.
Today Germany - with its reconstituted capital in a unified Berlin - finds itself at the centre of power in the European Union. Zionist and Christian/Messianic Zionist-influenced biblical exegetes are now claiming that what we are witnessing is the rise of the Fourth Reich. Thus Peter Oborne, in a key article of the British Daily Telegraph entitled, Give Germany the Empire It's Always Dreamed Of (22 July 2011), states:
"Germany has come very close to realising Bismarck's dream of an economic empire stretching from Central Europe to the eastern Mediterranean".
However, to imply - as some do - that is all part of some sort of 'conspiracy' for domination is pure fantasy. Germany is where it has got today, not because it is being guided by some sinister hand to which the whole German people are acquiescing with imperialistic saliva running down their jaws, but simply because Germans are hard working and because of sound Prussian fiscal policy. Germany is successful, and is not in the mess that the rest of Europe is, simply because it doesn't spend more than it earns, and its imports do not exceed its exports. Indeed, it is a net exporting nation. Germany is successful simply because it works hard and is well managed - to its great credit.

If we can put the Zionist interpretations of Germany's rôle in modern affairs aside, we will gain some important prophetic insights. The city of Berlin in particular, which is economically strong enough to be its own nation should it ever need to be, represents - according to the prophecy made by this ministry - a pivotal meeting ground of good and evil. Though cursed still by Kaiser Wilhelm's vain and foolish Pergamum project, that brought the Seat of Satan right into the heart of Europe and gave the Enemy legal rights to turn the continent into a bloodbath, Berlin is also the capital of a nation that was once the centre of enlightenment and tolerance. It was also the centre of the Reformation that threw off the yoke of Catholic tyranny and lead to the rise of libertarianism in Europe and the whole world. Without Protestant Germany there would have been no Protestant Britain and no United States of America, the basions of freedom for so long. These were, are still are, the Josephite tribal nations of true Israel.

Berlin represents a strange dilemma. For on the one hand, it represents all the benevolent traits of the patriarch Joseph - Germany, land of artists, musicians, poets and reformers - and on the other hand, it represents a great evil - that same evil that is seeking the ruination of all nations, and especially the Israelite nations whom Satan especially hates. That division is everywhere. Germany is not some special 'exception', a boil on the body of all that is good in Europe.

Berlin is not, however, what it appears to be either. It is not the capital of a 'reunified Germany' on several counts:
1. Germany as an independent nation no longer exists, and hasn't existed since 1945 - it is actually a corporation owned by the Illuminati in Britain, France and the United States (see Strange Goings-On);
2. Germany is still not fully reunited (see Strange Goings-On) - engaging in imperialism and using a 'divide and conquer' tactic, the Soviet Union seized Poland's eastern territories and forcibly 'exchanged' them for Germany's eastern territories);
3. Germany is a part of the European Union which is dismantling national sovereigny as quickly as it possibly can as part of a socialist Illuminist goal designed to replace the now defunct USSR and destroy Christianity;
4. The Seat of Satan is still in Berlin, giving dark forces continuing legal rights not just in Berlin and Germany as a whole but now the entire EU.
What we have in Berlin and the 'German Corporation' is not so much a 'conspiracy' by politicians to dominate Europe but a conspiracy by demonic powers to subjugate all "nations, kindreds and tongues" (Rev.7:9). In other words, Germans - along with the whole of the human race - are victims of a hellish design to enslave all mankind. Satan accomplishes this design by using those who choose to reject Yahweh and His mitzvot (commandments) whether they be German, English, American, French, Russian or anyone else. What is happening in the world is not about 'good or bad nations' but about good and bad people in every nation.

Arguably, Germany's financial clout has saved a lot of people in other nations (they have been bailing out Greece and other failed economies), and it would have been more effective had it not been for the open robbery being perpetrated by the élite overlords in all nations, that are bleeding countries dry and setting them off against one another. Most Bible commentators are still operating on the national level in their interpretation of prophecy, and see world events and nations relative to the middle eastern entity called the 'Republic of Israel'. They don't realise that there is a whole hidden reality that steers all of these nations who are but puppets on strings. So they 'take sides' in the temporal instead of in the spiritual.

Berlin's recent history is a symbolic picture of this spiritual division, as was Vienna's, which was likewise divided from 1945 to 1955 when the Russians withdraw and a neutral Austria was created. No other cities in the world have been thus divided even though countries have been divided into parts historically (like Korea, Vietnam, Pakistan, Yemen) and as Germany was between the wars when its East Prussian province was separated by a Polish corridor. Though Berlin is politically united today, there are other divisions which are less visible still.

Berlin will not become the capital of a greater 'Germania' (as Hitler envisaged) nor will it become the capital of the EU. Brussels was chosen, for various reasons, but not least because it too is a divided city consisting of Dutch Flems and French Walloons - indeed, Belgium, artifically created by Britain after the Napoleonic wars, is on the verge of separating into two different states. The EU system, modelled experimentally in Sweden starting in 1944, is essenially a demonic system designed to create artificial divisions (between a super-rich capitalistic élite with its well-paid bureaucracy, and the super-poor socialist masses distributing the crumbs amongst themselves) and create artificial union (purportedly solving the problem it originally created, but in truth simply entrenching the ruling class that serves the devil).

Finally, this prophecy - far from suggesting that Berlin will become the capital of a mythical 'Fourth Reich' - suggests to me that it will actually play an important international and European end-time rôle - and in Germany as a whole - not unlike that played by Germany in the Reformation, which was split (roughly north-south) into Protestant and Catholic parts.

As I write this, the European Union is unravelling and is likely to divide into a rich north and poor south, imitating in reverse the formation of the North German Confederation and the southern states with Austria which prevailed until German Unification in 1871.
2012 will be a decisive year for Europe, America and the world. Keep your eyes on the EU, Germany and Berlin. Whatever happenes this year - and we have some pretty good ideas - the world will never be the same again afterwards. And may Yahweh protect us all.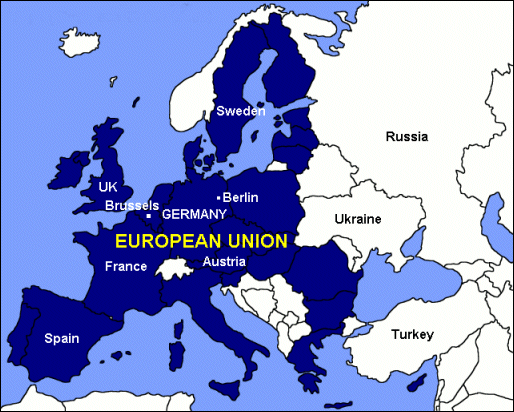 Share