Month 5:10, Week 2:2 (Shanee/Matzah), Year 5935:124 AM
Gregorian Calendar: Tuesday 9 August 2011
Unwelcome Neighbours
Making More Sense of UFO's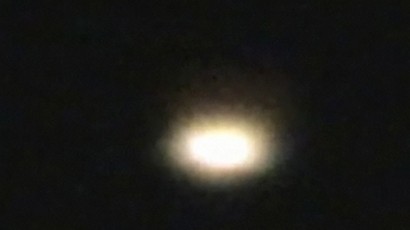 Continued from Part 8
When I first wrote an article about UFOs for our website in the 1990's entitled, Unwelcome Visitors: The Story of the UFO Menace, I had no idea I would be writing as many articles on the subject as I have done, nor how much a part these unusual craft would play in the end times. Back then I had no idea that UFO's would literally become next-door neighbours.
The fact is, we have had them every night here now for over a week since I started my most recent article about the phenomenon, A Visitor by Night: A UFO Visits Us in Arvika. Several adults and children have been witnesses to it and we now keep binoculars and camera handy when needed. If any serious UFO-watchers want to come and see it, they are welcome.
Actually, I am annoyed more than anything else. I am annoyed both because it's our next door neighbour every night and I am annoyed because I struggle to understand what its bizzare activity is all about. It jumps about the sky, splits into more lights, has rings of coloured lights rotating about it, it changes shape and it exhibits behaviour completely unlike conventional machines constructed by human beings.
Last night I approached Yahweh very frustrated about what this and similar objects are doing here. It made no sense and yet it was, and is, very clear that it is doing something. You don't come back night after night busily doing the same thing just for the fun of it, especially as it's the time when few humans are likely to be watching you, so entertainment is not the name of the game.
Each time I approach this subject I get new clues and last night I got some major ones. The craft was outside my bedroom window, much higher up than usual, but still appearing, disappearing, and doing its heavenly jigg. As I prayed a series of visions opened up to me and this is what Yahweh showed me.
Firstly, I saw your typical 'grey'-type nefilim only this one was much taller than the ones usually reported and its eyes not quite as large. It was hairless and it had a large head, its skin more silvery than grey, though perhaps somewhere between the two. Different types of grey have been described by 'ET'-watchers and this one matched one of the categories. So I concluded that this was in all likelihood either the occupant or the intelligence remotely steering the craft.
Secondly, I saw another nefilim type, but quite different from anything I have seen before or heard reported. I am tempted to call it 'reptillian' but it's skin was not scaley - 'amphibian'-like would be a more accurate description though this is just an approximation. The impression I got was that these two represented two groups of nefilim that occupy the 'good-cop' and 'bad-cop' rôles, respectively.
It was the last two visions that surprised me most of all because next I was shown a vision of a young (human) boy with a very New Agey look on his face, and understood that this was one of those psychically-sensitive and gifted children whom New Agers called 'Indigos' who have had contact with nefilim or demons through channelling or through UFO abduction. It was a peaceful looking face but lacking the lushious sentimentality that so characterises the human nature. He was fully human but under the power of some other spirit. And then a fourth vision opened up, this time of an adult (human) man, but with the same kind of detatchedness, an older version of the boy.
Of themselves these four visions would not have made much sense until Yahweh showed me something else. My mind was taken back to the movies I took of the first UFO and how it danced in an apparently random fashion in the sky, but this time as I was observing the motions with my mind's eye I could see that the vehicle was tracing out a pattern that vaguely resembled a spider's web, though it was not exactly that. Rather, what the craft was doing was weaving some kind of psychic matrix in the sky in three dimensions, a grid, if you like, by which means both the nefilim and those humans operating under demonic spirits would be linked together invisibly on multiple levels or layers.
Diagram showing human, nefilim and demonic psychic envellopes
around the earth interconnected by UFO operands
I have struggled much in trying to relate this using the correct words so as not to be misunderstood. Picture, if you will, the world divided up into a grid of lines of longitude and latutude. Then move these lines above the earth, turn the curved rectangular portions into a complex web, and then multiply this layer many times so that there are many layers, one above the other - linked but not fully 'visible' to one another from the bottom up, but fully visible from the top down. This is a spherical psychic pyramidal structure of sorts linking human beings. This is a multi-dimensional demonic tavnith (patten) linking Satan (at the top), layers of demons (beneath), trans-dimensional, semi-physical nefilim (beneath the demons), and physical human beings who have bought into the enemy's lies beneath them, and all connected.
Then I began to make sense not only of the UFO's operating in our atmosphere but also in outer space! Crude though this sounds (for wont of better words and understanding), the enemy is literally establishing an alternative reality maxtrix here on earth and plugging people into it one by one. These flying machines are opperating both in physical and psychic space, which is why they appear and disappear, moving in and out of these dimensions in order to connect the two. This enormous construction project, whose purpose is to totally absorb the minds of human beings who will not accept Yahweh's reality and emet (truth) and to pave the way for global acceptance of the anti-messiah (antichrist), is Satan's last bid attempt to capture and enslave as many souls as he can before Yah'shua (Jesus) returns and utterly destroys his kingdom.
Of course, other UFOs do other things, but the ones we are seeing here in Sweden are about this task specifically. I realise this will sound fantastic if not absurd to most but having been immersed in this subject both as an unbeliever and now as a believer all my life, these are not idly spoken words. No one else seems to know what is really going on as most UFO observers have bought into the extra-terrestrial lie of good and bad aliens who are our true 'gods', some to help hs 'further evolve' and others to subdue us, the human governments in benevolent and malevolent contact with both.
I have no problem reconciling my Christian/Messianic faith with the UFO phenomenon now that I have a better idea what's going on. Please study the articles and videos on our UFO page and see how everything adds up and fits together. Forget what you have learned in Hollywood with Star Wars, Battlestar Galactica, Star Trek, ET, Close Encounters of the Third Kind, X-Files, Avatar, Fringe and all the other Science Fiction hype dealing with this topic and work with the raw scientific data collected by those who have been observing these craft for many decades now (not the psychics whose interpretation is influenced by what they are psychically connected to). There is a huge volume of data and sense has to be made of it otherwise the enemy will recruit it to spin more lies. Please would you particularly look at the video series on the main UFO Page entitled, UFOs - Are We Being Deceived? A Biblical Perspective.
We are being conditioned to accept these craft more and more but what is more important is that we come to discover what they really are - and they are not what they portray themselves as being - indeed, their occupants, like the demons, are habitual liars. Some, as I have said, are occupied by humans from the military who have been dealing with the nefilim for some time to get their advanced technology with which to enslave us (in exchange for allowing the nefilim to abduct and use us genetically to perpetuate their species), so the mix is quite complex.
This phenomenon is not new, moreover. UFOs, nefilim and crop circles have been around from the beginning of time. The game of deception and enslavement is as old as earth itself. It is for us, as Yahweh's children, to know what is going on so as not to be taken in. That, I hope, we endeavour to do here in this ministry.
Continued in Part 10

Share