Month 5:19, Week 3:4 (Revee/Shavu'ot), Year:Day 5936:137 AM
Gregorian Calendar: Monday 6 August 2012
The Terrible Yoke
What the Jerusalem Council Actually Said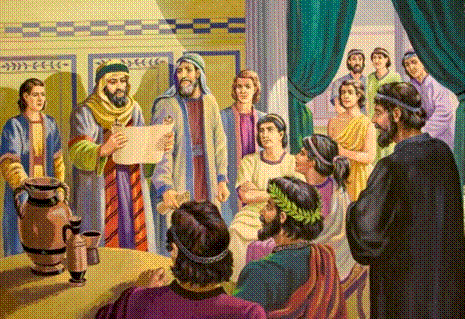 Continued from Part 2
There are many who claim that the 15th Chapter of the Acts of the Apostles proves that the Torah (and with it the seventh-day sabbath and annual festivals) was abolished at the cross.
Converts from among the Pharisees said of new Gentiles coming to emunah (faith):
"It is necessary to circumcise them, and to command them to keep the Torah (Law) of Moses" (Acts 15:5, NKJV).
The result was a deep division in the Messianic Community and so it was agreed that Paul and Barnabas should go to Jerusalem and confer with the apostles and elders (v.2). The result was the first 'Conference' of the believers known as the Jerusalem Council. The outcome, which was determined by a revelation of the Ruach haQodesh (Holy Spirit) is of the utmost importance for us to understand:
"Since we have heard that some who went out from us have troubled you with words, unsettling your souls, saying, 'You must be circumcised and keep the law'-- to whom we gave no such commandment -- it seemed good to us, being assembled with one accord, to send chosen men to you with our beloved Barnabas and Paul, men who have risked their lives for the name of our Master Yah'shua the Messiah (Jesus Christ). We have therefore sent Judas and Silas, who will also report the same things by word of mouth. For it seemed good to the Ruach haQodesh (Holy Spirit), and to us, to lay upon you no greater burden than these necessary things: that you

abstain from things offered to idols,
from blood,
from things strangled, and
from sexual immorality
.

If you keep yourselves from these, you will do well" (Acts 15:24-29, NKJV).
Now the first thing that must be said about this Ruach- (Spirit)-inspired ruling was that abstaining from blood, from things strangled, and from sexual immorality are all statutes in the Law of Moses - in the Torah! If the charge by antinomians that Yahweh did away with the whole Mosaic Law is true, why draw out these three rules in particular and impose them on new converts from paganism? Why not say, as Protestants do, that the Ruach (Spirit) is in the levim (hearts), the law is written there, so away with written rules?! Yet James, the other Apostles and the Elders - of one accord - specifically listed these four items. Why?

Well the first and most obvious thing that has to be said is that these Apostles and Elders still believed in observing the Torah, otherwise why re-impose four of its statutes. The argument those believers of Pharisaic origin were having was simply over their belief in the continued need for circumcision; the items listed - eating meat offered to idols, things strangled, eating blood, and fornication were causing problems to the Gentile converts. The rest of the Torah, including the various weekly, monthly and annual qodesh (holy) days was never in question! Indeed, when Christians read Acts 15 they seem to get selective blindness when verse 21 comes along which reads:
"For Moses has had throughout many generations those who preach him in every city, being read in the synagogues every Sabbath" (Acts 15:21, NKJV).
So what was the Council saying? There is only one conclusion to explain an otherwise odd selection of Mosaic mitzvot (commandments):
"These are the five items in dispute, and the following is our conclusion - and as for the rest of Torah that has not been fulfilled by Messiah (like animal sacrifices) and is therefore no longer binding, the Gentiles will learn about it when they attend the local Messianic congregations".
How else can we explain these particular items? Why not speciifically re-enforce some or all the ten commandments (for example) like not mudering or stealing? Because they were not in dispute! It may seem strange to us (for every generation disputes different things) but for these new converts from paganism these five items were of great personal concern to them!

The circumsion question was not answered here other than by the silence of the Council on the matter to indicate that circumcision was not required of Gentiles. Later Paul was explain that it was useless in the new Covenant because it specifically devolved upon those entering the Old Covenant which was at an end (but not unfulfilled Torah).
"Was someone already circumcised (i.e. a Judahite) when he was called [into a saving relationship with Messiah]? Then he should not try to remove the marks of his circumcsion. Was someone uncircumcised (i.e. a Gentile) when he was called? He shouldn't undergo b'rit-milah (the rite of circumcision). Being circumcised means nothing, and being uncircumcised means nothing; what does mean something is keeping Elohim's (God's) commandments. Each person should remain in the condition he was when he was called [into a saving relationship with Messiah] (i.e. circumcised or uncircumcised)" (1 Cor.7:18-20, JNT/CJB).
So the objection to those of Pharisaic origin was not sustained - circumcision is meaningless in Messiah. But what of the four other objections of the Gentiles? These were not sustained either and they were reminded that they were binding on them as they were on those of Judahite extraction. The Torah was, and is, for all believers.

It is a little strange, I think, when Christians insist that Acts 15 proves that the Law of Moses - the Torah - and the qodesh (set-apart, holy) days are no longer binding on believers and yet they willfully disobey the Council of Jerusalem - which was inspired by Yahweh - and continue eating meat with blood! To be consistent with their own teaching, Protestants should ignore the Torah except for these four items, in which case they should be living kashrut. The reason they don't is because deep down they believe that all the Torah has been abolished and so the Council actually 'got it wrong'. That is what they are admitting to when they continue eating meat with blood. They are doing the impossible - they are trying to eliminate that which was not eliminated and try to keep that which was eliminated, much as Messianics still cling onto the sign of the Old Covenant, circumcision. Those Messianics who acknowledge this dilemma and seek to resolve it - rather like the way that Protestants do - reject Paul in the same way Protestants reject Moses. They're both trying to solve the problem wrongly.

We need not go up such blind alleys, though, and either become antinomian or anti-Paulist. Each are stumbling over different rocks but both are stumbling nonetheless.

What are we to make of Peter's criticism of the former Pharisee believers? Is it not confirming the Protestant objection that living the Torah is impossible and that Judahite believers should not be imposing the impossible on Gentile converts?
"Now therefore, why do you test Elohim (God) by putting a yoke on the neck of the talmidim (disciples) which neither our fathers nor we were able to bear?" (Acts 15:10, NKJV).
Isn't Peter here describing the Torah as an impossible "yoke"? And does he not have in mind the other yoke, the good yoke of Messiah, in its place?
"Take My yoke upon you and learn from Me, for I am gentle and lowly in lev (heart), and you will find rest for your souls. For My yoke is easy and My burden is light" (Matt.11:29-30, NKJV).
Knowledgeable and observant Messianics do not view the Torah as a burden (I certainly don't) but as simcha (joy) - David certainly did! And if someone regards something is wonderful, you are hardly likely to be able to convince him that it is something terrible and burdensome. I love the Torah so what Evangelicals try to tell me that I am in 'bondage' I have to laugh at them - they don't know what they're talking about! But more important than this is the fact that the "yoke" that Peter speaks of is not the Torah at all but something else. What, then?
"He is speaking here of the detailed mechanical rule-keeping, regardless of heart attitude, that some (but not all!) Prushim (Pharisees), including, apparently, the ones mentioned in v.5, held to be the essence of Judaism. This was not the 'yoke of the mitzvot (commandments) prescribed by Elohim (God), but a yoke of legalism prescribed by men! The yoke of legalism is indeed unbearable, but the yoke of the mitzvot (commandments) has always required, first of all (Mk.12:28-34), love of Elohim (God) and neighbour; and now it implies love toward Yeshua (Yah'shua/Jesus) the Messiah. But love can never be legalistic! Sha'ul (Paul) spoke of legalism as a "yoke of slavery" (Gal.5:1) - see his detailed exposition of the subject in Romans 1-11 and see Galatians 2:16b" (David H. Stern, Jewish New Testament Commentary, JNT Publications Inc., Clarksville, Maryland: 1992, p.276).
Legalism is not a problem unique to Judaism and some forms of Messianism, though - it also occurs in Protestantism! When anyone tries to earn salvation by works or who invents their own religious rules, they are guilty of this grinding religiosity which turns people into slaves. And this is, in any case, the 'main thing' about Acts 15. Peter reminds us of what matters the most:
"Men and brethren, you know that a good while ago Elohim (God) chose among us, that by my mouth the Gentiles should hear the davar (word) of the besorah (gospel) and believe. So Elohim (God), who knows the lev (heart), acknowledged them by giving them the Ruach haQodesh (Holy Spirit), just as He did to us, and made no distinction between us and them, purifying their levim (hearts) by emunah (faith). Now therefore, why do you test Elohim (God) by putting a yoke on the neck of the talmidim (disciples) which neither our fathers nor we were able to bear? But we believe that through the grace of the Master Yah'shua the Messiah (Jesus Christ) we shall be saved in the same manner as they" (Acts 15:7-11, NKJV).
How careful we must be to always protect the Body of Messiah from this kind of destructive religion. The Besorah (Gospel) starts and ends with emunah (faith) for Judahite and Gentile alike, and living Torah in Yah'shua's (Jesus') empowerment is a part of that joyous experience. What Yahweh does not want is that we try to prove we are worthy of our salvation by the mitzvot (commandments) we live, our church attendance, being good, or anything like that, and even worse to live man-made commandments and traditions! And these man-made traditions include not just the Oral Law of the Rabbis but all the false festivals invented by Roman Catholicism (like Christmas and Easter) and the rules of local churches (like making the Catholic Trinity doctrine an issue of salvation), their unbiblical creeds and doctrines. This is not a Protestant vs. Messianism issue but an issue of the true biblical Besorah (Gospel) vs. all the man-made ones, and all the different mixtures!

Peter, who had once fallen for the chauvanism of some Pharisee converts (Gal.2:11ff) and had to be corrected by Paul, was now opposing it, demonstrating not only his repentance but also the fact that he was in tune with the Ruach haQodesh (Holy Spirit) again. Paul and Peter are echad (one) in this. And we ought to agree with them.

No, Acts 15 does not support an antinomian (lawless) Evangelical Christian agenda. Far from it. It positively defends Torah-observance for believers and deals with those first century issues that caused Gentile converts to clash with Judahite converts of a legalistic Pharisee background.

That brings me to the conclusion of my three-part series exposing antinomian twisting of the Scriptures. "But what of the big one, Colossians 2:14-17?" I have dealt with that one elsewhere.