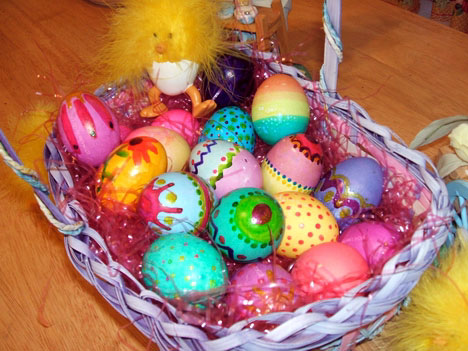 The greatest festival of the Christian church commemorates the Resurrection of Yah'shua the Messiah (Jesus Christ). It is a movable feast, that is, it is not always held on the same date. The church council of Nicea (AD 325) decided that Easter should be celebrated on the first Sunday after the first full moon on or after the vernal equinox (March 21). Easter can come as early as March 22 or as late as April 25.
The name 'Easter' comes from the ancient Anglo-Saxon goddess of spring, Eostre or Ostara, in whose honour an annual spring festival was held. Some of our Easter customs have come from this and other pre-Christian pagan spring festivals. Others come from the Passover feast of the Israelites, observed in memory of their deliverance from Egypt. The word 'paschal', meaning 'pertaining to Easter', like the French word for Easter, Pâques, and the Norwegian Påske, come through the Latin from the Hebrew name of the Passover.
But should believers observe this Christian-Pagan amalgam? Read the articles in this section and decide for yourself.