Month 2:14, Week 2:6 (Sheshi/Kippur), Year:Day 5936:043 AM
Gregorian Calendar: Friday 4 May 2012
Late Pesach 2012
Burning Down the City of Jericho
Continued from Part 1 (Late Passover)
Continued from Part 14 (Jericho)
Chag Sameach Pesach for those of you who missed the main Passover last month and who are celebrating it in this the second month of the year. It is improtant, I feel, that those who did celebrate last month join in spirit with those observing it today.
In asking Yahweh last night what my message should be to you all today He reminded me that our own battles of Jericho are by no means over and are in reality just starting in spite of our unofficial memorial for seven days that ended only a few days ago.
Jericho as it would have originally appeared
On the seventh and final day of the siege of Jericho the Israelites marched around seven times making a total of 13 circuits in the space of 7 days, thus linking the two numbers together in what we shall call the 7/13 Principle in the days to come. And you will no doubt be aware, in contradiction to the Western Catholic/Templar fear and superstition about the number, that biblically 13 is in actual fact a very positive one.
In the other 7 day-long festival of Sukkot or Tabernacles the sacrifices of the first day consisted of 13 bullocks, the original number being diminished by one on each subsequent day so that by the seventh day a total of 7 bulocks were being offered only. Including Shemini Atseret or Last Great Day during which one bullock was offered, this made a total of 71 bulls offered over an 8 day period which in gematria is respresented as a one digit number as 7+1 or 8. Given that with a repeat Pesach there is also a repeat Chag haMatzah (Unleavened Bread) and repeat Yom haBikkurim (Firstfruits), this would also mean (for the late celebrants) a 'Second Jericho too - 13+13=26=2+6=8! Please note the recurring number 8 [1]. This has even further significance when you consider that during the spring festivals the resurrection (represented by the number 8 because Yah'shua/Jesus arose on the 1st day of the week - 7+1=8) is memorialised on the third moed of Chag haMatzah, revealing the 3/8 principle about which we shall also speak another time.
I mention this not merely as an interesting exercise in biblical symbolism, mathematics and gematria but because of Yahweh's emphasising the continuing 'Jericho marches' in our own real time and space. We must fight many 'Jericho's' during our lifestime as the Enemy places obstacle after obstacle in our way. So that is my continuing theme in this second late Pesach.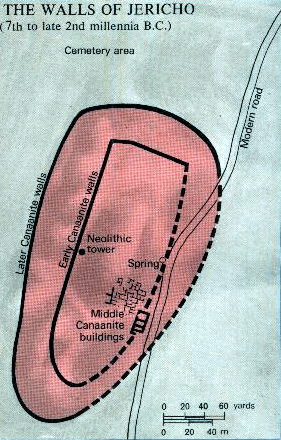 It comes as a disappointment to many to learn that Jericho was not the massive city depicted in all the art work we are familiar with. In those days, any walled town was called a 'city' and its head man, chief or sheikh was called a 'king' - so the 'King' of Jericho was no British Monarch, German Kaiser or Russian Czar ruling a vast domain - a better descrption would be a local warlord over a tiny city state of perhaps just a few thousand people. The very fact that Joshua's entire army could march seven times around the fortress in one day shows that it was, in fact, a very small place - 'huge', certainly, in comparison to anything else in the region, but still small. Though the walls were indeed formidable, the area they enclosed only measures 7 acres. If you As you can see from the map opposite, the whole circumference of the city was about 650 yards or about 590 meters.
We should not be overwhelmed by surprise as we rescale things down to reality. The old Jebusite fortress which David captured and turned into Jerusalem was about the same size as Jericho. Schliemann was just as disillusioned as we might be tempted to be when he excavated the city of Troy which Homer tells us so long withstood the Greek besiegers. The more we look at these ancient fortresses the more we are forced to the conclusion that these places were more in the nature of places of refuge. In times of peace, the greater bulk of the people would have lived outside the city's walls, not on the inside, whose habitations we must assume that Joshua occupied if indeed they existed, and if they did not, then Jericho did not in fact support a large population at all.
The Jericho Mound and Location of the Original 'City'
How does knowing these facts about the fortress of Jericho help us in understanding the spiritual tavnith (pattern) of overcoming? Jericho is a wonderful emunah (faith)-builder as is witnessed in the account of its fall, revealing the marvelous hand of Yahweh. The Almighty did not knock down a vast, sprawling metropolis (though He could have done, and will in our own times) but a tiny town whose fame principally lay in its walls. The enemy's strength is not in his size (for in reality he is very small compared to the Creator of the Universe) but in the walls of self-deceit which we allow him to erect because of the lies we are persuaded to believe in by demonic whisperings.
Learn this lesson above all else - whatever issue you may have is in reality much, much smaller than it seems to be. The problem is never the demons who may torment the soul but in the walls of deceit which we have allowed them to build for these walls are entirely in the mind. They're not real, even if we may think they are.
Whatever 'Jericho' you may be currenly looking at, that presents itself like the Wizzard of Oz as something far bigger than it actually is, whether it be governments or other people in authority and power, please get everything scaled down to its real size. A government (if that is what you are struggling against) may seem 'big' but remember that it maintains its power on the basis largely of an illusion which the people believe to be real. Jericho must have seemed enormous to the nomadic Israelites but Yahweh brought it down and permitted His people to take the city, destroying all life within its walls save the specially protected family of Rahab.
Those who come up against the true people of Yahweh can expect to have their hedges of self-protection - their 'walls' - smashed by Yahweh and to have their grand designs burned to the ground, their treasures being trasferred to the treasury of Yahweh. It happened with the mighty Pharaoh and it happened with Belshazzar. Empires come and go. The corrupt governments that afflict is also come and go and those seduced by power and who have worked for it all their lives find it slips from their hands in an hour when the time of judgment comes. Some Empires, like the British or Byzantine ones, slip away gradually but others, like the Soviet Union, disappear in a day.
I have just one thing that I want to underline - you had better be sure that the 'Jericho' you are besieging is truly an obstacle to the Work of Yahweh and that you are attacking it in His proper order or tavnith (pattern) that we recently detailed. Sometimes people or circumstances which we think are the 'enemt' are actually the opposite. We only view them as threats because they being truths that disturb our comfort zones. Attacking these is a waste of time and energy. For many, it's just the removal of swaddling clothes, it is time for growing up.
When Joshua and the nation he led crossed the Jordan, a census was taken:
"Take a census of the people from twenty years old and above, just as Yahweh commanded Moses and the children of Israel who came out of the land of Egypt" (Num.26:4, NKJV).
Two members of our family had birthdays yesterday including a son who turned 20. That is the age a boy becomes a fully independent man in Yahweh's Realm. Facing Jericho marked a huge change for the nation that had been wandering in the desert for 40 years. Yahweh's paternal care took a radical change. With the first Pesach in the Holy Land, there would be no more manna, no more water coming out of rocks, no more endlessly öasting clothes and sandalls, no more miraculously provided quail, no more visible pillar by night and cloud by day. Entering Canaan meant a quantum shift in emunah (faith). The nation had come of age, Yahweh was removing its swaddling clothes, and ordering it to stand up and fight like a true son...but not by carnal means.

You may think that boys and girls come of age at 16, 18 or 21 but these are man-made ages. 18 year olds are still boys in Yahweh's eyes and 21 year olds should have already grown up. At 20 Yahweh gives a man his metaphorical spear, helmet, breastplate, sword, belt, shield, sandals and leg protectors. He becomes a warrior. He is expected to go into battle as a household chief, the man of his family. Sadly, far too many believers want Yahweh to continue babying them and so they wait and wait and wait and wonder why nothing happens. Once in the Promised Land of spiritual adulthood in Messiah, a man is expected to get onto Yahweh's Derech (Way), take the land from the demonic inhabitants and 'slay' the lot of them .

There are many who pass through the spring festivals who have not realised that after the final Chag haMatzah a man is expected to ready himself for the responsibilities of Shavu'ot. Sadly, modern man has been emasculated by political correctness and believes the state must continue to parent him. Not so. In the Besorah (Gospel) of Yah'shua the Messiah (Jesus Christ) men must climb out of this false impotising thinking, get on the armour of Elohim (God) and stand ready for battle. Most Christian and Messianic men are fatalists, thinking that Yahweh will do everything for them. Not so. Though He must be sought for the plan of attack, though He must be the armour, though He must be the empowering for spiritual warfare, the man has got to get off his rump and march on his own two feet! Yahweh isn't going to push him out in an oversized pram.

Every congregation should take a 'census' of men who are spiritually 20 and above, train and mobilise them for warfare in the invisible. This will require footwork in the visible too. Even the babbling armchair theologians have to get up off their rear ends, stop spouting and get into the fray. Fighting Jericho battles takes place in the open. So get out there, do what Yahweh says patiently and in emunah, watch Him shatter the walls of illusion, and then slaughter the enemy and burn down his habitation! No mambypambying and pussyfooting like some apology-of-a-man in drag but as a real man of Elohim (God).

So get to it. Obliterate your Jericho's and give Yahweh the glory!

Have a blessed Passover meal, those of you who are late, and get your eyes on Yah'shua (Jesus) the Passover Lamb and beyond to the battle that lies ahead.

Continued in Part 2 (Late Chag haMatzah)

Continued in Part 16 (Jericho)

Endnotes

[1] For a fuller study of this important topic, please see: The 13 Bulls: Mystery of the Tabernacles Sacrifices.

Share