Month 7:28, Week 4:6 (Sheshi/Kippur), Year 5935:199 AM
Gregorian Calendar: Tuesday 25 October 2011
Sun, Moon and Stars
When Were They Created?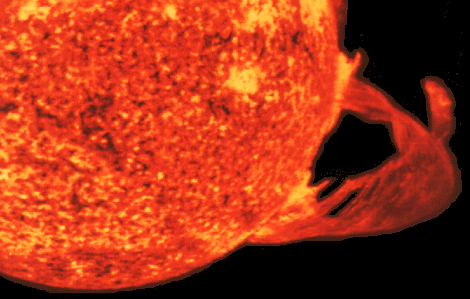 Continued from Part 5
One of the criticisms levelled against the Creation Calendar and our claim that the sabbath is properly calculated from the monthly New Moon and not by an endless 7 day cycle, is the critics' assertion that since the moon was created on the fourth day, then the sabbath could not have been on the seventh day, as the creation account in Genesis 1 clearly states.
But does it? The claim that the moon was created on the fourth day is based on an entirely false assumption.
"Then Elohim (God) made (asah) two great lights: the greater light (sun) to rule the day , and the lesser light (moon) to rule the night. He made the stars also" (Gen.1:16, NKJV).
And had this translation (which is fairly typical of English renditions) been correct, our critics' case would have been established beyond doubt. Unfortunately for them, though, the Bible does not say that the sun and moon were created or made on the fourth day - they were asah which means 'appointed' - there is already a Hebrew word for 'create' or 'make, namely, bara which means to create something for the first time. In other words, the sun and moon were created on the first day but were not appointed as visible heavenly lights as moedim until the fourth day:
"In the beginning Elohim (God) created (bara) the heavens and the earth. The earth was without form, and void; and darkness was on the face of the deep. And the Ruach Elohim (Spirit of God) was hovering over the face of the mayim (waters). Then Elohim (God) said, 'Let there be light'; and there was light. And Elohim (God) saw the light, that it was good; and Elohim (God) divided the light from the darkness. Elohim (God) called the light Day, and the darkness He called Night. So the evening and the morning were Yom Rishon (the first day)" (Gen.1:1-5, NKJV).
It is pretty plain. Yahweh created light on the first day, and since the source of light is the sun, then the sun had to have been created (bara) then. But what does it mean when it says that the heavenly lights were "appointed" (asah) on the third day? It means that is when they first became visible on the surface of the earth, even though man was not there yet, to enable plant life to photosynthesise and to warm the planet up for all life to be able to survive. They are appointed as divine moedim reckoners.

How did they become invisible on the fourth day? What rendered them invisible prior to the fourth day? The thick canopy of water that was above the earth. When this was removed or dispersed, the sun, moon and stars became visible to animal life on earth that followed in the next two days.

Any other scenario just results in impossible scriptural contortions (which atheists understandably scorn) for if you accept the classic notion that the sun, moon and stars were created on the fourth day, then you have the problem of explaining how light came into existence on the first. Quite apart from the connundrum as to how that light was made (i.e. what was emitting it - you have to posit some mystical supernatural magic latern) you are left with the equally baffling question: what for? Why make light before making the sun and stars when there was no need for it until the fourth day?

I prefer to follow the plain Hebrew and the principle of Occam's Razor, namely, that the simplest explanation is probably the correct one. It is my belief, reading the p'shat or plain sense of Scripture, that the earth being described in verse 1 is not the same as the earth described in verse 2, that a large period of time existed between the two (this is not the 'Gap Hypothesis' which concerns periods of times betweeen the creation days themselves). Genesis 1:2 and onwards reads to me not of the earth being created de novo but of the earth being reformed after a devastating deluge that left the planet dead and omne giant sea. If you are interested in learning more about this scenario, then please read my sermon, Human Angels: With What are You Building Your Life? that talks about the time earth was an angel planet that was destroyed by Yahweh following the rebellion. But that, is they say, is another subject altogether.

There is, I am sure you will agree, a huge difference between a 'creation' and an 'appointment'. If Yahweh had wanted us to believe the sun, moon and stars were created, He would have used the word bara, not asah. If you carefully research this topic you will not only get confirmation of this but that there is no contradiction with Yahweh's Creation Calendar. It is those who follow the Roman Calendar who must try to explain away all the anomalies and contradictions to Scripture that their system brings.

Continued in Part 7

Share