Month 3:21, Week 3:6 (Sheshi/Kippur), Year 5935:077 AM
Omer Count Day 13/50
Gregorian Calendar: Wednesday 22 June 2011
As Planet X Approaches...
Is the USA About to Be Devastated?
Continued from Part 1
As we approach the time when it is claimed the brown dwarf star Elenin, Nibiru or Planet X is scheduled to come close to our sun and cause many more coronal mass ejections caused by the magnetic linking of our star with this rogue heavenly body that in turn will trigger massive geophysical changes in the earth, people are asking whether this will mean the submerging of vast parts of the United States and other countries.
Many of you will, I am sure, have seen a widely circulated map, allegedly originating in the US Navy, showing the Mississippi basin and both west and east coasts totally submerged. Interestingly, this map has similarities to one produced by the late occultist Edgar Cayce and also a Hopi Indian prophecy as shown in the two maps below:
About all I know myself from a vision shown me many years ago is that the western coast of the USA will be submerged. In the vision I saw a long thin island that comprised part of Mexican Baja California and the remnants of the west coast. I have never seen any other part of the USA. I have been shown that part of the Norwegian coast will be submerged following a massive volcanic eruption outside the city of Stavanger (Olive Branch 2).
I do not know if the 'US Navy' map is the way things will be. Nobody does. I don't know if it is genuine or whether it has been circulated to sow confusion and panic. It may even be based on the ramblings of psychics.
The oldest map and prediction is that of Edgar Cayce yet his prophecy was that these changes would take place between 1934 and 1936, which of course they didn't, demonstrating that he was a false prophet.
What is clear is that many people think that this is going to happen including people in government. Why else would the US Navy advise its personell to retire to the Ozarks of Missouri and Arkansas? And why are so many US Naval personell there now? Why has a trans-American highway been constructed between Canada and Mexico, cutting through this central region of the USA, if the authorities don't believe such a communication artery will become important after massive geophysical changes? Why are most of the FEMA concentration camps in this central zone? And why has the Úlite built its main underground headquarters beneath Denver Airport, Colorado, also in the central zone?
As you will see from the map above, certain people are expecting everything east of the Mississippi to be a dead zone, along with the west zone, because of all the nuclear reactors that will be inundated and melt down: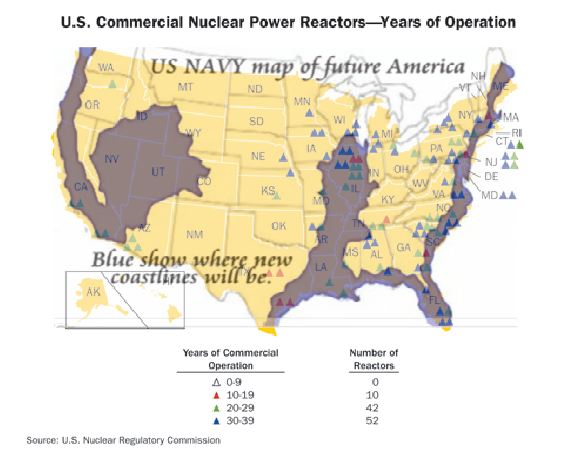 There are plenty of maps like these produced by psychics and those relying on 'spirit guides' (demons) including this one by 'regression therapist' Chet Snow:
This one interestingly shows the California Island similar to the one I was shown in vision although 'mine' was much longer and had more of the USA part.
What, then, are we to make all of this? Should we take any of this seriously? And should the fact that the Úlite may believe in this influence us as believers? Why are so many convinced? And why, if the Úlite know about these things, are their FEMA camps in all three zones? Why are their underground cities in all three zones? Or are they just hedging their bets?
With so many uncertainties why are we even giving this subject our consideration? Because if it is true, even in part, then because of the massive implications as far as the loss of human life is concerned then we should research it out carefully.
At the time of writing, the Mississippi basin is flooding and a nuclear reactor in Nebraska is close to meltdown. I have seen convincing evidence that some of the bad weather going on is of human orgin (probably Úlite-sponsored HAARP activity) and that the invisible government seems bent on destroying the USA. There is little doubt about that in my mind because this has been going on systematically for many years - socially, economically (the collapse seems imminent) and now - the big question - geophysically.
A thought occurred to me today. What better way to cover up the systematic destruction of a country by this evil cabal (and many others too) than by blaming a cosmic event such as roving comet, giant planet or brown drawf star (Elenin, Nibiru, Planet X)? I believe the Úlite, who are occultists, believe in Cayce and the psychics who have 'seen' the flooding of America. It is possible that the US Navy map is inspired by these things. It is possible that they will carry out their evil plans no matter whether Planet X is real or not - they are, after all, demon-driven and have been duped by the whole UFO/nephilim business.
We will know soon enough what is, or isn't, going on. According to these Elenin pundits, the brown drawf star will cross Mar's orbit on 27 June. It has been suggested that this might be a goldcen opportunity for the Úlite to set up a staged event - not a 'red flag' - in which to launch a devastating attack on their own citizens and blame Elenin. On 7 July - the '7/7' event as it is being billed - Elenin will pass between Saturn and the sun which may trigger off volcanoes worldwide on an unprecendented scale including setting off the Madrid Fault resulting in the flooding of the Mississippi basin as shown in all the maps above.
Or nothing on this kind of scale may happen at all.
Whilst we should not be listening to anything that comes from the demonic realm, knowing what liars they are, we should pay attention to what science can show us and arrive at some informed if tentative conclusions. We also need to observe what the Úlite is up to and how they may be using all this to simply create panic and distract us from what's really happening. And finally, and most importantly, we must listen to what Yahweh says.
I have shared with you what I presently know about this. I did have a curious dream last night which may, or may not, have any bearing on this matter. I saw an ocean-going liner and on it the Úlite were assembled - thousands of them, espensively dressed, milling around, with a sense of urgency about them - with the exception of one of the Rothschild's who stayed on land - I saw the fancy house he was in (it looked like an expensive part of London).
There is a war going on, that much is certain, and there are so many lies in circulation that only by walking in the Ruach (Spirit) will we sort this mess out. How many people do you know, who have a proven prophetic track record of hearing Yahweh accurately, who have said anything about Planet X or about vast areas of America being submerged soon? If so, what exactly? Please let us know.
I will keep you posted of anything else I learn. In the meantime, walk circumspectly, don't gobble everything up you hear but at the same time don't throw everything way without checking it up. Put what you're not sure about on the shelf and ask Yah'shua (Jesus) for the emet (truth). And make sure you are prepared. If the US Navy map is accurate, then you do need to have a plan ready. Then listen to what He tells you to do and and do it when He tells you.

Share