Month 2:16, Week 3:1 (Rishon/Pesach), Year 5935:046 AM
Gregorian Calendar: Thursday 19 May 2011
Salvation or Destruction
It Depends How You View the Law-Giver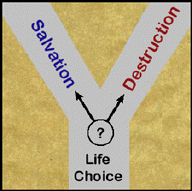 Continued from Part 3
"Do not speak evil of one another, brethren. He who speaks evil of a brother and judges his brother, speaks evil of the Torah (Law) and judges the Torah (Law). But if you judge the Torah (Law), you are not a doer of the Torah (Law) but a judge [of it]" (James 4:11, NKJV).
When Yahweh drew me to this passage and indeed whole chapter the other day, I knew that He had an important message that I was to share with you. But before I get into my main message, I want to point out something rather obvious in this passage that Evangelicals are in denial of: how can speaking evil of a brother or judging a brother result in your speaking evil of a law that has been done away with?

The action of engaging in lashon hara or speaking evil of someone, and the action of judging someone (by implication, unjustly and unrighteously - John 4:24) means that there are consequences that can only exist if there is a Law in place to which one is bound. If the Torah has been abolished - 'nailed to the cross' (as opposed to our debt note for sin, which is what Paul is actually talking about - Col.2:14), then there is no way I can deny it by these two actions, in which case I can no longer be judged for them and these two actions cannot make me a judge of Torah either.

Let us be clear, then, from the outset - the Torah or Law is still in force only now it has been re-issued under a new and better covenant - the New Covenant - made sure by Yah'shua the Messiah (Jesus Christ) by His sacrificial death on the cross (Heb.7:22).

When we judge others contrary to the Torah we not only judge Yahweh the Law-Giver but we also scuttle any opportunity we might have had of knowing and loving the brethren. He who speaks evil of his brother and judges him neither loves the brother, Yahweh or His Torah.
"There is one Lawgiver (giver of Torah, Yahweh), who is able to save and to destroy. Who are you to judge another?" (James 4:12, NKJV)
Indeed. You may run from the Lawgiver, deny Him, be angry with Him, numb yourself into lukewarmness so He cannot touch you, but you would still be deceiving yourself. Whatever you try to do to avoid Him, you must first deny life, because the Law-Giver is also the Life-Giver. If you have already met Him, the 'Hound of Heaven' will pursue you wherever you go until you give up and discover that He and His Torah are overflowing avhavah or love! Love, Life and Law are echad (one) and he who tries to separate them only reaps the whirlwind and can find no shalom (peace). Do not judge the Judge but rather live the Judge's Torah and find rest for your weary soul.

Continued in Part 5

Share