Month 1:23 (Aviv), Week 4:1 (Rishon/Pesach), Year 5935:023 AM
Gregorian Calendar: Tuesday 26 [Red] April 2011
Red April Radiation
The Effects of the Death Cloud Today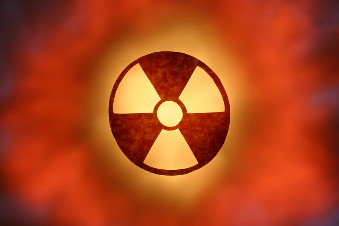 As we come towards the end of Red April, a month and a half after the explosion at the Fukushima nuclear facility in Japan following an earthquake and tsunami, the world is only beginning to realise the scale of the disaster as clouds of deathly radioactive material sweep across the United States and onwards to Europe. When Yahweh first showed me the vision of a death-cloud creeping over the land back in 2009 I thought it might have something to do with a chemical spill in Hungary and then the big Mexican Swine 'Flu scare. I was wrong. It was far more lethal than either of those thousands of times over.
The trouble with nuclear radiation is that it is invisible, like the wind. It is also cumulative, and by the time the Japnese government finally get Fukushima under control, we may have had four or months cumulative exposure. Even more frighteningly, perhaps, you don't see the bulk of radiation effects until much later. It is a stealthy, creeping killer, permanently mutating your genes, and unless you own a Geiger Counter, you can't even know it is there until you start getting ill with cancer and then start dying 10-15 years after the exposure. Your children, if you have been irradiated, will be deformed and possibly have missing limbs.
Our governments, under the lame pretext of preventing a mass panic, are lying about the health hazzards facing the world through the controlled media and have never really told us the whole truth, so that few are taking any precautions and are blissfully going about their daily affairs unawares. This is exactly what happened in the Soviet Union after the Chernobyl nuclear reactor explosion. We are having to get the facts from independent researchers who do care. The west coast of the United States and Canada is already a danger zone with clouds of deadly radiation invisibly blanketing the skies and contaminating vegetation and milk. As I write now, Fukushima is still spewing out 154 trillion Becquerels of radiation every day, ten times higher than official sources are admitting.
When Yahweh showed me a vision of the April calendar I don't know whether He meant the worst would be over by the end of April or that this was simply the beginning. I am guessing it's the latter. Wherever you are in the path of this radiation, you need to take precautions - please see our Fukushima Page with articles providing you with information.
Trust Yahweh, take whatever practical precautions you can, listen to Him carefully so that you know where to be and what to do. Avoid unnecessary exposure to dust and preciptation this summer - it's just not worth the risk.
Resources
[1] The Radiation Network - minute-for-minute radiation levels across the USA
[2] United States Environmental Protection Agency - Japanese Nuclear Emergency Radiation Monitoring
[3] Ministry of Education, Culture, Sports, Science and Technology - Japan - readings of environmental radioactivity levels
[4] Rhenish Institute for Environmental research - potential dispension of the radioactive cloud over the northern hemisphere after a nuclear accident in Fukushima
[5] Antiradition - Lots of really useful DIY tips and advice on how to deal with radiation poisoning


Share