Month 1:10 (Aviv), Week 2:2 (Shanee/Matzah), Year 5935:010 AM
Gregorian Calendar: Wednesday 13 [Red] April 2011
The Ten Plagues Today
What They Mean as We Prepare for Pesach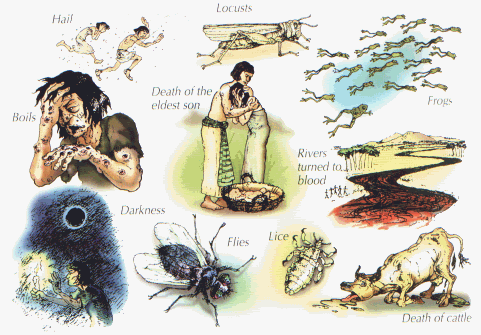 Traditionally the story of the Exodus is told at Pesach (Passover). In our household we usually read it in during the daytime of Passover Day, on the 14th day of the second month of Aviv. Others incorporate it into their Passover Haggadah or Ceremony at Pesach itself.
Part of this presentation recounts the Ten Plagues that Yahweh inflicted on Egypt culminating in the death of the firstborn not covered by the Paschal Blood, including Pharaoh's own son and heir to the throne of Egypt, which finally persuaded him to let the Israelite slaves go. It also served the very important purpose of demonstrating to the children of Israel that Yahweh was in control and would take care of them if they were true to Him. We know that latterly, when Israel once again returns to the promised land from the four quarters of the earth, that Yahweh will again demonstrate His mighty hand and that the miracles which take place at that time will so overshadow the original Exodus story that the latter will be all but forgotten.
As I was meditating on the Ten Plagues of Egypt last night Yahweh asked me three questions:
1. "Have you considered the Pharaoh of the Flesh in your own lev (heart)?"

2. "Have you considered that I, Yahweh, might harden the lev (heart) of your flesh so that your ruach (spirit) will be prepared to finally renounce and relinquish the dominion of the flesh?"

3. "Have you considered that the Ten Plagues might be Ten Afflictions of Soul to loosen your attachment to the flesh?"
Many thoughts were stirred up in me as I listened to these words. And then I heard this:
"There is no breaking out of the soul before the dark night of the soul."
In further thinking on these things I remembered how each plague was Yahweh demonstrating to Pharaoh and the Egyptian people that their 10 chief gods (in reality, demons) were powerless before the Creator of Heaven and Earth. And the fact that Yahweh chose to send ten plagues, which is the number of the fullness of a quantity (like the Ten Commandments which summarise all the mitzvot or commandments) demonstrated that the Egyptians were "completely plagued", as it were. It was the worst that could be done, the completion of a Divine Set of Punishments.

Thus the 10 Plagues represent the fullness of Yahweh's expression of justice and judgments against rebellion - against all those who refuse to repent and submit to Him. Pharaoh's ten refusals, which were all rooted in pride, were followed by a complete punishment that only just fell short of his losing his life. Only then did he relent but it was not sincere. Even after his mock repentance (which was more out grief from what he had lost than any desire to get right with Yahweh, as is so typical of false repentnaces generally), Pharaoh had to be reminded one more time that Yahweh could not be mocked, this time by having his temporal power destroyed in the form of his army being swallowed up in a watery grave.

Pharaoh came to "know" Yahweh the hard way, through a flogging of his fleshy nature. He never knew Him in his lev (heart) so was never converted in that sense, just as the flesh never can be. The flesh can know who is Master but will only yield by being subjugated. It must remain thus subjugated until the day we die when it passes into oblivion along with our physical bodies in the grave. In the meantime Paul instructs us to count it as dead and not to listen to it anymore. That is what is meant by "crucifying the flesh" (Gal.2:20; 5:24) so that it, like demons, are no longer paid any attention to. Once a soul has truly yielded to Yah'shua the Messiah (Jesus Christ) he will come to realise how powerless these dark spirits - the gods of Egypt - really are.

This conquest of the 10 Egyptian deites is an eternal memorial every Pesach. Tomorrow we will look at these 10 'gods' and see how they are worshipped in the modern world - you will be greatly surprised!

Continued in Part 2

Share