25 January 2011 (Shleshi/Bikkurim)
Day #315, 5934 AM
UFO Disclosure
What It Will Mean for Christians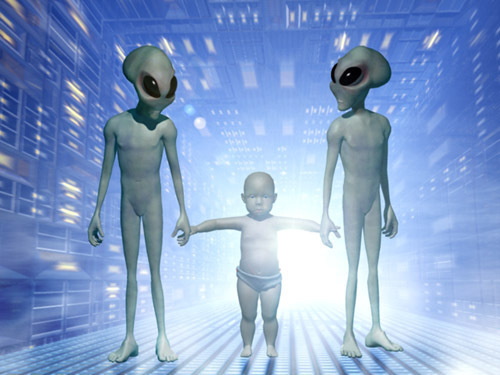 Continued from Part 4
I hate to keep up bringing the same subject again and again (see my various articles on UFOs) but with governments like Ecuador, Great Britain, France and others now publically admitting for the first time that UFOs are real, and with other countries - including the major powers like the USA, China and Russia - who will be forced to do the same, Christians need to be both aware of what is going on and how this subject will be used to further the New World Order agenda. Indeed, supposed 'alien' extra-terrestrial civilisations will be used to 'prove' evolution and to disprove the monotheistic religions and may well be used as an excuse to suppress these religions because they are now 'proven' to be invalid explanations of origins, even though the Catholic Church has already said it now accepts alien life elsewhere in the universe, which comes as no surprise as their ruling bodies are insiders working alongside the Úlite at certain levels.
There WILL BE public disclosure of the UFO phenomenon but it will not be full disclosure by the major powers and it will not be wholly truthful. The very fact that these things will be admitted by governments with carefully selected releases of information in the form of photographs, movies and government/military investigative reports will hold the public spellbound. And it will be spellbinding seeing fasntastic new technology and other life forms that are not only intelligent but more advanced scientifically than we are. They will display 'aliens' so-called - certainly some samples of dead ones and possibly some live ones, especially those nasty, parasitic little life forms known as 'greys' or 'grays' who have abducted and abused tens of thousands of humans over the decades in their ghastly experiments. Like I said, it will be a selected release of information, just enough to keep the public hooked and satiated without fully disclosing what is really going on in order to continue public brainwashing. Why are they disclosing now? For one reason, because they can't keep it secret any more. The public knows too much what with insiders making their own disclosures and the Information Highway disseminating it, one of the reasons the Úlite want to control the Internet at some point.
Christians and Messianics are for the most part not going to be prepared. They have dismissed the UFO phenomenon from their theology and cosmology ever since the 1940's and 50's when UFOs first started hitting the news and were debunked by governments as marsh gas and weather balloons (e.g. Roswell). I think we are one of the few prophetic ministries who have been consistently warning people about the UFO/alien deception now for the last 30 years or more. What crisis of faith will believers have (which is what the Úlite of course wants) when they are shown the bodies of these non-human entities (though some look very human)? Man will be shown not to be the pinnacle of creation (let alone evolution) as far as intelligence and technological know-how are concerned. How will they reconcile this to their skimpy biblical faith? The Úlite will, of course, have prepared answers for them that will accellerate their movement in the direction of a One World Religion. We will be seeing the resurrection of embezzler von Dńniken's space-god theories and NASA engineeer Blumrich's 'Spaceships of Ezekiel' myths amongst others as we will be asked to believe that these aliens appeared to biblical characters and posed as God to a primitive people steeped in superstition. We will be asked to believe that they are our true 'gods' and benefactors....or at least some of them. And who knows, the Úlite may even use them as a 'threat' to unite the world behind themselves in order to get the One World Government, having failed - as I believe they will - in their Global Warming Scam and possibly in their highly unpopular European Union experiment.
Believers will not be prepared for the true explanation because they are trapped in mediaeval notions as to what demons are. They will have been taught that all demons are purely non-material, spiritual entities, that they are fallen angels, immortal and supernatural, and so not capable of being killed, as many UFOnauts have been. They will know little or nothing about the products of fallen angel-human (nephilim) and even angel-human-animal genetic manipulation which these beings are, even though the Bible actually makes one passing reference to this activity:
"HaNefilim (The Giants) were on ha'aretz (the earth) in those yamim (days); and also after that, when the bnei haElohim (the sons of Elohim) came in unto (had intercourse with) the banot haAdam (daughters of the Adamites/Man), and they bore children to them, the same became gibborim (mighty men, mighty ones, warriors) which were of old, men of renown (reputation, fame). And Yahweh saw that the wickedness of haAdam (the Adamites, Man) was great in ha'aretz (the earth) and that every yetzer (inclination) of the machshevot (thoughts) of his lev (heart) was only rah (evil) continually. And Yahweh related (regretted) that He had made haAdam (the Adamites, Man) on ha'aretz, and He was hurt in His lev (heart). And Yahweh said, I will wipe out haAdam (the Adamites, Man) whom I have created from the face of ha'adamah (the earth, ground, land); both Adam (Adamites, Man), and Behemah (animal-kind), and the Remes (crawling creatures), and the Oph haShomayim (birds of the air); for I relent (regret) that I have made them. But Noach (Noah) found chen (grace, umerited favour) in the eyes of Yahweh..." (Bereshit/Genesis 6:4-8, OJB).
There can be no doubt that the early Hebrews clearly understood the bnei haElohim or "children of Elohim (God)" to be fallen angels for these beliefs found their way into the pseudepigraphic books of Enoch which, though mutilated and corrupted over time, contain enough of the original histories to have elements of credibility. Genesis clear teaches that these bnei haElohim not only were physical but they were closely related enough to Mankind (the Adamites, descendants of Adam) that there was no 'species barrier' preventing conception between them. The only diference between these bnei haElohim and our ancestors was that they possessed supernatural powers and that their offspring were of large stature, whose remains have been found all over the world. How these bnei haElohim came down to the earth - whether by means of spacecraft or simply my materialising and dematerialising is not as important as the fact that they were here, that they messed around with our gene pool, and that their progeny struck terror throughout the planet. Their great stature and knowledge gained them the respect and admiration of the Adamites (us) - they clearly worshipped them in some way and allowed their mind and hearts to be completely corrupted by them so that every inclination of man became like the original fallen bnei haElohim - evil - and continually so! This so broke Yahweh's heart, as our text tells us, that He even regretted having made us for abandoning our loyalty to His great love and turning instead to fallen angels and their offspring and allowing them to ruin the world.

What is about to happen with our so-called 'aliens' is exactly the same. This is the same story all over again. These UFOnauts - at least the mortal ones - are the offspring of fallen angels, demons or devils and us. As anciently, the modern Adamites have been taken against their will - by abduction. They have been taken aboard these nefilim vehicles (call them what you like) and have been impregnated. The victims of these abominable acts, in trying to reconcile themselves to these traumas, have been deceived very often that they are somehow 'special' - instruments of progressing human 'evolution'. And what you will find interesting if you have studied this matter carefully is that the philosophy and religion of these 'aliens' is essentially New Age and occultic. Read Mary Rodwell's book, Awakening: How Extraterrestrial Contact Can Transform Your Life, an Australian counsellor. Increasing numbers of psychiatrists, social workers and New Age proponents are buying into this sanitised version of nefilim abductions and rapes and turning it into a pseudo-scientific religion more horrendous than nazism for these people are buying into the lie that they are no so much a new Master Race as a new Master Species - they are 'star children', 'Indigos', the next stage of man's 'evolution'.

Twenty years ago all of this would have been derided as the realm of the freaks, but it is rapidly gaining acceptance and becoming mainstream. What's happening I can only put this way: demons are coming to earth in material forms and are claiming to be our progenitors - our gods or elohim. If you think I have flipped my lid, just wait around and see these things unfold before your very eyes. The public has already been prepped by Hollywood, starting with the ET: Close Encounters of the Third Kind movie, since followed by scores of similar movies like V, with Avatar being the latest. None of this is accidental. Our consciousness is being manipulated to prepare mankind for the Return of the Nefilim.

21st century man is, of course, a lot more sophisticated and knowledgeable than mankind was in Noah's day. His inclinations are no less evil, mind you, and it is clear that affluence and technology have not, as Marxism predicted, made him more moral. Society is disintegrating, as was planned by the Úlite in progressively eroding Christian values away, so as to make mankind ready for new saviours... And, of course, behind all of this UFOism is Satan himself, who wishes to be worshipped as the supreme Elohim (God) of the Cosmos. Sadly, he will get this from the bulk of mankind, and just as there were only a few who were true to Yahweh in Noah's day, so the same will be true in the end times.

It is therefore vitally important that you are prepared for UFO/Extraterrestrial Disclosure so-called and that you understand that whilst these beings almost certainly have habitations on other worlds far away, that their origin was not 'there' but RIGHT HERE and that they have been here right from the beginning. Research it out for yourself while the Internet remains free and you will find out that what I am disclosing is the real truth.

I will be saying more about this subject in times to come. In the meantime, follow the example of Noah and his family and remain true to the authentic Creator, Yahweh-Elohim.

Continued in Part 6

Share