17 March 2010 (Revee/Shavu'ot)
Day #2, 5934 AM
Toward the Taw - t
Constructing Your Life's Spiral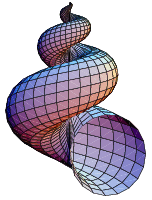 Today, on the second day of the year, I have my right eye on today and my left on Pesach, and together they are focussed on Yah'shua (Jesus). Today is the reality of my possibilities and Pesach is the next milestone I am headed for in the new cycle. And I have the memory of all the previous Pesach's I have observed and behind them my Living Pesach - the day I was born-again on 30 March 1977: from that day everything started again for me. A little of me is also seeing beyond Pesach and to Sukkot and to the final Sukkot:
"Not that I have already attained, or am already perfected; but I press on, that I may lay hold of that for which Messiah Yah'shua has also laid hold of me. Brethren, I do not count myself to have apprehended; but one thing I do, forgetting those things which are behind and reaching forward to those things which are ahead, I press toward the goal for the prize of the upward call of [Yahweh-]Elohim in Messiah Yah'shua" (Phil.3:12-14, NKJV).
The day I was born again was for me the beginning (alef-a) of eternal life and eternal living but I do not set my eyes on that. Why? Because as something eternal, it has been present every day ever since, and will remain. It was a birthday that never ends. It does, however, point to my final Sukkot destination (taw-t), Yahweh willing, which Paul says I should be pressing toward every day and always.

Please now indulge me in a short mental exercise. Imagine a spiral that begins broad at the bottom and ascents to a point at the top. At the same point on each turn place a dot. Connect this dot with a line from the lowest dot to the point at the very apex. Each turn of the spiral represents a year and that dot represents Pesach each year. Then, on each turn and next to the Pesach dot, place another one, and connect those all up too. These dots represent Chag haMatzah. Then repeat the same exercise for each of the remaining five festivals. Place a large dot at the top (the end) of the spiral and a large dot at the beginning. Label the dot at the top of the spiral with the letter taw-t and the beginning of the spiral at the very bottom with alef-a. Then imagine there are 70 ot so loops. This spiral is your life from the point you meet and accept Yah'shua as your Saviour (a) and the point of your life (no doubt after your death) when you celebrate the final Sukkot with Him (t). Inbetween these annually repeating festivals on the spiral are numerous sabbath days and new moons. Once you have done that, then you can add your daily prayers, scripture study times, daily family devotionals, your witnessing, ministry, and so on. This is your life in Messiah. This is your life dedicated to Yahweh. This is what gives your life its set-apart pattern.
Then you can fill in the rest - eating, sleeping, your job, domestic duties, schooling, birthdays, anniversaries, entertainment and so on. All of these then fall within the pattern of a spiritual life...or they should.
Now if you were to create the spiral of your life, starting with your greatest priorities and then working your way toward your least, how would the dots appear? Would there be order or would they be random? Or a mixture? What would be the connecting lines? And would those lines all point to the apex - to Yah'shua (t)? Would you be adding the festivals, sabbaths, new moons, prayer times, scripture studies, and witnessing to an already dotted spiral? If that's what you would be doing your life would be back to front. You would be adding Yah'shua to your temporal life instead of adding your temporal life to Yah'shua. Then Yah'shua would be serving your interests instead of you serving His.
Yahweh has given us a pattern of living to ensure that we stay focussed and synchronise with His rhythms - He is not going to synchronise with ours. That requires some important choices, self-discipline and some conscious effort because the spirits of this world will continually be wanting to draw you away to either someone or something else's rhythms or to complete anarchy. Yah'shua says:
"'And behold, I am coming quickly, and My reward is with Me, to give to every one according to his work. I am the Alef-a (Alpha) and the Taw-t (Omega), the Beginning and the End, the First and the Last.' Blessed are those who do His commandments, that they may have the right to the tree of life, and may enter through the gates into the city" (Rev.22:12-14, NKJV).
In this new year let us clearly set our priorities, get focussed in the right way, and make sure that we are sandwiched between the Alef-a and the Taw-t and not the other way round. If we don't start the year right we're going to finish it wrong, miss the tree of life, and waste valuable time. Get your eyes on Yah'shua and fill in the dots of His commandments, not your own.

Share