The Definitive Story Told

Inside a New Age Mormon-Essene Fertility Cult


THIS CULT WILL WRECK YOUR MARRIAGE AND FAMILY!
---
The SAI "Interviews" Parts 4 & 5
SONS AUMEN ISRAEL'S
OFFICIAL RESPONSE
EYE WITNESS TESTIMONIAL 5
As a first hand observer who has been staying at this house for awhile, I have neither seen nor felt anything to indicate any truth to the accusations which have come from a bitter and vindictive source in Norweigh. The family here lives a simple, wholesome, and open life with a standard of truth and conscience. Matthew J Weir, Barnstable MA
Fine. But with respect, you do not know how it was before, nor do you know what has happened to all of Clark's former women. This may have more to do with his current wife Isis than Clark himself.
---
EYE WITNESS TESTIMONIAL 6
Hello. My name is Rev. Anthony Sova (Clergyboard member of the Metaphysical
Church of Christ Interfaith Congregation in Lansing,MI). I am a personal
friend of Abba Davied Israel who is the head of Sons Aumen Israel. My
purpose for soliciting this letter is to render to the reader an objective
firsthand account of the activites that take place at New Qumran (SAI's
monastery) and also give a firsthand account of the personal characteristics
of Abba Davied, Amma Isis, their children, and the members of SAI as
witnessed by myself during a two week stay with them.
It has been my experience with Davied for the two years that I have
associated with him that he is a man of patience, honesty, humility,
compassion, and spiritual maturity. In the time that I spent at New Qumran
we (meaning myself and he and his family) engaged in prayer, meditation,
chanting, sharing thoughts and ideas, study, site seeing, food preparation,
communal meals together, etc.. All things which I wish I could share with my
very own family! His wife Isis is a gracious and lovely woman whose
appreciation for life is contagious, whose love and adoration for her
children are plainly visible, and whose commitment to a family based
spiritual life style is apparent. I had the pleasure of spending a great
deal of time with their children whom are perhaps the most well behaved,
healthy (emotionally and physically) and cared for children that I have ever
seen. The children and I jumped on a trampoline for hours at a time. We
watched childrens cartoons. Let me also add that the content of the programs
they watch are monitored so that they don't get exposed to materialism,
violence, and sexually perverse material.
New Qumran is a monastery/commune that is dedicated to the worship of the
God of life, the deification of the lost spirit-soul, and the transformation
of our planet into a place of Love and Compassion. The principles embraced
there are based on absolute Love and Compassion for all beings. As such I
find the accusations of child molestation, demon worship, sexual perversion,
etc... to be completely absurd.
Woah, just a minute! This is not what I have said, as I have explained in previous commentaries. The "child molestation" accusation is just an attempt to polarise observers - all I have ever said is that Clark believes - and confirmed it in WRITING - that he believed that a time would come IN THE FUTURE when parents and their GROWN-UP children would be "pure" enough to have sex together. THAT IS ALL. I have NEVER suggested that they molested, or spoke of molesting, MINORS. I'm afraid that you have been grossly misinformed. And Gilbert Clark (Davied Israel) KNOWS this.
Neither have I said that there was direct demon worship. But the sexual perversion accusation I absolutely stand by. Besides, if there was sexual perversion, did you think he would show it to you?? They always kept those activities closely guarded. Of course, the way you phrase it, in the context of your experiences, it DOES sound absurd, and from Clark's point-of-view, purposefully so.
If the members of SAI are so devout in their
spiritual practice that they are willing to refrain from indirectly
participating in the violent exploitation of animals by refusing to even
purchase animal products; how can one logically conclude that they would
entertain such disgusting acts of violence as Mr.warren has accused them of?
They wouldn't - they have set up two straw men to distract you from the third item.

Indeed, it is a nonsensical accusation not even worthy of consideration.
As it stands, I agree.
I
ask the reader to take the time and study the many teachings on Davied's web
site and the absurdity of Mr. Warrens accusations shall become very
apparent. I also invite the reader if he/she has any doubts after doing so
to contact Davied and get to know him and make a vist to New Qumran and
judge for yourself everything that I have stated.
I would like to invite the reader to SPEAK WITH THE VICTIMS.
Davied's door is always
open to people who are seeking a spiritual life and he will be glad to have
you.
Good. Then take the documentation - his own letters and the testimonies of others - and confront him face to face. Better, still, show them this picture of his little son: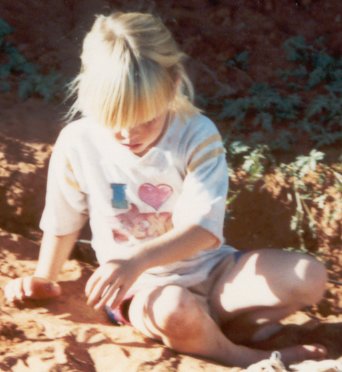 and ask what this has to do with the "monastic" standards of SAI.
It is my opinion that Mr.Warren's behaviour and accusations merely reflects
his own insecure and fanatical fundamentalistic state of consciousness.
Given the variables in the equation presented to you I can quite understand why you have come to such a conclusion! But please consider the possibility that you have been set up!
Any
person that believe's in a God that will burn their children in such a
sickening place as an eternal Hell (as Mr.Warren does) can only reflect that
very same kind of behaviour towards others.
I'm not sure Mr. Sova has any idea what my beliefs about hell are since he has never consulted me on the subject. However, I will simply observe that Yah'shua (Jesus) Himself taught on the matter. Of course, he may not believe in the words of Jesus - that is his privilege - but that doesn't change what the Master said.
Mr. Warren is but a reflection
of his infantile conception God!
A person arriving at a theory of existence with little or no data would not be respected as much of a scientist. Similarly, someone knowing little or nothing about my own beliefs cannot be expected to arrive at a remotely accurate surmise of MY beliefs.
It is a shame that in this day and age this
kind of fanatical religious pomposity still occurs.
No comment.
It is my request to the
reader to examine Davied's web site, contact him and make arrangements to
visit New Qumran. In doing so I am absolutely certain that my testimony will
be shared by all who visit New Qumran and experience the blissful and
spiritually wholesome lifestyle that Davied has selflessly made available
But at what cost? The destruction of several marriages?
When all's said and done, the truth still remains, beautiful façade or present realities not withstanding.

there.
Peace be with you.
-Rev. Anthony Sova




The remainder of SAI's "Official Statement" will be critiqued as time permits .. more to come.

This page was created on 30 April 2001
Last updated on 5 August 2001
Copyright © 1987-2008
New Covenant Ministries - All Rights Reserved