Month 3:20, Week 3:5 (Hamashee/Teruah), Year:Day 5940:78 AM
2Exodus 3/40, Yovel - Year 50/50
Omer Count - Day-After-7th Sabbath #12
Gregorian Calendar: Friday 24 June 2016
Men's Hair
Should It Be Long or Short?
"Does nature not teach you that in a man, if his hair grows long, it is a reproach to him?" (1 Cor.11:14, AENT).
Simple Answer to a Simple Question
Every now and then I am asked whether men and women should have their hair long or cut short and commonly I quote from 1 Corinthians 11:14-16. which gives a definitive answer on the matter:
"Doesn't nature itself teach you that if a man has long hair, it is shameful to him, but if a woman has long hair, it's her glory? Her hair is given her, you see, instead of a covering. If anyone wants to dispute this, we have no other custom, not do the churches (assemblies) of God (Elohim)" (KNT).
An Appeal to Yahweh's Created Order
It is interesting that Paul should make his appeal to nature:
"The male hormone, testosterone, speeds up the loss of hair in men. Estrogen causes women's hair to grow longer and for a longer time. Women are bald, no matter how old. This physiology is reflected in most cultures in the custom of longer hair on women. God has given her hair as a covering to show tenderness, softness and beauty" [1].
The Nazirite Excuse
The Torah requires that there be a clear distinction between male and female (Dt.22:5), each person being clearly recognisable according to their natural birth gender. Those men who dispute Paul not invariably point out that those taking Nazirite vows wore long hair, sometimes for life (like Samson) and sometimes for a fixed period of time (Num.6:1-21). Paul himself took a Nazirite vow. All of this is true. However, how many Christian and Messianic men, who insist on growing their hair long, also abstain from alcoholic drink, avoid contact with corpses, and offer up the prescribed animal sacrifices if they accidentally touch a dead body? And how many of these actually take a Nazirite vow and, upon completion of it, cut their hair off completely and burn it with the prescribed offering? And how many of these long-haired believers can testify to obtaining supernatural strength like Samson? If you're not sure about the last question, cut your hair and see if you are any weaker physically.
The Transition
We know that historically this practice did not continue beyond the first century AD. We also know that the Nazirite vow that obtained in the Old Covenant no longer exists because such external sacrifices were fulfilled by Messiah. Why did Paul enter it and then give his counsel to the Corinthians? Because though the Old Covenant ended at the cross, man's full acknowledgment of this passing took time to be recongised and fully acted upon. Indeed Paul speeds of the Old Covenent "passing away" as a process; and whilst the New Covenant was inaugurated, it too did not come to be fully recognised by man in a day but came to pass as a process too. It could be said, then, that the two Covenants overlapped as far as man's perception was concerned.
What About Priests and Absalom?
There are no Nazirites in the New Covenant that I have ever come across. Likewise, there are no Levitical cohenim (priests) in the New Covenant for you will recall that cohenim (priests) grew their hair long too (Ezek.44:20). They're all Melchizedek Cohenim (Priests) now. And Absalom, the rebellious son of David responsible for fomenting a civil war (2 Sam.14:26), who was famed for his enormous crop of long hair, is hardly a rôle model any true believer would wish to emulate. So we cannot look to either the Nazitites or to the Levitical cohenim (priests) for guidance as to the way men and women should wear their hair in the New Covenant.
Paul's Vow and and the Culturalism Excuse
Yes, Paul entered a Nazirite vow early on in his ministry during the transition period from Old to New, for reasons not given, but then goes on to later explain what Yah'shua (Jesus) has given him by way of instruction for believers in the assemblies (churches) as the standard practice. Liberals, of course, make the appeal, based on evolutionary notions, that Paul, as the apostle to the gentiles, was simply regulating an alreaedy existing practice amongst the gentiles only for the gentiles. And doubtless some Messianic Jews would do the same, saying it is alright for the goyim (gentiles) to have short hair but not for those like themselves who follow Torah. Truth-told, there is a whole spectrum of belief in the messianic movement concerning this matter. And in any case, Paul does not appeal to local customs but to nature and is negative toward cross-culturalism (1 Cor.9:19-23). And who created nature? Yahweh.
Strong Words of Reproof for Long-Haired Men
The Creator points to His creation through His apostle and uses a strong word against those men who insist on growing long hair - it's "a disgrace" (ESV, NIV), "a reproach" (AENT), "degrading" (JNT/CJB, NRSV), "dishonourable" (OJB, NKJV, NASB), "disrespectful" (ISRV, HS), "nothing to be admired" (JB), "shameful" (KNT, KJV), etc.. So what's there to debate?
Common Sense and Gender Differences
Now it is not for me to say whether a man should have a crew-cut or exactly how short his hair should be, only that it must not be long. We are supposed to use our common sense. The important thing is that men and boys do not look like women and girls, or women and girls like men and boys, so that they cannot be clearly distinguished (especially clean-shaven men). It should be pointed out, in all fairness, that some races cannot grow long hair so both men and that women are limited by genetics. (This also applies to the question of the growing of beards with some men being unable to grow facial hair).
Trivial and Unimportant?
Finally, there are those who would say that such matters are trivial, that there are more important issues like "justice, mercy and emunah (faith)" (Mt.23:23, NKJV). You can argue your way out of obedience in all kinds of ways. Just pick a mitzvah (commandment) you don't like and I guarantee you'll find a way to rationalise not obeying it. That's how all lawlessness and idolatry starts. Do you believe Paul when he wrote 1 Corinthians 11:14? If not, then you might as well let the women cut their hair short like feminists. Why not pick any number of mitzvot (commandments) that don't, in your view, compromise "justice, mercy and emunah (faith)"? I can think of dozens that would fit into that category!
Deceive Yourself If You Will
The thing is, the moment you reject any one mitzvah (commandment) or instruction in Scriprture you can no longer claim to be a Bible-believing Christian or Messianic. Start crossing out those passages in the Scriptures which you don't like and refuse to obey and invite other believers to do the same. (I don't, of course, recommend you go and do this - rather, I am trying to point out the fallacy of maintaining an untenable position). If you as a man insist on growing your hair long, go and tell yourself that what you are doing is not "a disgrace", "a reproach", "degrading", "dishonourable", "disrespectful", "nothing to be admired" or "shameful". Tell Paul to his his face when you (hopefully) see him in the resurrection that he was mistaken. Tell the Creator that the creation says no such thing about men having long hair. Lie to yourself. Be an Absalom.
Rejecting Paul
Of course you could reject Paul for not agreeing with your Orthodox Jewish idolatry but that's a very, very slippery slope. I have witnessed many shipwreck their faith by taking that course, including a very good friend. Paul's witness is true and the rule he speaks of concerning men and women's hair was practiced throughout the Messianic Community in his day. So this was not a 'local' instruction, as some disobedient and rebellious liberals have asserted. So what do you suppose would have happened to you if you had insisted on having long hair back then? If you had been a new believer, grace would have been extended to you because Yah'shua (Jesus) accepts you just as you are when you come to Him but if thereafter, knowing what He requires of you, you still refused, what would that make you?
Conclusion
Now I realise that questions about hair length are what might be called 'outer rim' mitzvot (commandments) (see diagram below) but before you go and relegate them to the orbit of Pluto take a look inside the green ring and see if there is anything else there which, your view, would merit similar 'treatment'. You can't pick and choose because everything matters because everything Yahweh commands is part of the expression of that core ahavah (love) that He both gives to us and expects from us. We demonstrate our ahavah (love) in our obedience. So everything He demands matters, ultimately, and our response to these demands quickly determines whether we are first resurrection Remnanters or belong to the disobedient rest in the Second Resurrection. That is surely self-evident. Frankly I do not want to be "a disgrace", "a reproach", "degrading", "dishonourable", "disrespectful", "nothing to be admired" or "shameful" to Yahweh. Do you? Perhaps it's time to visit the barber.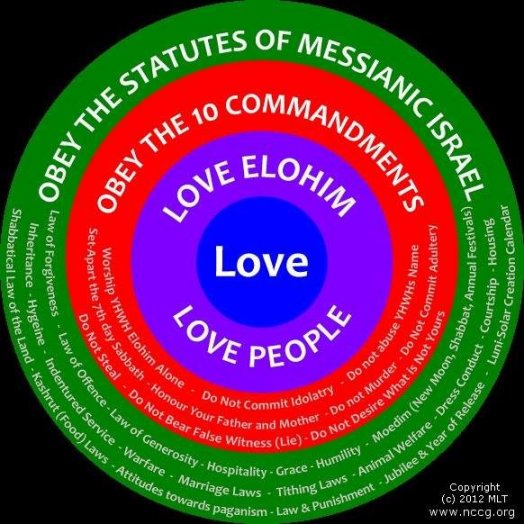 Endnotes
[1] John MacArthur, The MacArthur Bible Commentary (Thomas Nelson, Neshville, TN: 2005), p.1589

Further Reading
[1] Revelation On hair, the Law and Messiah in the Olive Branch, Section 71
[2] The Garden of Yahweh: Father in the Garden - Elohim, Hair and Rulers
[3] Many articles on Headcoverings
[4] Beards and Hair