Month 6:17, Week 3:2 (Shanee/Matzah), Year:Day 5940:165 AM
TESHUVAH 17/39, 2Exodus 1/40
Gregorian Calendar: Thursday 11 September 2014
Teshuvah 17
9/11 Truth and NCAY Revival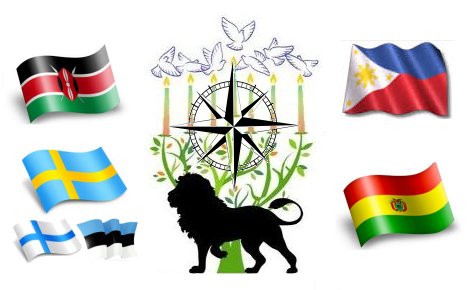 Continued from Part 16
The Great Lie That is 9/11
A great deception was presented to the world 13 years ago today, a piece of satanic theatre, that was designed to further alter humanity's perception of reality, and increase in magnitude the scale of the Great Lie. I speak, of course, of what has come to be colloquially known as '9/11' (September 11th, 2001) when Muslim extremists supposedly attacked the World Trade Centre and Pentagon.
Who Were the 'Insiders'?
Though increasing numbers of people now know and accept the emet (truth) of what happened, a large majority still does not. Even those who are now convinced beyond any reasonable doubt that 9/11 was an 'inside job', there are still different beliefs as to who the 'insiders' actually were. Most of these 'believers' are simply content to blame the (US) 'government'.
Conspiracies Within Conspiracies
The bottom to these conspiracies lies far below the Light or Emet (Truth). There were conspiratorial players on many levels, each with different interests and agendas, starting with Satan himself and his demonic hosts, and including Illuminist members of the US Government and its agencies like the CIA (or at least a faction of it) and the Israeli secret service, Mossad.. With great craft and subtilty, they steered extremist Islam into the cockpit with a view not simply to systematically destroy American liberties with the 'Homeland Act' but to build up and repeatedly mutate the violent patsies of Islam, today's modern descendants of Moloch worship. ISIS is today's latest mutation, a CIA/Mossad-trained puppet full of psychopathic and sociopathic gullible fools, now made drunk with violence and murder and manipulated success, who think they are 'Allah's' hand but who in reality are the latest canon fodder of the devil's diabolical plans.
New Drama, Old Setting
Prophetic history is, as I have said numerous times before, coming around full circle again. Events previously only the province of archeologists and historians are eerily taking on flesh and blood as new actors take the stage and fulfil prophecy on yet another level. New peoples, related only by name (though not by blood) and by muitated versions of the old religions, true and false, are in place as we witness a new drama in an old setting.
Where are the Old Jerusalems?
Have you ever wondered about the physical state of modern Jerusalem, of what will happen to it, when the New Jerusalem descends out of heaven? Did the Romans build their Aelia Capitolina on top the buildings of the old Jerusalem or did they level it first? When Yah'shua (Jesus) said that not one stone would remain upon another that belonged to the temple that He taught and worshipped in (Mt.24:2; Mk.13:2; Lk.19:44; 21:6), and that He would rebuild it in three days, He was not just referring to His physical body that would die and resurrect.
Temple and City as One
As the heart of a city, the temple also represents that city. The Romans not only knocked down Herod's temple but the entire city of Jerusalem too. Practically nothing of the old city remained. Also, the people were expelled - forever scattered across the globe and not to be gathered until the return of Messiah.
Jews and Palestinians
There are new peoples in the Holy Land today. In place of Judahites and Philistines, there are today the descendants of Ukrainian Khazars who call themselves 'Jews' and Arabs who call themselves 'Palestinians'. But it's the same drama, the same script, the same theatre.
The Holy Land's 9/11
Both the Judahites and Philistines vanished from the Holy Land long ago and today, as the same point in the cycle of history draws up to be replayed, so too we shall witness a vanishing of both the modern actors, the 'Jews' and 'Palestinians'. The '9/11' of the first and second centuries is about to be replayed again in a new '9/11', even as it is written:
"I will make Jerusalem a heap of ruins, a lair of jackals; and I will make the cities of Judah a desolation, without inhabitant" (Jer.9:11, RSV).
Jerusalem vs. New Jerusalem
Are you aware of how big the New Jerusalem is? It is far, far bigger than today's Jerusalem, large though that is compared to the ancient city it replaced. John the Apostle and Seer reported:
"And I saw the qadosh (holy, set-apart) city, New Jerusalem, coming down out of heaven from Elohim (God), made ready as a bride adorned for her husband" (Rev.21:3, NASB).
The Size of the New Jerusalem
This is a mighty big city indeed, unlike anything man has ever built:
"And the city is laid out as a square, and its length is as creat as its width; and he measured the city with the rod, fifteen hundred miles ('twelve furlongs of twelve thousand' - AENT; '2,400 km' - GNB, LB; '12,000 stadia/1,380 miles' - ESV); its length and width and height are equal" (Rev.21:16, NASB).
Catastrophic Changes in the Holy Land to Come
Though the actual length of a furlong is disputed, and I don't intend to get into a controversy over its dimensions, suffice to say that the New Jerusalem is an enormous city that will not only cover the entire modern city of Jerusalem but also a large chunk of land beyond it. That Jerusalem and every other city in Judah are left devastated and without inhabitant before the New Jerusalem returns is not therefore preposterous if this is a heavenly ground-clearing operation. In reading Ezekiel we are also left with the impression that the land will, in addition, be radioactive after some war. So do not be surprised to witness catastrophic changes to the Holy Land - to its topography, buildings and peoples - before Messiah returns. The New Jerusalem has to land somewhere.
The New Chinese Empire Arises
Ammon, Moab, Edom, Philistia and Tyre all have to be judged again, this time with their 'new' inhabitants. They also represent princes and their principalities which are also coming under judgment at this time. This is to be a very thorough penultimate cleansing. There are to be huge changes. Old empires will disintegrate and new ones arise. I have said many times that China will be the new superpower to overtake and replace the old British, Russian and American ones. Do not suppose, moreover, that she will be content to remain in her present borders, for she has grand imperial designs. Mongolia and Siberia are in those designs, and much more.
Islamic Power Will Be Crushed
The Islamic beast, once it has served it purpose to destabilise and disintegrate nations and create enough terror, will be crushed. Don't expect much of it to be left. And though we may rejoice at the demise and death of one beast, others are lining up. But first, see how this plays out, for it still remains useful in slaughtering believers in the Outer Court of the Mishkan (Temple). Recall who and what the Gentiles trample.
The Diabolic Inheritance of Marcion
And what is that? The theologial and spiritual architecture of the anti-Torah heretic Marcion, forefather of modern lawless Protestantism, and its progentior Roman Catholicism with its separated Eastern Orthodox brother. There is to be much tearing down and apart of this false system. But lest Messianics hastily rejoice, their brief kingdom too must be torn down and apart, because of all their false Jewish traditions, that the Sukkot Community may arise and be challenged by its devilish counterfeit arising out of Rome of which we shall speak in due course.
A Huge Change
We need not suppose that 9/11 was something 'new' because 9/11-type events having been going on since the beginning of time. It was just more blatant and at a crucial time, inaugurating the beginnong the collapse of the American Empire. Though the conditions of immorality and corruption had to be in place in the land before it could find a permanent foothold, 9/11 was 'different' because of the shockwaves it sent around the world. It was a signal that the élites, who for so long have been striving for world hegemony, were close to realising their goal.
End of the West
The age of Western power is practically over. Worse, a wounded soldier, as the West is, is even more dangerousm guarding as he is his last redoubt. That is why the Western nations are taking more and more desperate risks to defend their collapsing Empire. Russia will rise briefly but is very much in the shadow of China into whose arms it has been forced by Western sanctions.
The Four Last End-Time Revivals
Western believers, who have grown accustomed to the accolades the expect to be respected because of their former wealth, are being humbled. And though the West is not wholly finished, it must learn to share the metaphorical stage with Asia, Africa and South America. The new international centres of the Besorah (Gospel) will be Kenya, Sweden-Finland (with Estonia), the Philippines and Bolivia (see From Scandinavia into the World). And it has already begun in Kenya, which is the first of the great end-time revivals that will never go out until Messiah returns.
Amidst the chaos and anarchy these four lights will burn brightly until Yah'shua (Jesus) returns because these will be centres, first and foremost, of genuine and permanent teshuvah or repentance. These countries will, and have already, become targets of the enemy's wrath because he knows what is coming, and is to come, out of them. Therefore pray for them, for the kindling has only just begun, and a mighty, roaring fire is yet to light up the spiritual sky. Amen.
Continued in Part 18
Comments from Readers
[1] "That is the absolute truth...excellent article" (KRF, USA, 11 September 2014)