Month 4:3, Week 1:2 (Shanee/Matzah), Year:Day 5936:092 AM
7 Sabbaths + Omer Count Day #25
Gregorian Calendar: Friday 22 June 2012
Federation or Confederation?
Last Hope for the USA, Europe & World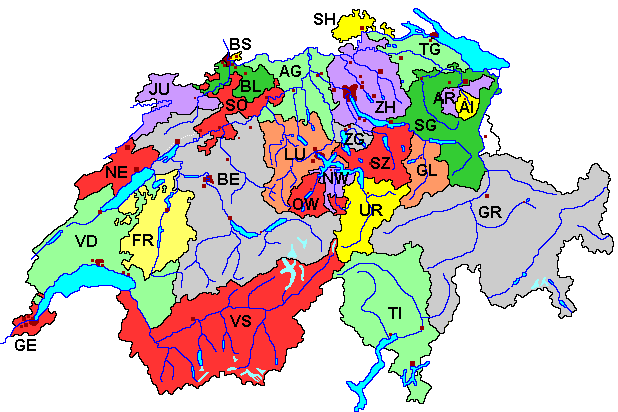 I was walking around my garden this morning looking at the flowers and was struck, once again, by how impermanent everything is. It seems only the other day that the flowers were making their first appearance and then, within no time at all, they where whithering away to leave colourless seed pods. Then the seeds will fall to the ground and once again the plants themselves shrivel away and disappear from above the surface to sleep the long winter.
Just as there is a predictable rhythm in nature, so there is a predictable rhythm in the affirs of men. Of late I have been hopping around between various books and in particular dipping into Roman history with a view to better discerning the political and social currents that were the backdrop of New Testament times. Though this is by no means the first time I have done this, because it is not an easy thing connecting to that complex matrix which one might term the 'spirit(s) of the age', it's important that we try if we are to guage the reactions of the first believers to the earliest controversies in terms of their own psychic makeup. For whilst in theory a regenerated believer is supposed to walk above and beyond his own upbringing and psychic inheritance from the community and home in which he was raised, in truth this is, I suspect, rarely achieved totally without a Besorah (Gospel) communal context to sustain the new revelation and spiritual reality, a community itself constantly under pressure from the hostile world around it to conform to that which the believers had just recently escaped.
It's a bit like being in a room in which there are a couple of hundred TV sets blaring 200 different channels of which only one is the one we're supposed to be focussed on. Though the brain was designed by the Creator to be able to exclude extraneous sound from the environment in order to be able to focus on a single task, for example, it does require a measure of self-discipline and single-mindedness to accomplish this before it becomes habitual. But at any moment the brain can switch all those extra channels back on if it so chooses.
In reading the New Testament accounts in the light of the Roman, Greek and other cultures in which the Christian/Messianic experience was embedded, I am struck by just how similar our Western system is to that ancient Roman one. Indeed, the evidence is strong that that Roman 'way' still retains a powerful hold on the psyche of contemporary government:
"The Roman law could be brutal and was always relentless, but it still operated over a comparitively limited area of human conduct. Many fields of economic and cultural activity lay outside its scope. Moreover, even when the law prescribed, it was not always assiduous. Roman law tended to sleep unless infractions were brought to its attention by the external signs of disorder: vociferous complaints, breaches of the peace, riots. Then it warned, and if its warnings went unheeded, acted with ferocity until silence was reimposed; afterwards, it would sleep again. Within Roman rule, a sensible and circumspect man, however antinomian his views, could survive and flourish, and even propagate them; it was one very important reason why Rome was able to extend and perpetuate itself" [1].
Once it is understood that the chief object of all human government is the perpetuation of its power, provided that power base is not threatened, it is usually content to 'sleep', ignoring its opponents. And this is itself, of course, the primary symptom both of the fallen carnal, fleshy, Adamic, nature of man as well as the chief demonic trait. The spirit of despotism and of tyranny is willing to turn a blind eye to most things, regarding itself as benificent and 'spiritual' in what it believes to be a highly 'enlightened' attitude, provided its seat of power and control is not challenged. Only when this is is threatened does its ferocity burst to the surface and its true dark heart manifested, shattering the illusion of both its claimed enlightened, progressive and benevolent attitude toward its subjects as well as its own belief in possessing these attributes. Its response is its own unmasking.

Once you have understood this element of the carnal man, then the general behaviour of pretty much every world system can be understood, because its imprint is to be found in the fleshy nature itself which we all carry. The issue then becomes personal rather than governmental, for though the government can - and does - impose laws to control things it does not like or approve of, it can never bring the flesh into permanent subjection. Only a life in Messiah can do that. The bottom line for the world's woes rests squarely with each and every individual.

Every government is religious in nature and constitution. It imposes what it regards as civil virtues and proper outward observance, its 'ten commandments' being its numerous laws on political correctness. But governments are not so much concerned about touching hearts (as the Besorah (Gospel) is) as it is in imposing an external standard and enforcing it. It views itself as god to one degree or another and behaves accordingly. And the more it claims such power and authority the more it comes into competition with the Besorah (Gospel).

We are, as I write, in the midst of a huge power contest between a small banking and corporate Úlite who want absolute, global control and the vast mass of ordinary people who want to keep government accountable and controllable. The Bible speaks of the ideal kind of government being a Confederation of Tribes or Regions within a country - for Israel, it was a Confederation of the Twelve Tribes. America came close to this system when the Confederate States were formed, a system doomed only because of its leading figures' belief in the immoral practice of slavery and because of its opponents in the corporatist Union in the north whose system is now taking over the USA and imposing a dictatorship. The world needs the example of liberty that had traditionally been the USA but it now needs a new system replacing Federalism with Confederalism by combining the best of North and South and excluding their worst elements: slavery and corporatism (based on the Roman system of statist law instead of biblical common law) which today are one and the same thing. It may not be anywhere near a theocracy because the people have turned away from Yahweh but it is the best that can be done while one last generation is given the opportunity to work out its salvation before the return of the Master.

With 10 countries in Europe now ominously wanting to create what is effectively a European Empire (they want complete political and economic union) with an Emperor, Europe needs the same as America - massive decentralisation and a confederation. Should we be looking to any particular extant model? Why not start with most of the former republics of the Soviet Union that formed the CIS or Confederation of Indepependent States, all sovereign nations working cooperatively but independently in the financial arena? Or the cantonal system that works in the Swiss Confederation? Though a new pan-Slavic political party was recently formed in Russia to federalise Russia, Belarus and the Ukraine again, this cannot be the direction to go. Switzerland has kept out of the EU and prospered.

No man-made system can ever, of course, be perfect, especially where there are godless men in power but also where there are lawless believers in power too, but for the sake of the final witness we definitely need to support libertarian causes. The political and financial world is in upheaval as I write and we may never get this opportunity to effect real and lasting change again before Yah'shua (Jesus) returns. So get involved so that our children may have a measure of freedom before the last and final clampdown that will be the Great Tribulation. Yahweh bless you all!

Endnotes

[1] Paul Johnson, A History of Christianity (Penguin Books, Harmondsworth, Middlesex, England: 1980), p.6

Share