Month 2:24, Week 4:2 (Shanee/Matzah), Year:Day 5936:053 AM
Gregorian Calendar: Monday 14 May 2012
The Three Feathers
A Vision of Our Witness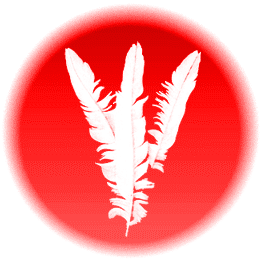 "He shall cover you with His feathers, and under His wings you shall take refuge; His emet (truth) shall be your shield and buckler" (Ps.91:4, NKJV).
Early this morning I saw a sudden vision of three white feathers being fired or projected into the air like arrows from what appeared to be a window in front of me and immediately understood this to mean that these were to be the three main 'arrows' to be sent out in witness in these troubled times.

In the Bible, feathers are symbolically descriptive of protection, as today's passage shows, as well as depicting the power and strength of flight enabling the soul to rise above difficulties and to fly in the wind of the Ruach haQodesh (Holy Spirit). Traditionally feathers are also associted with emet (truth), speed, lightness and ascension. What was interesting about the vision was that the feathers moved rather like a projectile such as an arrow for in real life a single feather would meet such resistance as to be useless as a missile. But these are no ordinary missiles, and the fact that they were white indicates innocence and purity. Moreover, the three moved in perfect parallel trajectories as as though working together as one or echad.

In early Christianity feathers respresented virtues and images of three feathers were made into signet rings by believers. These three feathers represented, respectively, emunah (faith), tiqvah (hope) and ahavah (love, charity). These rings were also used as wax seals. The ring would be dipped in warm wax and then pressed against documents to seal the closure. The recipient would then know the documents came from a virtuous man by the indication of the three-feather symbol in the wax.

In a world that is on the verge of exploding into civil war we, as believers, must never lose focus of what our primary witness must be: sending out the feathers of emunah (faith), tiqvah (hope) and ahavah (love, charity) in Yah'shua the Messiah (Jesus Christ) along a single trajectory in tavnith bathed in the air of emet (truth) when Yahweh opens the windows of opportunity.

Share