Month 11:24, Week 4:2 (Shanee/Matzah), Year 5935:311 AM
Gregorian Calendar: Thursday 16 February 2012
Yahweh's Witnesses
Out for Redemption or Recognition?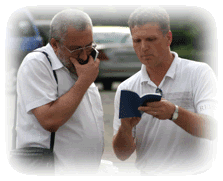 Yah'shua (Jesus) is for me, in addition to being Elohim (God) in the flesh, the quintessential human being and minister. And what made Him the quintessential minister is, in my opinion, because He was not after recognition but redememption.
In that respect He followed in the footsteps of all the Hebrew prophets who emerged out of obscurity and returned to it, claiming no accolades or public acceptance. If they had, they would have failed in their mission. No true minister of Yahweh is out for his own glory, but solely for the glory of His Master. Even the Son, who was Himself Elohim (God), was no different. He never sought to put Himself into the spotlight but always His and our Heavenly Father.
The moment a minister seeks the approval of men, he is finished. Oh, he may gather a following around him, build assemblies or churches, publish books and make websites, launch crusades, build hospitals and schools, but none of these things qualify him for the Royal Priesthood (1 Pet.2:9). A minister has his lev (heart) fixed on one immovable goal - to fulfil the purpose for which he was created, to bring redemption - whether as the Redeemer Himself or as His proxy - to a world desperately in need of it. As such, then, He is doing the Father's will, and not his own.
Every single one of us is called to be a minister too. We may not be called to be a pastor or an evangelist but we are all called to be witnesses:
"'You are My witnesses,' says Yahweh" (Isa.43:10, NKJV; cp. Ac.1:8).
And for every witness too comes the consideration: am I out for recognition or redemption?

Yah'shua (Jesus) had one fixed goal: to fulfil the purpose that His Father Yahweh gave Him, to fulfil His Father's plan, to execute His Father's will, and to accomplish it in His Father's way. We, no less, are called to do the same thing, in the sphere of our own calling as fathers, mothers, husbands, wives, teachers, ministers and witnesses. Let's make sure that our goal, like Messiah's is redemption and not recognition.

Share