Month 8:17, Week 3:2 (Shanee/Matzah), Year 5935:217 AM
Gregorian Calendar: Saturday 12 November 2011
Prayer & Worship II
Practical Aspects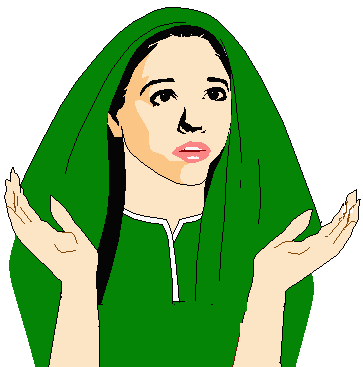 Continued from Part 1
Part 2. Practical Aspects of Prayer & Worship
We have considered the theoretical so now let's get down to brass tacks - to the practical - so that we can put into practice what we have learned theologically. Prayer and worship in ruach (spirit) and emet (truth) are 'all or nothing' things where we let our "'Yes' be 'Yes,' and [..]our 'No,' 'No'" (Matt.5:37, NKJV) "lest [we] fall into judgment" (James 5:12, NKJV) - authentic prayer and worship are not half-hearted, weak, watered down, lukewarm, rambling where we use words to fill in time and space because we are operating up in our heads instead of in our spirits and are just performing. Remember, Yahweh does not hear 'performance prayers'! So here is my counsel for a dynamic prayer life.
1. Be Authentic. Don't pretend with Yahweh. Tell Him exactly what you think and feel. If there is a sin in your life, admit it honestly, just as it is, just as you know in your lev of levim (heart of hearts). Remember, He knows so there's no fooling Him by hiding in the dishonesty of the flesh, since He doesn't hear that anyway. It helps you to be honest because that way you operate in your spirit and not in your flesh.
2. Be Natural. If you're putting on a special 'prayer voice' or specially cultivating certain emotions, you're operating in the psyche. It is right that we fear Yahweh as our Master (Lord) but He is also our Heavenly Father and Friend. We have direct access to Him now because of the Blood of Messiah. We don't have to use special words and phrases - there are no liturgical prayers that are going to gain us access - what He wants is a correct attitude, one of reverence, thankfulness, adoration, praise and ahavah (love). And don't use Yahweh's Name as a punctuation mark - don't try to be extra pious or humble by repeatedly saying 'Yahweh this', or 'Yahweh that' (or 'Yah'shua/Jesus' or Master/Lord). It is better to pause and say nothing at all than to push on mindlessly and use words just to fill in space. He is not impressed by oratorial skill nor by our ability to ad lib.
3. Don't Talk too Much. what would you think of a friend who phoned you, poured out a list of things he wanted, asked for a large number of favours, tacked on a quick word of thanks for things you had done in the past, and then hung up before you could say a word? Some prayers are like that! Take time to listen to Yahweh, to let Him speak to your lev (heart) and to your mind. Learn to patiently wait on Him.
4. Pray Specifically. What's the use of asking Yahweh to 'bless the world and all the people in it'? How would you know if He did? If you want to see your prayers answered, why not pray for specific things? Emunah (Faith) in a prayer-answering Elohim (God) makes a prayer-loving Believer. Make definite, emunah-sized requests. Pray only for things which you can really believe Yahweh for. When you have seen those prayers answered, take another larger emunah-sized 'bite'. This will help you to grow both in emunah (faith) and prayer.
5. Pray Always. I know most people think that sounds impossible but that is what Yah'shua (Jesus) says we are to do (Lk.21:36; 2 Thes.1:11). That doesn't mean we are to be mouthing prayers 24 hours a day but to be in a constant attitude of prayer. It means to never get in a place where you can't pray readily and easily because you have 'dried up' and 'don't feel like it'. If you have to 'change gears' inside to 'get into' prayer, then you are in the wrong place with Yahweh - you have moved from the spirit realm into the flesh. Praying-always believers live in miracles, and know real simcha (joy) and guidance. You don't have to say long prayers - that's not a mark of spirituality. I knew a man who sometimes prayed for up to an hour at a time and we used to fall asleep as he babbled on and on - he was in reality preaching to his listeners, not talking to Yahweh. Peter didn't drone on and on (Mk.14:30). And don't worry about whether you are lying down, sitting down, kneeling down, or prostrate face down on the floor - Yahweh is not so concerned about your body position as He is about your lev (heart) being prostrate. You can pray anywhere - driving a car, walking down a road, at a school desk, in the rest room, in bed, in a park, on a plane. You don't even have to close your eyes or lower your head or press your hands together. If doing these things helps you focus in the beginning, by all means do them, but there is no fixed position of prayer. Yah'shua (Jesus) frequently prayed with His "eyes to heaven" (John 17:1, NKJV). Praying with your eyes open is essential when you are counselling someone and you need Yahweh to guide you or to produce conviction of sin.
6. Be Thankful. Too often our prayers are just 'request sessions'. What would you think of a 'friend' who only asked you for things all the time? How much would you think that friend really cared for you? So should it be any different with your Heavenly Father? So spend a good few minutes just thanking Yahweh for all that He has done for you.
7. Don't Rush or Miss Out. Whenever we hurry through prayer or are tempted to miss out regular appointments with Yahweh (Daniel udsed to regularly pray three times a day - morning, noon and evening), realise that your spiritual life is under attack. If Satan can block our praying, he can ruin our effectiveness. As one verse puts it:
Satan laughs at the words we say;
Smiles at our efforts from day to day.
But he trembles when he sees,
The weakest saint upon his knees.
Earlier on I quoted Rosalin Rinker to you who said that prayer is the conversation between two people who love each other. Others have described prayer as our very 'life breath', as our 'weapon', as our 'communication link' with Heaven, amongst other things. Realise this first of all: prayer is spiritual work. And though Yahweh may initiate the link-up, prayer does require effort and discipline which is not easy. It doesn't just 'happen'. It is just as necessary as preparing a sermon or a devotional, or Bible Study, or any of the other things believers are required to do. It is never casual. When I prepare a sermon or a devotional I can see or read the reactions of those listening or reading me. When I witness of Messiah I can see the people I am witnessing to. But in private prayer there is no one else who sees but Yahweh ... and the Enemy. And as Winkie Pratney once said, "when you pray, you get a reputation in hell".

There is nothing passive about authentic prayer - you are operating in the spiritual dimension where things move. Prayer puts spiritual strength against the rulers of darkness and wickedness in high places who blind men's eyes to the light of Yahweh's emet (truth). As A.W.Tozer says:
"Satan has no fear of light as long as he can prevent a victim from having sight".
Whereas the Davar or Word of Elohim (God) gives light, prayer lifts up the blinds of people's minds and gives them sight to see Yah'shua (Jesus).

Have you ever been in prayer and 'wandering thoughts' have intruded? Pray about those wandering thoughts! Your biggest battles will come when you are tired and sleepy so the most obvious prayer strategy is to begin praying when you are fresh. As I said, prayer is work. But it is the most set-apart (holy) and highest work we can do in the Kingdom of Yahweh.

8. Lessons of Group Prayer. When we are praying with each other, we have a tendency to be more alert, especially if we discuss problems befor e we start praying. Though I am personally very wary of any kind of visualisation (because it is a part of occultic methodology), I think it may sometimes be helpful to 'talk over' your problem in your mind before starting to pray to Yahweh. Imagine Yah'shua (Jesus) listening in to this discussion with yourself (see O My Soul: Understanding Your Spiritual Anatomy). How would you speak with Him? If you were in a group prayer meeting with others, how would you speak to the others? Remember His promise:
"For where two or three are gathered together in My name, I am there in the midst of them" (Matt.18:20, NKJV).
Begin by asking Yahweh to place something specific on your lev (heart) for prayer. Then share it with others in your circle, and all pray together over it until you sense Yahweh has it in His hands and is going to answer. Keep each prayer short and don't be full of words. To quote D.L.Moody:
"I never pray longer than five minutes; but I never go more than five minutes without praying".
For those whose thoughts tend to wander in prayer, this is sound advice. It isn't, in any case, the length of your prayers that matters, but their spiritual strength that counts with Yahweh.

Continued in Part 3

Acknowledgements

[1] Winkie Pratney, Doorways to Discipleship (Communication Foundation Publishers, Lindale, Texas: 1975)

Share