Month 5:17, Week 3:2 (Shanee/Matzah), Year 5935:131 AM
Gregorian Calendar: Tuesday 16 August 2011
Anger
The Three Ways of Dealing With It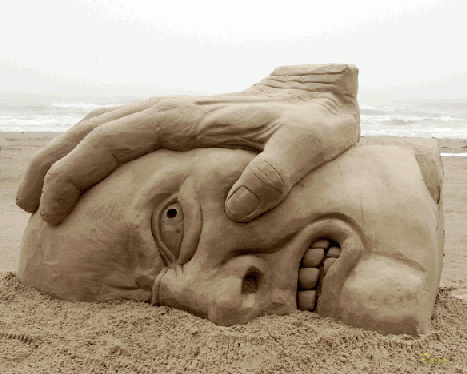 "Let all bitterness, wrath, anger, clamour, and evil speaking be put away from you, with all malice. And be kind to one another, tenderhearted, forgiving one another, just as Elohim (God) in Messiah (Christ) forgave you" (Eph.4:31-32, NKJV).
I had a dream today which is what prompted today's theme. I dreamed that I met one of my sons who was kidnapped by his mother because she decided that she wanted to become a part of the world. I found both him and his mother living in underground tunnels, though they were not together. "Why are you living underground, son?" I asked him, concerned. He replied, "Angry people have to."

There are, I believe, only three ways to deal with anger - one is safe for everyone, one is safe only for yourself, and one is safe only for others.

The best and safest form of anger is to give it to Yahweh. It's source may be righteous (because of some wrong done to you or others) or it may be ungodly, in which case you have to repent, and perhaps forgive, before you give it to Yahweh. Either way you can't hold on to it indefinitely because it will carode your soul.

The second form of anger is that which you direct away from yourself and at others. It is the most selfish and irresponsible form of anger because it is an attempt to avoid responsibility for its consequences. And there is no doubt that anger is destructive. Others have to pay for it and you become a curse in their lives.

The third form of anger is that which you bury deep within yourself (suppressing it) so as not to hurt others. It lives in the underground tunnels of your being, in your subconscious, taiting your conscious behaviour negatively. Rather than give it to Yahweh to defuse, you are playing at being Elohim (God) and are attempting to control that which no man can control even though your motive may be ahavah (love). Ultimately it will burst to the surface to be dealt with. We weren't made to be subterranean moles.

Either way - unloading your anger on others or letting it wear you away inside - you aren't dealing with anger the way Yahweh wants, and you are hurting yourself and others. The apostle Paul says we must put anger, along with bitterness and evil speaking, away from us - get rid of it - and the only way to do that is by allowing Yahweh to show us the solution to its causes which is always the blood of Yah'shua (Jesus).

Be wise and be free of anger.
"To suppose that people don't feel things just because they don't yell and fill the air with cries, is simple nonsense" (J.C.Ryle)

Share