11 February 2011 (Sheshi/Kippur)
Day #332, 5934 AM
Susannah Wesley
A Woman Worthy of Emulation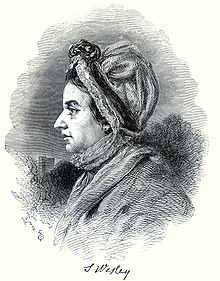 "Her children rise up and call her blessed; her husband also, and he praises her" (Prov.31:28, NKJV).
One of the most remarkable women of the Reformation is, in my opinion, Susannah Wesley (1669-1742). This incredible Christian lady not only mothered 19 children (9 died as infants) - but two of them - John and Charles - became leading lights of the Reformation and founded the Methodist Church. Though she never preached a sermon or published a book or founded a church, she is known as the Mother of Methodism.

Susannah Wesley had her share of hardships. Her husband was jailed twice, he abandoned her for a year, and her house was burned down twice (and in one of the fires John nearly died).

What was the key to her success? Susannah Wesley spent one hour each day praying for her children and took each child aside for a full hour every week (that's 10 or more hours a week!) to discuss spiritual matters, and spent time with each one every night. She also homeschooled them from the day they turned 5 years old. They attended classes with her a full six hours a day and on the first day they were expected to learn the alphabet (all but two managed). They were well tutored by their mother in Latin, Greek and Classical Studies.

Every Sunday afternoon she assembled her children for spiritual meetings that consisted of singing a psalm, reading a sermon by their father or her own father (for both were Church of England ministers, though their father was a dissenter), and then singing a concluding psalm. Little wonder that John and Charles Wesley were both 'methodical' (from which the denominational name 'Methodist' derives) and became Yahweh's instruments for blessing people around the world! So impressive were her meetings that local people began attending so that in time there would be up to 200 people attending while the local Church of England morning meeting dwindled to almost nothing!

What did Mother Wesley's 'methodology' consist of? Here are the rules that she applied to her family:
1. Subdue self-will in a child and work together with Elohim (God);
2. Teach him to pray as soon as he can speak;
3. Give him nothing he cries for and only what is good for him if he asks for it politely;
4. To prevent lying, punish no fault that is freely confessed but never allow a rebellious, sinful act to go unchecked;
5. Commend and reward good behaviour; and
6. Strictly observe all promises you have made to your child.
Charles Dickens, the great English writer, once said: "The virtues of mothers are visited on their children." Every Christian and Messianic should therefore liberally praise and honour godly mothers by living lives that reflect the impact of their set-apart (holy) influence. May we all derive inspiration from Susannah Wesley!


Acknowledgements

Henry Bosch, Influence of Godly Moms in Our Daily Bread (RBC Ministries, Grand Rapids, MI: 2007), May 14

Share