27 January 2011 (Chamashee/Teruah)
Day #317, 5934 AM
Prophecies from Others
Discerning Those Who Claim Revelation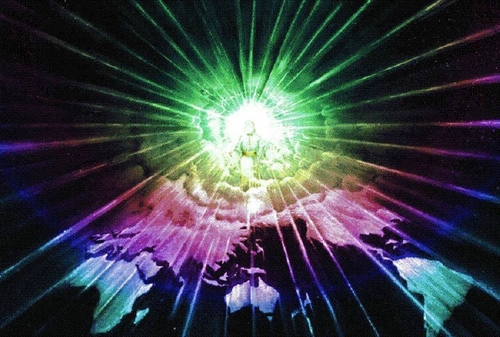 A brother has asked me to comment on a story that was passed along to him yesterday which he feels may have merit. This is the story:
"A man, named Scott, contacted me on my website, needing confirmation about an experience he had. He admitted he had led a secular life, not religious, up until recently.

"He has a dog that barks and hates everyone, he said. Scott was walking his dog, and a stranger approached him. The dog actually liked the stranger, which was a shock. The stranger greeted Scott and his dog and the dog wagged his tail, and wanted to stay with the stranger. This amazed Scott. The stranger then asked Scott if he knew it was already 2 minutes to midnight. Scott did not understand.

"So the stranger then asked if he could pray for Scott. Scott agreed, even though he was not used to prayer. Once the man touched his shoulder, Scott felt a huge wave of heat and emotion, and cried, repented and felt he had been touched by God. The man only prayed for a moment, but Scott said it felt like the stranger had downloaded about 5 hours of information into him. Almost like a microchip was inserted into his brain.

"The stranger then left, the dog didn't want him to go, but finally they parted. Scott was overwhelmed, not totally understanding what he had just gone through. So I talked with him for awhile. From his description, the stranger may have been an angel of some sort, The stranger's name was Micah. Scott was then told he must tell other people the message he was given. Some events he cannot disclose at this time, but this is the message for now.:

"Store food and water for a 90 day supply. Prepare for riots, shortages, attacks, a failed country, and distress. But do not be afraid, and trust in Jesus. Take measures to be safe during this 90 period. Stay home. Try not to travel. Also, at some point in the future, there will be 3 days of darkness. No power. Stay home during that time. I do not know if the 3 days is part of the 90 days or not.

"Scott said he was commanded to tell the believers and churches. So I am passing this information along to you.

"As an unbeliever, who never went to church, and does not understand why this happened to him, and then made a sudden intense conversion to Christ, and now prays 2 hours a day, it seems like a credible experience. So I pass this along to you.

"P.S. Scott also said the hand of God would split the country in half - physically".
It is impossible to verify stories like this, of course, with the internet being flooded with a mixture of truth and lies. However, the counsel to get suppies for 90 days (3 months) at a minimum is definitely good - and I have already urged believers to get more. Whether the United States will split (either geographically - which has been predicted by others - or politically...or even both) I cannot say.

I have seen maps circulated showing large parts of the mid west, Californian and New England coastline going under water as the result of some terrible catastrophe, and the Mississippi River inundating huge swathes of the Mid West, specifically, Louisiana, Mississippi, most of Alabama, Florida, parts of Arkansas, Tennessee, Kentucky and Illinois, as in the map below which shows one of many predictions.
All I have personally been shown in vision (many years ago) is New York going up in flames, complete lawlessness in Las Vegas, and flooding taking place in California with the Californian Coast Ranges and Mexican Lower California becoming one long thin island in the Pacific Ocean, though longer than the one in the map above. In this map the United States is shown physically divided into two.
As to whether it is 2 minutes to midnight - which could mean there there are less than two years left before the 'end' (if 1,000 earth 'years' are equal to 1 heavenly 'day') - I have no idea. Personally I do not believe the beginning of the Tribulation and Millennium are only a year or two way for I believe the next generation after mine will witness these things - I do not expect to. So I would tread warily of such stories unless Yahweh confirms it one way or the other to you. Since so many like this are in circulation they should at least be tested, particularly pagan-derived 2012 prophecies which are not mentioned in the Bible.
Funnily enough another prophecy was passed along to me yesterday too. That is rare since I don't usually deal with these very much and I tend to stay well clear of prophecies emanting out of the pentecostal or charismatic movements, overwhelmingly riddled as they are with lying spirits. However, this one contained scripture references which I use a lot (Psalms 51 & 91) and since it referenced my ancestor Joseph, it did capture my attention. It reads:
"This is my prophecy to you. Before the 29th of this month of jubilation, there [will] be a great change in your life, as there [will] be a divine reward for all your hard work, and my God will lead you out of your present prison expetrience to your palace as he did for Joseph. And you shall testify that He is Lord!"
We will see what happens next Sabbath. I suspect, though, I will still be here doing what I have been doing.

I would in general always counsel believers to be wary of prophecies coming from others and to get revelation directly for themselves from Yahweh or from their husbands or fathers. It is Yahweh's tavnith or pattern. I shall be continuing as before as I hope you will be, making sure you are in the place Yahweh wants you to be, doing what He wants you to do, getting right with Him, mending broken relationships wherever possible, storing up provisions for a good long time (I recommend a year), getting out of debt now, living a simpler lifestyle, making sure you have somewhere in the country to go if you live in a city, and converting your liquid financial assets into something that will be safe (like silver) to weather any economic collapses. Above all, make sure you are talking to Yahweh, repenting of sin, and listening to His daily instructions for you. Then you can't go wrong.

Share