10 December 2010 (Sheshi/Kippur)
Day #269, 5934 AM
22 Letters or 28?
The Lost Hebrew Alphabet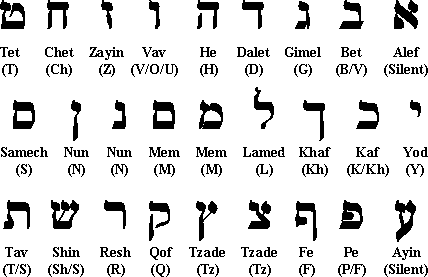 Hebrew primacists (of which I am one) take pride in the Classical Hebrew language as having its roots closest to the original Adamic tongue. We believe that a knowledge of Hebrew, therefore, will help us draw closer to Yahweh through a deeper understanding or primal Hebraic thoughts and attitudes that were inspired directly by the Most High. And whilst we take Classical Greek seriously too, since this was the second language of the world of the apostles and because we have so many New Testament manuscripts in that language (not to mention the Old Testament Septuagint), it is far more removed linguistically from the original language in which Yahweh revealed Himself to His people Israel. By understanding Hebrew we can understand the way the great men and women of the past moved in the Ruach Elohim (Spirit of God).
One of the problems with written classical biblical Hebrew is that it is unpointed, meaning that there are now vowels. Thus the Name of our Heavenly Father is written as YHWH, in consonants only. You need some knowledge of the language to insert the vowels to give Yahweh (or more accurately, Yahuweh). But what if some of the letters anciently were simultaneously consonants and vowels, as the evidence now suggests? And what if there were more than the current 22 letters of modern Hebrew? Some scholars believe there were as many as 28 letters:
1. Alef [beginning]
2. Bet
3. Gimmel
4. Dalet
5. Hé
6. Waw
7. Zayin
8. Zayin 2 (lost)
9. Chet
10. Chet 2 (lost)
11. Tet
12. Yod
13. Kap
---------- truncated alphabet's mid point -----------
14. Lamed
---------- real mid point -----------

15. Mem
16. Nun
17. Sammek
18. Ayin
19. Ghayin (lost)
20. Pé
21. Tsade
22. Tsade 2 (lost)
23. Tsade 3 (lost)
24. Qop
25. Resh
26. Shin
27. Sin (lost)
28. Taw [End]
To most people missing letters might seem unimportant but really they are for two reasons. First, words can have different meanings where two letters have, for example, fused into one (e.g. Ayin and Ghayin). And second, since the Hebrews counted with letters (like the Romans), there is the possibility that our translation of numbers could all be wrong. For more information, the reader is directed to Edward Horowitz's, How the Hebrew Language Grew and to Jeff A. Benner's introductory article, Letters Missing from the Hebrew Alpabet.

The upshot of this is that we need to beware that we do not become too dogmatic in our translations and to be aware that there may be considerably more light and truth to break forth from Yahweh's word yet as ancient Hebrew is restored. Just imagine what it would be like to obtain earlier pre-Masoretic manuscripts than we already have! We already know that the standard Old Testament Hebrew used for nearly all Bible translations was mutated by the anti-messianic Masoretes to counter Christianity by obscuring messianic passages in the Tanakh (Old Testament) and to appease Jewish superstitions about pronouncing the Divine Name (by replacing it with 'Adonai', for example).

Finally, gematrically the number 28 is 2+8 or 10 which is the perfect number of Divine Order (e.g. the Ten Commandments) whereas 22 is 2+2 or 4, the Creation or Physical Universe with its four compass points. Could it be that the alphabet today is diminished because those that use it are more 'temporal' (carnal) and that a fuller, more 'spiritual' one will be restored showing us new and marvellous things in Yah's Word as His people purify themselves? Time will tell.

Share