14 October 2010 (Chamshee/Teruah)
Day #212, 5934 AM
Competitiveness
Exposing Another Facet of Pride
"This morning I dreamed that there were two teams competing, though what they were competing for, I have no idea. What seemed to be important [for those involved] was that they were 'competing' for its own sake. It's almost the foundation stone of the capitalistic West. I was not particularly interested in competing [in the dream and] the girls seemed to gravitate to those who competed the most. Thus in the beginning of the dream a girl was attracted to me because of my height, but because I was not competitive, she drifted away. I was not a 'getter', not a part of the 'psychic set'... I have always been revolted by the 'competitive drive' and believed that that which is of value lies in the spirit, not the psyche. The flesh, after all, passes away" (From the Diary of Lev-Tsiyon, 21 October 2003, England).
On the material plane you have to 'compete' to survive whether it is in the job market, in the marriage stakes, or in any situation involving other people...if you want to do it in your own strength. To compete means to 'contend with in order to get an advantage for self'. In many ways it is the diametric opposite of the spiritual way for we neither compete with one another for salvation nor for advantage in the heavenlies. The apostles once tried it and were severely rebuked...they wanted to know who was the greatest, who was the most loved by Yah'shua (Jn.21:21-23). Many Western Christians seem to think that captialism is 'God's own gift' with socialism as the 'enemy'. The truth is both are of the devil. Satanic covens compete with each other for power and control and they also rob one another shamelessly by 'redistributing' one another's wealth by whatever meands they can. When Christians do either, what's the difference? They are a typical good/bad cop scenario.

Biblical theocracy is both capitalism and socialism...and neither (rather like us being Messianics and Evangelicals...and neither). In Yahweh's system you have a guaranteed inheritance in a free market system. If you squander your inheritance you get it back in the Day of Jubilee. There is divine tax system too - a third goes to the ministry, a third to the poor and a third to making sure you celebrate the festivals properly - and all three glorify Yahweh. In the divine system all debts are cancelled every Jubilee - you can get rich, but there is a ceiling. Ultimately the land remains in the hands of families, clans and tribes. That is sacrosanct. Neither the state nor the the super-rich can grab it. There is no 'Federal' or 'Monarchic' system in Yahweh's Theocracy - it's a Confederacy build around the Torah with Judges under Messiah Yah'shua as Sovereign.

It is possible to become rich in a responsible way that cares for others but it does require you to have a right heart towards Yahweh and His Law. The Élite control everything in both captialistic and communistis/socialistic systems, and they control everything in the so-called 'Third Way' which is supposedly a combination of the two. People and governments (who are also people) compete with each other like dogs and trample over each other like dogs too.

No, I am neither a capitalist nor a socialist, and I don't believe Yahweh's system is either, but that it has elements of both. Socialism is a system where the State is God, and captalism is a system where Money is God, so they both end up serving Satan one way or another. The spirit of competition is rivalry. It was infused into me in the British public (private) school system so that everything becomes a game. Now the girls are a part of it and they are all competing for turf.

No, I do not believe in competition between people. Let each person rather compete in his soul to overcome the flesh so that Christ may be all in all (1 Cor.15:28). We live in one political system or another and must operate in it but it is up to us how we conduct ourselves. We are obliged to pay taxes, however unjust because of the authority Yahweh has given governments to tax us. I am glad I do not have to give account for what government does! And those who hide behind the shelder called 'government' will have to pay back the last farthing they stole off people. Rather them than me!

The only race we are in and competing in is the race for a complete salvation. Competition by its very essence is anti-echad because when we are one with someone we aren't competing against them. In Emet-Truth there are only two 'teams' competing:
1. Yahweh's (and those who belong to, and are echad with Him); and
2. Satan's (and those who belong to, and are echad with him).
The root drive of competition is idolatry - of seeking our worth in something other than Yahweh (like a career, skill or a lover). For what defines our worth is Yahweh, and if it is not Yahweh and His Tavnith (Pattern), it is idolatry. So if a woman, for example, defines her worth by how good she looks, she has an idol. And with this idol, she will try to 'increase her worth' by trying to be better, by being more physically attractive and appealing. Thus idolatry (and by extension, competition) is the root of pride. The opposite is equally true - of believing you have less self-worth because you feel someone else excells in the object of your pride.

C.S. lewis wrote that God is like the sun - we know that not because we see it as such but because we see everything by it. If we give self the place of the Sun we are committing idolatry because we are claiming that which alone belongs to the "Sun of righteousness" (Mal.4:2, NKJV). When you see by the 'sun' of self, you see not only your own idol but you see everyone else by it too.

In the case of the woman definining her worth by how she looks - with her looks being her idol - she not only has the idol of 'looking a certain way', but also 'sees everyone by, and compares everyone with, the artificial standard of that idol'.

Competition, with its root of idolatry - defining our worth by something other than Yahweh and His Emet (Truth) - will always break Yahweh's two greatest commandments: To love Him with all our heart and mind and soul and strength, and to love our neighbour as ourself. An idolatrous and competitive person will not therefore be doing what he is doing out of love for Yahweh or to sincerely honour Him - he will not be acknowledging His grace and that our worth and security is in Him, but will be serving the glory of their idol. He will be seeking to do what he is doing because he believes the lie that the idol, rather then Yahweh, defines or may increase his worth. This, then, breaks the commandment to love others as ourselves because competition is about exalting self over others. Belittling, minimising or defeating others competitively in seeking to exalt self thus becomes believing the lie that the idol, instead of Yahweh, defines self-worth.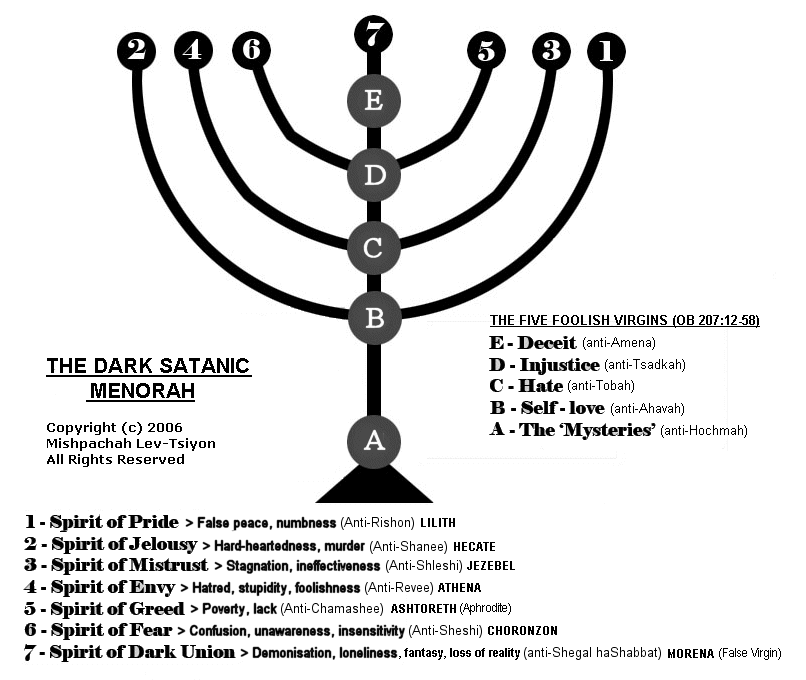 The whole system of competition is the Menorah Principle in reverse - what we call the 'Dark Menorah' (see diagram above). The first branch that sprouts is pride, namely the false definition of what defines that person's worth. The second is jealousy, which arises when that person then begins operating in that false belief in what defines their worth in their heart (their judging and actions) towards others, namely in jealousy and competition. The the root and stem upholding both of these branches is the 'wisdom' and lies of the world. To truly deal with this issue, the problem that must be addressed is the lie that is being believed - the lie about what or who really definess our worth. At the root of all pride, is a lie. The more prideful (and competing) the person, the more it points to where they are not yet in the Emet or Truth of Yah'shua our Messiah. The deeper we are in sincere Emet, the humbler we will become.
To abide in Emet therefore requires that we renounce the 'thrill of winning' in favour of the simcha (joy) of abiding in Messiah! We must cry out to Yahweh to reveal where are hearts are at, asking Him to expose the lie of where we are falsely defining our worth, and in its place, ask Yahweh to show us the Emet (Truth) about how our true worth if defined by Him. Exactly the same process has to be followed when it comes to negative images of self that come about as the result of constant belittling by others (which results in the demionic oppression of Leviathan). Once this has been done, the depression that results from this oppression caused by diminution of self-worth will be lifted.
The only competition we are allowed is to contend against evil for the sake of righteousness! And the result of this conpetition will be to bring glory to Yahweh, not to self, because self-glory is no longer required of the one who abides in Yah'shua. Why? Because he has all he needs!

Share