29 June 2010 (Shleshi/Bikkurim)
Day #106, 5934 AM
Circumcision's Mysteries
Some Things You Might Not Know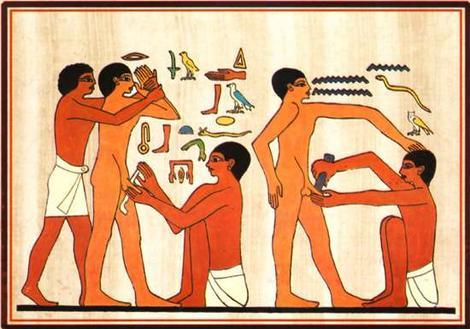 Circumcision was a sign or token of membership of the Israelite theocratic nation though it began with Abraham (Ac.7:8), a forefather of that nation. With Abraham, it signified the gracious movement of Yahweh to man and derivatively, the consecration of man to Yahweh. While Israel wandered in the desert under Yahweh's displeasure, the covenant was in abeyance and so the ordinance lapsed (Josh.5:2ff; Num.14:34).
The spiritual sign of circumcision was always more important than the physical one. When Moses repented of having "uncircumcised ('arel) lips" (Ex.6:12,30) and Jeremiah of "uncirumcised ('arel) ears" (Jer.6:10) clearly something more is being spoken of here than the removal of the prepuce of the male organ. An uncircumcised ear is an ear incapable to hearing, and specifically, incapable of hearing Yahweh, meaning they no longer delight in Elohim's Word:
"To whom shall I speak and give warning, that they may hear? Indeed their ear is uncircumcised, and they cannot give heed. Behold, the word of Yahweh is a reproach to them; they have no delight in it" (Jer.6:10, NKJV).
When Moses declared that he was of "uncircumcised lips" he realised that before his lips were "circumcised" he would be unable to speak with spiritual authority and be heard by the heart (as oppsoed to just the ears) of the king:
"Yahweh spoke to Moses, saying, 'I am Yahweh. Speak to Pharaoh king of Egypt all that I say to you.' But Moses said before Yahweh, 'Behold, I am of uncircumcised lips, and how shall Pharaoh heed me?'" (Ex 6:29-30, NKJV).
To both administer and receive the Word of Yahweh requires spiritual circumcision. In other words, both the speaker and hearer need to be anointed by the Ruach haQodesh (Holy Spirit).

The New Testament speaks of circumcision as a "seal" (Rom.4:11) upon Yahweh's gift of righteousness and declared that Yah'shua is a minister of circumcision:
"Yah'shua the Messiah has become a servant to the circumcision for the truth of Elohim, to confirm the promises made to the fathers" (Rom.15:8, NKJV).
Circumcision, therefore, is the token of that work of grace whereby Yahweh chooses out and marks men for His own.

Now here we must pause and consider an important point. Circumcision was only for men. It marked men out as belonging to Yahweh. Why were women not circumcised since they too surely belong to Yahweh? There is only one answer and it is this: the women belong to their men - wives to husbands (permanently) and daughters to fathers (until they are married off) - and therefore belong to Yahweh by proxy. Were it true that women were owned separately, then they too - in order to be true to pattern (tavnith) - would have to be circumcisied...as indeed they are - brutally so - in many societies that do not follow Torah (e.g, in Africa). The truth is that women are indeed owned by Yahweh but by proxy because Yahweh has decreed that they belong to their husbands and fathers.

This is a hard matter for liberalised and promiscuous Westerners to grasp because they do not think in the same way as Yahweh, which would make them uncircumcised of mind and heart.

The covenant of circumcision operated on the principle of the spiritual union between heads (men) and the Head (Yahweh). If the father was covenanted to Yahweh through circumcision, then his newborn sons were automatically covenanted through circumcision. This was not a believer's covenant - this was an obligation. Unless the one being cicumcised was a convert who came to Yahweh when older, he would be circumcised at as a baby at eight days. Therefore there was no private volition or free agency involved in this covenant (because it was a communal one) just as the headship laws are not a question of choice but of obligation. They are simply so because Yahweh said so. Moreover, when circumcised as an adult, all he owned were cicumcised by obligation too:
"That very same day Abraham was circumcised, and his son Ishmael; and all the men of his house, born in the house or bought with money from a foreigner, were circumcised with him" (Gen.17:26-27, NKJV).
Circumcision, from man's point-of-view, is exclusivly an ordinance of obedience, not of choice. Therefore its spiritual root is obedience. To be spiritually circumcised is to be obedient to Yahweh. Wives and daughters, who are not, of course, circumcised have as their obligation to be obedient (within the bounds of Torah) to their husbands and fathers, respectively, as the New Testament also confirms (1 Pet.3:1). For the man, the obligation is absolute and is the justification of his woman's obedience to him:
"Yahweh appeared to Abram, and said unto him, I am the Almighty Elohim; walk before me, and be thou perfect (blameless - NKJV)" (Gen.17:1, KJV).
Yah'shua repeats His Father's command:
"Therefore you shall be perfect, just as your Father in heaven is perfect" (Matt.5:48, NKJV).
In the absence of the inward spiritual reality of the outward sign, the Old Testament teaches that the outward sign of circumcision bedcomes meaningless. Therefore it is not possible to possess the outward physical sign and nothing more. Those men who were circumcised in their flesh but who are not perfect or blameless in reality had no circumcision at all making the rite defunct and, worse, condemnatory (Rom.2:27). The Old Covenant calls for the reality appropriate to the sign (Dt.10:16; Jer.4:4) and warns that in the absence of the inward reality that the outward performance is pointless (Jer.9:25). What matters is the cirumcision of the heart (Dt.30:6).

What, then, of women? Should they be circumcised in their hearts? No! They should not! Does this mean that they should not pursue righteousness, blamelessness and perfection? Of course not! It simply means the righteousness of men and women are by different means! And circumcision is about headship which is why the male 'head' is uncovered before Yahweh in the same way that a man is not supposed to wear a headcovering while praying and prophesying while the woman should (1 Cor.11:3-10). Her spiritual uncircumcision is denoted by her headcovering and his spiritual circumcision by his lack of headcovering. Both are perfect or blameless in their respective divinely-appointed rôles and spheres, both operating out of grace and obedience.

And now we must carefully examine the New Testament teaching which is that without obedience to Torah circumcision becomes uncircumcision (Rom.2:25-29) and the outward sign fades into insignificance when compared with the realities of keeping the commandments (1 Cor.7:18-19), faith working by love (Gal.5:6) and a new creation (Gal.6:15). In other words, those Judahites who had been circumcisied before being converted possessed a circumcision which, under the New Covenant, now longer had any meaning because their circumcision was of the Old Covenant, Yah'shua having changed the conditions of the Covenant by His death and resurrection. NOW THERE IS A NEW CIRCUMCISION AND A NEW OUTER ORDINANCE:
"In Him (Messiah Yah'shua) you were also circumcised with the circumcision made without hands, by putting off the body of the sins of the flesh, by the circumcision of Messiah (Christ), buried with Him in baptism, in which you also were raised with Him through faith in the working of Elohim, who raised Him from the dead" (Col.2:11-12, NKJV).
The physical ordinance of circumcision, which was a token of entry into the Old Covenant, has now been superceded and therefore abolished. It has no religious meaning at all now, Paul counselling believers to remain circumcised physically if that was their condition when they converted (and not go through the painful uncircumcision operation which was performed on Hellenised Jews) but not to bother to be circumcised when converted if that was their physical condition when they came to Messiah:
"Was anyone called while circumcised? Let him not become uncircumcised. Was anyone called while uncircumcised? Let him not be circumcised. Circumcision is nothing and uncircumcision is nothing, but keeping the commandments of Elohim (God) is what matters" (1 Cor 7:18-19, NKJV).
In other words, in the New Covenant, circumcision is no longer a commandment of Elohim (God. As a requirement to be an Israelite, it's over and done with for men and was never a requirement for women.

To those for whom circumcision has become a Jewish status symbol or badge of superiority, this ia a heavy blow to pride, and those who insist that circumcision is still mandated for believers - whether only for Jewish converts or for gentiles too - need to honestly examine their motives for clinging on to this ordinance. Cultural pride and religious chauvanism are unacceptable in Christ. And being unwilling to relinquish the community of the unsaved (the Jewish one specifically) for that of the saved (whether there is neither Jew nor Greek/'Gentile' - Gal.3:28) then becomes a true test of conversion. For we are commanded by the Saviour to metaphorically "sell everything" for that "pearl of great price" (Mt.14:25-26), which is salvation, including the dead religious ordinances, traditions and customs of the spiritually dead cultures of our spiritually dead fathers.

Both Jews and Messianic Jews and Israelites who insist on the ordinance of physical B'rit milah (circumcision) have to understand that things are not the same in the New Covenant and that those whom Yahweh regards as "circumcised" are so on the basis of a wholly new set of condititions. Who are the "circumcision"? Let's find out:
"For we are the Circumcision, who worship Elohim (God) in the Ruach (Spirit), rejoice in Yah'shua the Messiah (Christ Jesus), and have no confidence in the flesh, though I also might have confidence in the flesh. If anyone else thinks he may have confidence in the flesh, I more so: circumcised the eighth day, of the stock of Israel, of the tribe of Benjamin, a Hebrew of the Hebrews; concerning the law, a Pharisee; concerning zeal, persecuting the messianic community (church); concerning the righteousness which is demanded by legalism (JNT), blameless. But what things were gain to me, these I have counted loss for Messiah. Yet indeed I also count all things loss for the excellence of the knowledge of Messiah Yah'shua (Christ Jesus) my Master, for whom I have suffered the loss of all things, and count them as rubbish, that I may gain Messiah and be found in Him, not having my own righteousness, based on legalism (JNT), but that which is through faith (trusting) in Messiah, the righteousness which is from Elohim (God) by faith (trusting); that I may know Him and the power of His resurrection, and the fellowship of His sufferings, being conformed to His death, if, by any means, I may attain to the resurrection from the dead" (Phil.3:3-11, NKJV with JNT extracts).
We have today raised some questions that most of you may never before have considered. While all of you gathered here today understand that the ordinance of physical circumcision no longer has any meaning in the New Covenant and it is no longer the ordinance of admission into the nation of Israel, it may have come as a surprise for you to learn that its spiritual aspect is not for women because the ordinance is about headship...which is why anciently the man had the covering to the head of his male organ cut away with the shedding of blood. The equivalent of the shedding of the woman's blood comes when her husband removes her virginity in the marriage bed and he, through the act of marriage, assumes total headship over her from her father having been 'given away' by her father to her new husband in the same way that Yahweh 'gave' Eve to Adam and had dominion over her. In parallel, Yahweh has now given New Covenant Israel (the Messianic Bride, Body of Christ, etc.) away to Yah'shua so that we now come under the Son's direct authority:
"All authority has been given to Me (Yah'shua) in heaven and on earth" (Matt 28:18, NKJV).
A difficult question follows on from this which I will address tomorrow and which I want to leave with you, and it is this: When Abram was circumcised (and became under full ownership of Yahweh), his male children and male servants were all circumcised too (because they were owned by Abram). Does this mean that in the New Covenant, with its replacement ordinance of baptism, that whole households followed in the steps of the head of that household on the same basis? Were children baptised in the same way that male babes were circumcised into the Mosaic Covenant? Or was baptism only by genuine confession of faith for adult believers of both genders? Join me tomorrow for the answers!

Continued in Part 2
---
Comments from Readers
"Great sermon as always! One question came up in my mind...How is the status of headship/circumcision in the heart of an unmarried or divorced woman?" (SW, Germany, 30 June 2010).
An unmarried woman comes under the headship/circumcision of her father. If the father is not in Messiah, or if he is no longer living, her next-male-in-kin who is in Messiah covers her. This could be an uncle or even an elder brother. In the absence of any family member in Messiah, she should seek spiritual covering from a Pastor who agrees to stand as an adoptive father spiritually until she is married. The case of a divorced woman is more difficult. If she has been divorced without a biblical cause, then headship reverts to the father or next of kin (per pro what I just said). If she has abandoned her husband and remains single, then she is still technically under his covering. If she commits adultery, then she has no covering at all - she must cover herself, which is impossible, because Yahweh has not ordained her to this. Her lover cannot since his covering is neither recognised nor executable. She remains as exposed to the powers and principalities of this world as a man who rejects Yah'shua is (Lev, Sweden, 30 June 2010).
"That means there are many Christian women who have no covering. Though they may have faith in Christ they will probably fall away sooner or later due to demonic influence, possibly latest at the Great Deception" (SW, Germany, 1 July 2010).
If she tried to live her faith as a solo Christian without pastoral covering of any sort then I think that is a highly likely scenario. And the same will be true of children who will just get swallowed whole into the system. At the same time the grace of Yahweh has many unexpected outcomes given that He winks at our ignorance. I mostly worry about those who, having been presented with the truth of covering, choose to reject it, for then they cboth condemn themselves as well as reject the hand that would deliver them to safety (Lev, Sweden, 1 July 2010).

Share