14 June 2010 (Shanee/Matzah)
Day #91, 5934 AM
Bright and Invisible
The Two Sides of Being Seen
Yesterday we looked at some of the mysteries of the New Moon and the message it has to teach us about being aligned to headship and being in right relationship. My sermon produced some panic in some quarters, and especially the fear of being invisible. Both men and women - but especially women - have a terror of not being seen.
Yahweh never intended us to be invisible and unloved but neither did He intend that we should become exhibitionists to the world or two the wrong people in a bid to be seen and loved. What, then, is the proper balance? How do we 'present' ourselves to people? Do we dress and behave (sometimes outrageously) in order to be seen? Let me illustrate with a modified version of the diagram I shared yesterday:
Here you will see I have depicted the moon in Rosh Chodesh alignment with the sun so that it lies between the earth and the sun. One thing becomes immediately obvious about the moon: half of it is covered in blazing light and the other half is in complete darkness. When the dark side is visible from the earth, it is called the New Moon. It is invisible. Only when the moon is fully behind the earth is it completely visible and is called the Full Moon. However, Yahweh has ordained that we mark time - and in particular, the months and the annual festivals when it is invisible to us on the earth. And the reason for this is simple.
The moon here symbolises, on the one hand, the Body of Messiah (Church) - all believers - and on the other hand, each married woman. The sun symbolises the allegorical husband of the Body of Messiah (Church), namely, Yah'shua the Messiah (Jesus Christ). Similarly, the sun represents each married woman's husband.
Question: To whom is the the Body of Messiah supposed to make herself visible and to seek attention from? Her Husband, Yah'shua. And to whom should she be invisible and not to seek attention from? The world.
Question: To whom is a married woman supposed to make herself visible and to seek attention from? Her husband, Yah'shua. And to whom should she be invisible and not to seek attention from? Other people (and in particular, men - rival lovers).
Notice also who it is who is supposed to illuminate and warm the Body of Messiah and each married woman: the Heavenly Husband and earthly husbands, respectively.
Though to the earth the moon may seem invisible, she is very much seen and the light of the Sun, her husband, is shining on her. This is her primary and most important rôle, which is why Yahweh has set it apart at Rosh Chodesh. It is her true spiritual grounding and patterning, as it were. However, the moon is by no means stationary. She moves around the earth and illuminates the earth in her different phases. We as believers are also supposed to do this, reflecting the light of the Messiah into the world by our conduct. Similarly, a mother is to reflect the light of her husband onto her children, teaching them in his ways. She is not an independent light source, no more than we, as the collective Bride, are either.
How can this be? Well, it cannot be if we are not "hidden" in our husbands, just as Eve was hidden in Adam before she was manifested to him. A cardinal principle of the Gospel is that a soul (man or woman) is not properly saved unless he or she is "IN" Christ. We have crucified self and Christ lives through us (Gal.2:20). This is the Cosmic Husband-Wife Relationship Principle and it exactly mirrors a true human marriage too. A wife is supposed to be IN her husband, hidden up in his heart, from whence she gets her covering, protection, and nourishing. This is called the echad or oneness principle.
It follows that when we are "hidden" that we are invisible. People may see our outer forms - our bodies - but they cannot see our hearts, mind and spirits because they are hidden in our Messiah. When they seek to know us, we should be manifesting Christ within. A married woman should similarly be hidden in her husband. This is "the hidden person of the heart" that Peter speaks of (1 Pet.3:4).
None of this means that we should be totally invisible to the world. We are to be in the world, but not of it. What we are not to do is to bathe in the light of the world but only in the light of our celestial husband. We are not to go seeking love, worth or recognition from the world which is "passing away" (1 Jn.2:7).
When the moon is on the other side of the earth and it falls within the darkest part of the earth's shadow, it goes a blood-red colour. This is always a negative prophetic picture in Scripture:
"The sun shall be turned into darkness, and the moon into blood, before the coming of the great and awesome day of Yahweh" (Joel 2:31, NKJV; cp. Ac.2:20).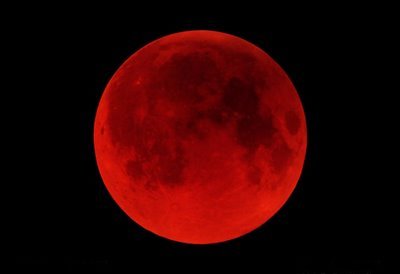 This is a depiction of the apostasy and darkness that shall fill the world before the Secong Coming (also see Rev.6:12) and is already filling it now. The moon represents Israel which is no longer basking in the sunlight of Yahweh but in the darkness of the world. The red colour depicts her sin. It is the same when a wife no longer basks in the love of her husband but goes adulterously seeking it in the world. She parades herself naked like a whore when she should be hidden to all but her husband. A person "IN Christ" (Rom.81; 1 Rom.1:14; 1 Pet.5:14) - that part which exclusively belongs to Messiah (and husband) must always be invisible to Satan and to the world. It is the part from whence comes our belonging, the part which is owned.
When we are lined up with Yahweh we are 'dark' to the world and why we are hated by it (Jn.15:19). However, to be closest to Him, we have to be a new moon first - you can't have the love and admiration of the world and Yahweh! You have to choose one or the other. The world likes a prostitute stripped naked so that it can ogle it. What, then, are we to show the world? We are to show Christ! We are to reflect His light and nothing more. It is the same with a married woman - she is to show her husband because that is who she is. If we as believers are not visible as Christ to the world, and if women are not visible as their husbands, then they are neither in Christ nor their husbands. And that means, in both cases, they are not really married at all inside. They may be legally married (as in Israel being under the Covenant) but they are playing the whore.
It is important, therefore, that we view 'visibility' with right eyes. When a drop of water is added to a stream it may no longer be visible as a drop but it is visible as a part of the stream. That is how we are to be in Messiah Yah'shua. The light of the stars becomes 'invisible' by day because the sunlight - Christ - has the pre-eminence. Which do we want? The night or the day? If you want to be visible in a carnal way then you must choose the night, which is separation from Yahweh.
A person who is hidden in someone has complete echad or unity with them. Those on the outside see one thing and those on the inside see another. That dichotomy will always exist to prevent double-mindedness on the part of believers. When we are IN Christ and are looking at Him then we see the world as He sees it and not as our flesh does. A wife who is IN her husband and is looking at him sees the world as he sees it and they are united in vision and purpose. They is why she is designated his helpmeet. Her greatest desire then becomes her husband being hidden in Messiah so that both are operating hidden in Him to His glory. This is true pattern and this is the lesson that Rosh Chodesh teaches. We are to reflect our heads, not compete with them or seek our own light and independent headship.
I do not speak here of mere semantics. These are literally true principles. That is why the two most important choices in life are choosing the true Elohim (God) and chosing the soulmates Yahweh has ordained for us and waiting until we are absolutely sure before we tie any metaphorical knots. Get these wrong and we will not be able to pursue pure actions in a life mediated and controlled by Christ. The alternative is control by Satan and sin. We are reflecting one head or the other - either Yahweh or Satan, or a true, set-apart husband or a counterfeit, adulterous one.
Get lined up with Yahweh in true Pattern! Choose the New Moon or Rosh Chodesh way!
---
Comments from Readers
Q. What if a woman is married and she cannot 'hide' in her husband? (DH, USA, 15 June 2010)
A. That will depend on why she 'cannot' hide:
1. If he is an unbeliever then clearly she will only be able to hide in Christ. Inevitably, this will weaken the bond since there is little or no echad, and she must do as Paul admonishes, sanctifying her husband and children by virtue of being alone in Christ and shining on His behalf (1 Cor.7:14, KJV), remaining with him unless he abandons her (v.15);

2. If she has demonic issues that prevent her from submitting, trusting and uniting, then she must deal with the demonic issues by getting right with Yah'shua, because the enemy always seeks to prevent and destroy echad;

3. If she is an unbeliever and does not want to 'hide' in her husband because she is a feminist or does not believe in the Rosh Chodesh Principle, then she will de facto be placing herself outside of spiritual covering and into a non-echad marriage situation, i.e. a marriage in name and outwardly only;

4. If the husband has demonic issues then she must hide behind the blood of Messiah alone when it comes to being prevented in finding echad in those areas until he has dealt with those issues;

5. If her husband has divorced her then she must return to being spiritually covered by her father or other family nominee (like an uncle if the father is dead, or firstborn son, pastor, etc.).
Therefore if it is not in the power of the woman to hide in her husband then there is grace from Yahweh through the Son through faith and obedience, providing a tent of shelter until the proper pattern can be observed and the fullness manifested. If the matter, which was not in her power to change, is never resolved in her lifetime, then she will be justified in the next life and receive her full entitlement and inheritance. If it was in her power and she refused, then she must receive the judgment of the disobedient and the corresponding resurrection (Ac.24:15).

Share