Month 9:18, Week 3:3 (Shleshi/Bikkurim), Year:Day 5940:254 AM
2Exodus 3/40, Yovel - Year 50/50
Gregorian Calendar: Saturday 17 December 2016
The Plecostomus Affair
A Revelation on Feeding the Mind
Background
I had an interesting experience this morning, a dream to be exact. The past two days I have been writing on flat-earth and have, understandably, upset a few flat-earthers. What I want to share could appply to anyone getting upset over doctrinal controversies.
The Fishtank Dream
In the dream I saw a tall fishtank, and quite large. I was looking at it with interest because all I could see was a large, rather sluggish and plain-looking bottom-feeder, a Plecostomus, also known as the 'Giant Alga Eater' (see picture above). We had one in our last tank of fish before the acidic water sadly killed all of them off. As I looked at this creature, I experienced alarm and guilt comingled as I realised I had not put any fishfood into the tank for a very long time. Hurriedly, I emptied a vast quatity of food into the tank and it at once dramatically spang into life.
The Sudden Fracas
As if spontaneously created, for they had not been in the tank before, all these really beautiful, though smaller, fish started appearing, in all sorts of shapes and colourations. A terrific commotion resulted in the tank as these new 'kids on the block' were obviously incredibly hungry and started thrashing about and attacking each other. The tank was literally seathing with violent activity. I was shocked by the ferocity of it all.
The Fish That Jumped Out
Not content merely to gorge themselves on the food, they turned on each other in fury, one fish wrapping itself around another in a bid to squeeze it to death, and one attacking another with its jaws, trying to eat it alive. One fish even jumped out of the tank and tried to hide in a pot-plant nearby. Fearing it might die, I picked it up and put it back into the tank. All the while the Plecostomus remained calm and continued feeding quietly near the bottom.
Interpretive Handles
I have had a lot of fishtank-type dreams over the years, some of which have baffled me, but this one was rather different, because the context of what I had been doing over the past two days - writing a couple of controversial articles about Biblical cosmology and the flat-earth hypothesis - made understanding the meaning of this morning's dream much easier. It gave me a valuable interpretive handle.
Understanding the Symbols
The 'food' I suddenly put into the tank (the 'domain' where I serve what Yahweh shares with me - 'my world', as it were) was the information I had published in the form of the two articles which caused such a stir on an otherwise pretty 'quiet' website and discussion group. Controversial material sets people off like nothing else. Now the basic symbols of the fish-tank - water and fish - are easy to understand, and I have known about them for a very long time. Water represents the emotional life (feelings) and fish represent thoughts or thought-packages (ideas, theories, systems).
The Effect of Spiritual Starvation
People are starving for the emet (truth), especially those Christians and Messianics who have been fed a low calorie spiritual diet for so long in the churches and messianic assembles. Unfortunately, the emet (truth) can be very upsetting, as we all know! Only the emet (truth) can give us the spiritual nourishment we need (here represented by the fishfood) so when it turns out not to be what 'we' (our flesh) wants to hear, it can push us into a frenzy as the hunger is unsatiated by our rejection of that emet. What then tends to happen is that various thoughts systems, each representing error of one sort of another, suddenly turn on each other, which results in people (believers) of different beliefs attacking other believers whose views contradict their own.
Understanding the Fish That Jumped Out
One fish, in my dream, leaped ouit of the tank - it was too much for it! It left the realm of the emotions (the water) for the air where, of course, fish cannot survive very long. To save the fish from thus perishing, I gently put it back into the fishtank where, in spite of the chaos, it would at least stand a chance of living. This afternoon a very distressed sister sent me an IM on the thread containing yesterday's sermon, expressing her desperation and desire to just get it away from it all, not to mention believing some carefully placed lies about her own worthiness inserted by the Enemy. I believe that lady was the little 'fish' who jumped out the tank, making this, as it turns out, into a prophetic dream of sorts.
The Importance of Understanding Graham's Hierarchy
Back to the other fish. What was particularly noticeable about them was that they were very colourful, unlike the ungainly Plecostomus in the depths of the tall tank (the smaller, colourful fish were all right at the surface at the top fighting each other). Biologists have long known that fish use colour for numerous reasons including camouflage for defense, for show, to warn enemies and predators, to attract attention, and to communicate, much like human behaviour. Rather than flash colour, though, we communicate through voice tones, facial expressions, gesticulations and the like. When it comes to pet doctrines, which may or may not be true, we can get very emotional and defensive about them, interpreting criticism as a personal attack. Sadly the skill to have an open debate without getting offended has become severely eroded in our century. People can get 'triggered' over almost anything. That is what the fighting coloured fish represented - people fighting to defend their doctrine even if it means destroying (strangling or eating) the other's beliefs. That's why I took the trouble in yesterday's article to include Graham's Hierchy of Argument so that commentators on my article could understand where they were coming from: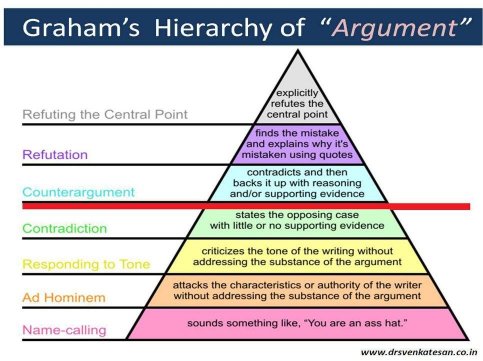 The Truth Needs Noone to Defend It
One or two of the respondants to my two articles definitely operated below the 'red line', behaving like those coloured fish in the dream. I certainly used to, and still occasionally do, when I let my guard down, I'm ashamed to say. We don't, however, need to get defensive about the emet (truth) because it will more than easily defend itself. Our only job is to be like the Plecostomus, cleaning up the gunk that always accumulates when our emotions run wild, and staying calm. If I made an error in my two articles, it may have been in serving too much all at once which not everyone could manage. It certainly seemed to overwhelm one lady - the little fish that jumped out the tank!
A Son Tries to Intervene
There was more to the dream which is of lesser interest. When an older (adult) son of mine saw the commotion in the tank, he tried to restore order in his own distinctive way, represented by his taking the glass lid off the tank and physically lifting the whole tank off the table to put it on the floor. I told him to put the lid back on (as all the fighting fish would jump out and be killed) and leave the tank where it was, in the light! He is a very diplomatic young man in real life, very good at calming people down and soothing situations, but being young doesn't always know how best to do this yet, though he undoubtedly will learn and come to do it well. When we are younger we can sometimes be 'so fair' that nothing gets resolved because everyone is treated as being right...and wrong...simultaneously, or we can go to the opposite extreme and jump head-on into a fight and let rip! Unfortunately, right and wrong can't be 'levelled out' that way but need to be handled not only with ahavah (love) but also with firmness.
Who Owns the Truth?
Spiritually young and immature believers like to be overly opinionated and aggressive which tends to create conflict rather than resolution. or they can go to the opposite extreme and bow out. Enthusiastic engagement in discussions, showing tons of grace (undeserved loving kindness), is a good thing but what we don't need to be afraid of is somehow being responsible for betraying the 'truth' for not being aggressive, engaged or upset enough. There is no need to make it personal as we don't own the emet (truth) anyway. If we do get upset then sometimes it can mean that it's our own 'truth' that's being challenged rather than Yahweh's.
Conclusion
There is a major difference between gracious discussion and debating...which is why I almost never get involved in debates which I find counterproductive. That's why I, a plain old Plecostomus, stay at the bottom of the tank and just keep on cleaning!