Month Aviv 1:6, Week 1:5 (Chamashee/Teruah), Year:Day 5938:006 AM
Gregorian Calendar: Saturday 5 April 2014
MISHPAT YAHWEH Ia
Judgment Against the Nations
Introduction
Twenty-two years ago Yahweh called me in two visions, which were fulfilled, to minister in the Ukraine, in L'viv (L'vov, Lwów, Lemberg) and Novovolynsk, during which time I shared my testimony of how I came to Messiah with the public. In the first vision I saw a woman with headshawl kneeling down in prayer in a field petitioning Yahweh. Then I saw a vision of a large Christian meeting and at the back of the meeting room was this same peasant woman. When in Ukraine, I was invited to preach at a Baptist Church in Novovolynsk, near the Polish border, and at the end of the meeting, after most of the congregation had left, the woman I had seen in my vision was there, at the back of the chapel, and came forward to thank me for my witness.
On 2 April 2014 at 7 a.m. I was in prayer asking Yahweh for His will for the business of the day when I in vision saw a closed door that suddenly opened. Like a curtain or a veil there was a Ukrainian flag through which one would have to pass in order to get through to the other side. Two visions in quick succession showed me what lay beyond the door, one of a new, beautifully produced (2nd) edition of the Olive Branch followed by volume after volume of cheaply-produced teaching materials in spiral bindings for the work of the ministry at home and abroad.
The vision of the door and the Ukrainian flag troubled me for three days as I sought to know what the vision meant. At first I thought he wanted me to return there but quite soon afterwards I understand that He was commanding me to write a Mishpat or Judgment. The thought horrified me because of the responsibility of having to write such a document and I wrestled hard for two nights. All attempts to start other projects failed as I understood that this was of the highest priority. On the afternoon of the 5 April, after I had spent the morning burning dead wood (the second day I had done this), I write the Mishpat which is being sent out to the world.
Lev-Tsiyon haEfrayim
---
Beit Yosef - House of Joseph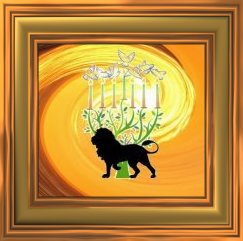 "To Greek and non-Greek, to Learned and Simple"
(Romans 1:14, NEB)
---
MISHPAT I
1. The judgment of Yahweh against the King of Babylon, and the nation of Babylon, and against his princes and their nations, and against all those who say in their heart: 'I am an elohim (god) and have no need of El Elyon (God Most High)', and who have declared in their heart: 'I have established my own laws and have no need of the Torah (Law) of El Elyon (God Most High), or His mishpatim (judgments)' and have declared with swollen and prideful hearts: 'I am my own Torah (Law) and my own Elohim (God)'; who says in his heart, like the ruler of Tyre of old: 'I am sitting on the Throne of Elohim (God) and I am surrounded by the seas on the west and in the east - who, then, can come against me and prevail?' [1]:
2. 'By your cleverness and by deception and by robbery and by blood you have amassed gold and silver. By your skill in trading and in waging war your treasury has continued to increase and with these things your heart has grown more arrogant, your designs more evil, even to the establishment of secret workings with the enemy of all souls: Therefore so says Yahweh-Elohim, who sits upon His Throne and knows no equal: 'I have put you on the scales of judgment and found you wanting, and this is My Mishpat (Judgment) against you:
3. 'Since you consider yourself to be an elohim (god) and are without repentance or shame, I am going to bring judgment against you, by the hand of those you have both courted and deceived, and by the hand of those whom you have robbed, and by the hand of those whose children you have murdered. Behold, I shall draw a sword against your fine words, and they shall defile your glory and bring down your deceit; those whom you have despoiled will throw you down into the grave, and you will die a violent death surrounded by the seas which you sought protection from, you and your princes and the nations you have made an alliance with.
4. 'Will you then say in your heart, 'I am an elohim (god)'? Will you be able to deceive those whom you have beguiled with the craftiness of your lies? See, you are a man and not an elohim (god)! See, you are in the hands of those whose sons and daughters you murdered!'
5. Therefore I, Yahweh-Elohim, have set my hand against the nations, even those nations who do not acknowledge Me; and My glory shall be revealed in my mishpatim (judgments), for I have heard the blood of the martyrs, and the cries of those in prison, and the prayers of those whose families have been despoiled, and I shall hear them. Men shall learn that I am Yahweh, the Sovereign of All, and that My Davar (Word) does not return to me empty. And those who refuse to hear my mishpatim (judgments), or to repent, upon such I shall execute My sentence. And she shall know the fury and the wrath of the One she spurned.
6. The Kings of the West and of the East shall depart out of the Ukrainian lands, and all those in her borders of her house who seek profit through power, and gold, and silver through wickedness, for I have chosen to put My Hand on her, and defend her for My purposes. She shall not become the spoil of Babylon - therefore I will send the plague to the princes, and the powers, and the armies, and all who shed blood or who seek her destruction within her borders, so that men may learn that I am Yahweh, and not for the glory of that nation or for its people. Therefore the design of the King of Babylon is at an end.
7. The day of the House of Israel and the House of Joseph in the nations has come; and those of her House who will come in by her King, even Messiah Yah'shua (Jesus), and who will obey the King's Torah (Law), shall know that I am Yahweh, and rejoice; I shall cleanse her of her bitterness and her oppressions and her sorrows, and heal her, and perfect her in holiness, and bring her shalom (peace) if she will wholeheartedly come to Me and depart out of the ways of the nations. For thus says Yahweh:
"'Cursed is the man who trusts in man and makes flesh his strength, whose heart departs from Yahweh. For he shall be like a shrub in the desert, and shall not see when good comes, but shall inhabit the parched places in the wilderness, in a salt land which is not inhabited.

"'Blessed is the man who trusts in Yahweh, and whose hope is Yahweh. For he shall be like a tree planted by the waters, which spreads out its roots by the river, and will not fear when heat comes; but its leaf will be green, and will not be anxious in the year of drought, nor will cease from yielding fruit.

"'The heart is deceitful above all things, and desperately wicked; who can know it? I, Yahweh, search the heart, I test the mind, even to give every man according to his ways, according to the fruit of his doings.

"'As a partridge that broods but does not hatch, so is he who gets riches, but not by right; it will leave him in the midst of his days, and at his end he will be a fool.'

"A glorious high throne from the beginning is the place of our sanctuary. O Yahweh, the hope of Israel, all who forsake You shall be ashamed.

"'Those who depart from Me shall be written in the earth, because they have forsaken Yahweh, the fountain of living waters.'

Heal me, O Yahweh, and I shall be healed; save me, and I shall be saved, for You are my praise. Indeed they say to me, 'Where is the Davar (Word) of Yahweh? Let it come now!' As for me, I have not hurried away from being a shepherd who follows You, nor have I desired the woeful day; you know what came out of my lips; it was right there before You. Do not be a terror to me; You are my hope in the day of doom. Let them be ashamed who persecute me, but do not let me be put to shame; let them be dismayed, but do not let me be dismayed. Bring on them the day of doom, and destroy them with double destruction!"

(Jer 17:5-18, NKJV).
Amen.

Continued in Part 2 (Ukrainian Settlement)

Endnotes

[1] See Ezekiel 28