8. LETTER FROM AN ANGRY KHAZAR: JUDAH & EPHRAIM'S DESTINY

The doctrine that Israel consists of all the descendants of Jacob who have received Yah'shua (Jesus) as their Messiah (Christ) plus those gentiles who accept the same and are grafted into Israel, is liked neither by Torah-rejecting "orthodox" Christians espousing the erroneous "Replacement Theology", by Messianic Jews who think they alone are the inheritors of the Holy Land, nor by unbelieving Talmudic (for the most part, Khazar) Jews whose feelings towards anyone who accepts the Messiah (or whatever stripe) are most clearly reflected in this letter which I obtained on 15 March 2003:
"Christian State of Israel??? You got to be kidding me. Why would Jews embrace the gutter faith of christerdom. You scumbags have been killing Jews for the last 2000 years and you think that we are going to accept your murderous creed? Let me tell you something: THERE WILL ALWAYS BE A JEWISH NATION, IT DOES NOT MATTER IF WE HAVE OUR HOMELAND, THE JEWISH NATION WILL NEVER BE DESTROYED, NO MATTER HOW JEWS ARE KILLED BY YOU christers & AND YOUR towelheaded PARTNERS IN CRIME."
Of course, the 'Christian churches' of today will not inherit the land of Israel any more than the Messianic Jews who make an artificial and non-biblical distinction between themselves and so-called 'gentile' Christians, because the inheritors will be a singular Israel consisting of all 12 distinct Israelite tribes in the allottments given to them as recorded by the prophet Ezekiel and not just one group calling themselves 'Jews' (Ezek.47-48 - see map to right). There will be no 'Jews' in the Millennium but Israelites who accept Yah'shua (Jesus) as Messiah, amongst whom there will be Judahites (as opposed to 'Jews'), Ephraimites, Manassehites, Benjaminites, and the other tribes.

Both 'Jews' and 'gentiles' acknowledge that the tribes are all mixed either with each other or with the gentiles. This being the case, how can there be twelve separate tribes in their own allottments in the millennial Holy Land as depicted by Ezekiel? Then there are the 'Christians' who claim that the 'Church' and 'Israel' are two separate entities, but when you ask them to identify and point out 'Israel' can show you the Republic of 'Israel' and the mixed bag of Khazars, Ethiopians and others who live there or around the world. Ask them where the 12 separate tribes are and they have no idea. For them a 'Jew' somehow encompasses them all and they don't even consider the Northern Kingdom's dispersion.

If "they are not all Israel who are of Israel" (Rom.9:6-7, NKJV), then what of those who are not of Israel and who say they are? And is it not beyond the realms of possibility that people who say they are one thing - however passionately they may believe it to be so - may not actually be so? Is it unreasonable to posit such a question? In Germany after the war many Turks migrated there seeking work. Today they call themselves Germans of Turkish origin. In a thousand years after further amalgamation would they still use such a distinction? They would probably just call themselves Germans and by intermarriage acquire German surnames. And yet they would not be ethnic Germans.

This is not, I hasten to add, a question of racism. I personally do not care what race people come from. They are all the same to me and I treat them all alike. Pole, Arab, Jew, Turk, German - they are all equal to me. And to Yahweh our Father who is no respecter of persons they are all His spiritual offspring. There are no pure races anymore anyway. We are all mixed. And this is what Yahweh promised Abraham - He said that all the nations of the planet would be blessed by seed, and they have. Through diaspora and various other means the blood of Israel has mingled with all nations and all races. Black, white, brown, or yellow, there you will find the seed of Abraham. There you will find Israel.

I think Yahweh has effected a brilliant coup with makes nonsense of the racism of Jews, Arabs, and anyone else who thinks they belong to a 'master race' or to a 'racial apple of God's eye'. The only people whom God favours are those who love and obey Him. They are the apple of His eye. And yet we are led to understand in Ezekiel that there will be 12 distinct tribes, in Romans that "all Israel will be saved" (Rom.11:26), and in Hebrews (quoting the prophet Jeremiah) that Yahweh will make a covenant with the House of Israel and the House of Judah - with both Houses (Heb.8:8)? Yes, these things are all written, and if you believe in the infallibility of Scripture, as I do, then you are forced to deal with them. And finally, the Book of Revelation tells us that the New Jerusalem will have 12 gates for each of the Twelve Tribes of Israel, proving that they are destined to remain as separate entities into the eternities (Rev.21:12-13).

You and I may not have labels on us but I promise you that if you are a genuine believer in the Lord Yah'shua (Jesus) and you obey Torah that you are marked by heaven as belonging to one of the Twelve Tribes, whether by descent or by adoption. If you are a Torah-observant Christian you are Israel - and there is no other Israel, republics or religious groups of the same name notwithstanding. You may not be in the Holy Land right now but that doesn't mean you aren't going to be there some millennial day. And a day will come when the Master will separate us out by our tribes and command us to take up our inheritance in that land of our forefather Abraham. And though Talmudic Jews may rant and rave as the writer above did, it will do them no earthly or heavenly good because they will be displaced by haShem if they have not repented and received the true Messiah whom they have reviled, persecuted, and killed. If they receive Him, they will be forgiven. If they do not, they will be cast out of the land which they are illegally occupying, along with all the other heathen who name other gods.
"I say then, has God cast away His people? Certainly not! For I also am an Israelite, of the seed of Abraham, of the tribe of Benjamin. God has not cast away His people whom He foreknew. Or do you not know what the Scripture says of Elijah, how he pleads with God against Israel, saying, "LORD, they have killed Your prophets and torn down Your altars, and I alone am left, and they seek my life"? But what does the divine response say to him? "I have reserved for Myself seven thousand men who have not bowed the knee to Baal." Even so then, at this present time there is a remnant according to the election of grace. And if by grace, then it is no longer of works; otherwise grace is no longer grace. But if it is of works, it is no longer grace; otherwise work is no longer work. What then? Israel has not obtained what it seeks; but the elect have obtained it, and the rest were blinded. Just as it is written: "God has given them a spirit of stupor,Eyes that they should not see And ears that they should not hear,To this very day."

And David says:

"Let their table become a snare and a trap, A stumbling block and a recompense to them. Let their eyes be darkened, so that they do not see, and bow down their back always." I say then, have they stumbled that they should fall? Certainly not! But through their fall, to provoke them to jealousy, salvation has come to the Gentiles. Now if their fall is riches for the world, and their failure riches for the Gentiles, how much more their fullness! For I speak to you Gentiles; inasmuch as I am an apostle to the Gentiles, I magnify my ministry, if by any means I may provoke to jealousy those who are my flesh and save some of them. For if their being cast away is the reconciling of the world, what will their acceptance be but life from the dead? For if the firstfruit is holy, the lump is also holy; and if the root is holy, so are the branches. And if some of the branches were broken off, and you, being a wild olive tree, were grafted in among them, and with them became a partaker of the root and fatness of the olive tree, do not boast against the branches. But if you do boast, remember that you do not support the root, but the root supports you. You will say then, "Branches were broken off that I might be grafted in." Well said. Because of unbelief they were broken off, and you stand by faith. Do not be haughty, but fear. For if God did not spare the natural branches, He may not spare you either. Therefore consider the goodness and severity of God: on those who fell, severity; but toward you, goodness, if you continue in His goodness. Otherwise you also will be cut off. And they also, if they do not continue in unbelief, will be grafted in, for God is able to graft them in again. For if you were cut out of the olive tree which is wild by nature, and were grafted contrary to nature into a cultivated olive tree, how much more will these, who are natural branches, be grafted into their own olive tree? For I do not desire, brethren, that you should be ignorant of this mystery, lest you should be wise in your own opinion, that blindness in part has happened to Israel until the fullness of the Gentiles has come in. And so all Israel will be saved, as it is written:

"The Deliverer will come out of Zion, And He will turn away ungodliness from Jacob; For this is My covenant with them,When I take away their sins."

Concerning the gospel they are enemies for your sake, but concerning the election they are beloved for the sake of the fathers. For the gifts and the calling of God are irrevocable. For as you were once disobedient to God, yet have now obtained mercy through their disobedience, even so these also have now been disobedient, that through the mercy shown you they also may obtain mercy. For God has committed them all to disobedience, that He might have mercy on all. Oh, the depth of the riches both of the wisdom and knowledge of God! How unsearchable are His judgments and His ways past finding out! "For who has known the mind of Yahweh? Or who has become His counselor?" "Or who has first given to Him And it shall be repaid to him?" For of Him and through Him and to Him are all things, to whom be glory forever. Amen"

(Rom 11, NKJV).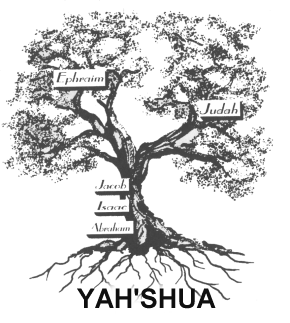 This then is the warning to all true Jews - the Judahites, or descendants of Abraham by race and not by religion - if you don't repent and accept Yah'shua (Jesus) as your Messiah, you will as a Branch be cut off (above left). For Israel - as Ezekiel, Jeremiah, and Paul clearly teach - consists of both Judah and Ephraim (above right), which become a single Tree or House of Israel. And if you are neither Judah nor Ephraim, and yet are claiming to be so, you will be exposed as liars and counterfeits unless you repent and be grafted into the Tree of Israel in the manner designated by Yahweh.
So how will all Israel be saved? Isn't that obvious? Only those who believe in Yah'shua the Messiah (Jesus Christ) will be saved, and only those who believe in Yah'shua the Messiah (Jesus Christ) are Israel. It follows, then, that all Israel will be saved since all true believers are saved. And it also follows that all those who receive the Messiah are natural Israelites and those who do not are not ... once their opportunity to repent has passed. And since none of us know when that will be, it is best we leave such judgment in the hands of the Elohim (God).
---

9. AN ARROGANT CHALLENGE AND A HUMOROUS RESPONSE

I get all kinds of hate mail from both Talmudic and (sadly) sometimes Messianic Jews who are offended because I challenge the history of their national origin. One man recently wrote to me and without even introducing himself or trying to make human contact, decided he would lecture me as a teacher and I, as his unwilling pupil, to prove that he knew more than I did about Torah and that therefore I had no business observing it. He demanded, therefore, that I tell him the three types of Jew. To which I replied:
"Orange Jews, Apple Jews, and Apricot Jews"
I never heard from him again.

For some good Jewish humour, see my Humour section in Meditations and Reflections section. Jews can have a wonderful sense of self-deprecating humour which I admire.
---

---
This page was created on 28.03.2002

Last updated on 30.09.2011

Copyright © 1987-2011 NCAY - All Rights Reserved
---