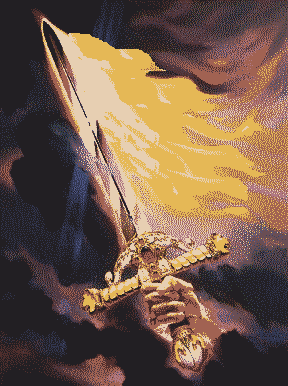 The Messiah did not begin His ministry until John the Baptist had been arrested (Mark 1:14). You will recall that the rôle of the Baptist was to prepare the way for the Messiah by calling people to make teshuvah (repent) (Mark 1:2-8). The end-time apostles will not be sent into the field to gather the harvest until their repentance is complete. Then - and only then - comes the true Ruach (Spirit) Baptism. Only then can an apostle lift the Sword of the Ruach (Spirit) in full apostolic power - that same power which the first apostles possessed.
That moment has not arrived yet, not even for those apostles who have already been called. We are still being purged. But the call to gather these men has been sounded. A tremendous amount has already been done as you will discover whilst reading this extensive website.
Once John had been arrested, Yah'shua (Jesus) declared in public that the time had come (Mark 1:14-17). That time of "arrival" must have come for each and every man before they are gathered for public ministry, as Simon, Andrew, James and John were in Mark 1:16-20. In the meantime the true and the false apostles are mingling in various assemblies and conferences, waiting for their call to gather, hoping - somtimes against all hope - that they have found the right assembly. The events of the last years - the many "apostolic gatherings" - has, sadly, led to much disappointment.
The remainder of the first chapter of Mark is about the dramatic events of Messiah's ministry which included driving out demons, healing the sick, raising the dead and - of course - bringing the message of salvation to the people in power. And when the end-time apostles are sent out into the world and similar things happen, the people will declare: "What does this mean? A new teaching?" and they will recognise the true authority manifested (Mark 1:27).
Gathering the apostles is one thing - but you can't have apostles unless you first have a Messianic Community (Church) that recognises them ...