9. YAHWEH'S PLAN FOR
INNER HEALING AND DELIVERANCE:
The Problem of Demons
9.1. In what condition do most people come to Yahweh? (Isa.1:4-6; Ps.38:3-8,18)
Yahweh has not left this condition of those who come to Him unanswered.
9.2. What does He desire to do for us? (Ps.23:3a)
Man is made up to two basic parts: his invisible spirit and his visible physical body (flesh), which together constitute what the Bible calls a 'soul'. Just as the physical body has many organs, so the spirit has many components or spheres.
The spirit body of man deals with the spiritual realm. It is that part of man in which the Ruach haQodesh (Holy Spirit) dwells. The spiritual body or 'upper spirit' may be divided into three parts -- intuition, conscience and fellowship. The "conscience" is the door to your spirit. It is that which tells us right from wrong, by which we feel guilt. Sin makes the conscience dull and not sensitive to the Ruach haQodesh (Holy Spirit) by searing it with a hot iron. The conscience is the door by which we open our spirits to the Ruach haQodesh (Holy Spirit). (See Christopher C. Warren, Body, Soul and Spirit, NCP, 1998).
The "intuition" is the knower, that by which we perceive or sense things or circumstances. The "fellowship" area of our spirit is that which is made to have fellowship with Yahweh. It is impossible to fellowship without honesty and openness.
The psychic body of man is that which may be said to deal with the emotional and mental realm of man. It is the seat of man's personality -- his intellect, his emotions and his will. It is with his mind that a person understands.
The physical body is that part of man which deals with the physical realm. It is dominated by the five senses and is the vehicle by which we communicate to the outside world.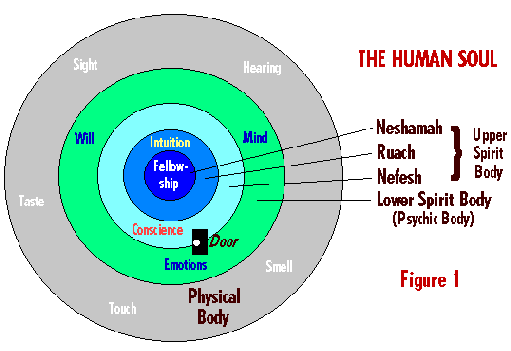 Those who come to Yahweh from a life of sin are filled with brokenness, emotional scars, hurts and rejection. They are bound and imprisoned to many habits and thought patterns. Many are still full of anxiety, worry and depression. They are benumbed, badly crushed and mentally confused. When we come to Yahweh, our sin of rejecting Him is forgiven. We are born again; we receive a new life and a new heart and are taken into His Kingdom. However, there are many areas in our life that have been destroyed by sin. These areas are in need of restoration and transformation by the Ruach haQodesh (Holy Spirit).
9.3. In fact, how does Paul (Sha'ul) say that we are transformed? (Rom.12:2)
This renewing of the mind takes place in two ways. The first is by the washing of the water of the Word through having our mind bathed and saturated in the Word of Yahweh daily. The second is by the inner healing restoration of the soul and the deliverance from anything to which the believer is held captive. Yahweh has provided a ministry for this type of renewing by the Ruach (Spirit). It is found written in the Book of Isaiah (Yeshayahu) the prophet. It is from these Scriptures that Yah'shua (Jesus) quoted when He began His own ministry.
9.4. Read Isaiah 61:1-4. By what power are the ministries listed in this passage accomplished?
It is these ministries listed in the Scripture quoted above that the Ruach haQodesh (Holy Spirit) is upon us to accomplish. It is for this that He has anointed us. It is in this passage that we find the basis for the ministry of inner healing and deliverance for the Body of Messiah (Christ). As we study this passage carefully, we find that there are three main areas involved in this ministry:
1. Healing of the memories -- "Binding up the broken-hearted, setting at liberty those that are bruised."
2. Deliverance -- "proclaiming deliverance to captives, the opening of prison to those who are bound."
3. Breaking and renouncing of curses which are passed down from generation to generation -- "raising up the former devastations, repairing the desolations of many generations."
In this study, we will take each of these areas separately by going over the scriptural basis for each one. It is written in Malachi (Mal'aki) and the Gospel of Matthew (Mattiyahu) that before the coming of the great and terrible day of the Yahweh, Elijah (Eliyahu) the prophet will be sent to restore our hearts (Mal.4:5-6). Obadiah (Obadyah) says, "The deliverers will ascend Mount Zion (Tsiyon) to judge the mountain of Esau (Esaw), and the kingdom will be Yahweh's" (Obad.1:21). This prophetic ministry of inner healing, deliverance and restoration of the individual believer is part of the great Restoration, which is taking place in the Body of Messiah (Christ) today and is an essential part of the ministry of NCCG/BCAY. It is the preparation of the Ruach (Spirit) for the revealing of Yahweh. Before the glory of Yahweh can be revealed, a "Highway of Holiness" must be prepared for Him.
9.5. What is the cry going forth at this hour? (Isa.40:1-5)
a.
b.
c.
d.
e.
f.
9.6. What is being said to the Church/Messianic Community by the Ruach (Spirit)? (Isa.57:14)
It is this preparation that inner healing and deliverance brings about in the life of the believer.
9.7. What kind of Church/Messianic Community is Yah'shua (Jesus) coming for, and how will she be cleansed? (Eph.5:26-27)
a.
b.
9.8. We see a picture of this inner working in the offering of the burnt sacrifice. This sacrifice was not one for the atoning of sins but one offered to purify those believers who desired fellowship with Yahweh. This was not a compulsory offering but a free-will offering. It was known as the fellowship offering. What did the priests do with the "inner parts" of this offering? (Lev.1:9)
9.9. What did Yahweh desire of the innermost parts? (Ps.51:6-7)
9.10. Whose responsibility is it to administer this inner healing and deliverance to the believers? (Ezek.34:2-4)
9.11. What does Yahweh desire to have proclaimed in the Church/Messianic Community? (Isa.61:2)
It might be noted here that the "favourable year of Yahweh" is "the year of Jubilee". In this time of Jubilee in Israel, everything was returned to its rightful owner; and each man received back his inheritance. Yah'shua (Jesus) desires that the year of Jubilee be proclaimed in His Church/Messianic Community that they might receive back what the enemy (Satan) has destroyed and taken from them.
9.12. What exhortation do we have from the prophet Isaiah (Yeshayahu)? (Isa.52:1-2)
a.
b.
c.
I. Inner Healing -- Healing of the Memories
The brain has one billion cells for storage of information and memories. People who are mentally healthy bury unpleasantries but will go through their lives reacting to certain situations and not realising why. Back in the mind is buried a memory that is distasteful which brings the reaction. Everyone has a reason for reacting the way he does.
9.13. What does Yahweh desire to do for these wounds? (Isa.1:6)
9.14. Likened to what is Yah'shua's (Jesus') Name? (Song of Sol.1:3)
We find that in Yah'shua's (Jesus') Name abides the healing ointment.
9.15. If many of these hurts and bruises are hidden in our memory and forgotten, how can we know them? (Dan.2:22)
9.16. If we pray and ask Yahweh to reveal what is hidden there, what will He do? (Dan.2:23)
9.17. What gift is vital to this ministry? (1 Cor.12:8)
9.18. The basis of this ministry is illustrated by one sentence in the Book of James (Ya'aqob)). What is it? (James 5:16)
9.19. What must the attitude of the person who has been hurt be in order to receive this healing? (Eph.4:32)
9.20. What provision did Yah'shua (Jesus) make for this inner healing of broken hearts in the atonement? (Isa.53:4)
Any provision in the atonement must be appropriated by faith. Yah'shua (Jesus) died for the sins of the world; yet each person must individually appropriate that forgiveness by faith, or they cannot be saved. Yah'shua (Jesus) bore our sickness, and with His stripes we are healed (Isa.53:5; 1 Peter 2:24). Yet, we must appropriate this healing by faith in order to be healed. Likewise, He Himself bore our griefs and carried our sorrows (Isa.53:4). Yahweh has provided a ministry through which we may receive this inner healing.
9.21. What three things does Yahweh desire His shepherds (pastors) do in this area of inner healing? (Isa.61:1-2; Luke 4:18)
a.
b.
c.
9.22. What will Yahweh give to replace the mourning? (Isa.61:3)
a.
b.
9.23. What will Yahweh give to replace the spirit of heaviness or fainting? (Isa.61:3)
9.24. What promise of this inner healing do we have from Yahweh? (Isa.57:17-19)
II. Deliverance
9.25. What provision did Yah'shua (Jesus) make for deliverance on the cross? (Heb.2:14)
9.26. What did Yah'shua (Jesus) say to do with demons? (Mark 3:14-15)
9.27. By what authority are demons cast out? (Mark 16:17)
9.28. How can a person be captured by a demonic force and held in bondage? (Prov.5:22)
When a person comes to Yahweh out of a life of wickedness, these cords need to be loosed so the captive can go free.
9.29. Why does a believer continue to remain in bondage after he has been "saved"? (Prov.5:23)
Because of a lack of instruction and ignorance, many children of Yahweh are held in bondage. Because a person has sinned in an area so many times, he can be brought into captivity. According to this scripture, iniquities capture the wicked and he will be held with the "cords of his sins" (Prov.5:22). Did not Yah'shua (Jesus) say that He came to set the captives free? In order to be released from this captivity, these cords of sin must be confessed and cleansed in the blood of Yah'shua (Jesus).
9.30. What warning do we have in Isaiah (Yeshayahu)? (Isa.5:18)
9.31. What are the "cords" by which we drag this unconfessed sin around? (Isa.5:18)
9.32. Why does the unrenewed mind stay corrupted? (Eph.4:22)
9.33. What does Yahweh say about those who try to hide and conceal their transgressions? (Prov.28:13)
9.34. What are we exhorted to do? (Prov.28:13)
9.35. We see this practiced in the early Messianic Community (Church) -- what happened? (Acts 19:18)
Therefore, we see we must be honest and truthful about the hidden things in our lives. As we confess our faults to Yahweh and to those who are shepherding us, these cords will be broken; and we shall be set free from captivity. The following diagram illustrates some of the "cords of sin", which hold a person captive to a demonic force: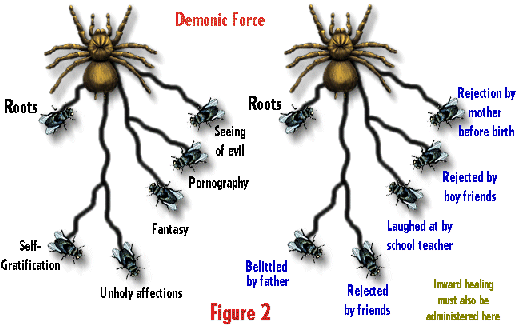 These specific sins, which have been committed, must be confessed as the Ruach Elohim (Spirit of God) reveals them, and forsaken. For a demonic force that has its roots in hurts and wounds, each person who has inflicted hurt or pain must be forgiven from the heart of the believer. The key to this deliverance is to first get the roots out by confession and forgiveness and to then cast out the demonic spirit that is involved. If all the roots have been got out by the minister responsible for the deliverance there is no reason why the person will not be delivered. It is only the débris of unconfessed sin and the harbouring of unforgiveness that gives the demonic spirit legal right to hold on.
9.36. Yah'shua (Jesus) describes this concept by means of a parable. What does Yah'shua (Jesus) say we are to do first? second? (Luke 11:20-22)
a.
b.
This "taking away" of the strong man's "armour" on which he has relied is the breaking or removing of the roots or cords of unconfessed sin.
9.37. What did Yah'shua (Jesus) say that the casting out of demons signified? (Luke 11:20)
9.38. What are three other reasons that a person can be held captive to a demonic force? (2 Pet.2:19; Matt.18:34-35; Deut.5:9)
a.
b.
c.
In many cases children, because of the sins and iniquities of their fathers (or mothers), are born with a demonic hold in their life in certain areas. Children who were unwanted can be born with a spirit of rejection. Those whose parents have been involved in sexual immorality can be born with various spirits of lust. A father who has an extremely violent spirit of anger can pass it down to his children.
9.39. What happens to those who harbour unforgiveness? (Matt.18:34-35)
9.40. What must the believer do in order to get released from the "torturers"? (Matt.18:34-35)
9.41. If you do not forgive others, what will Yahweh do for you? (Matt.6:14-15)
9.42. As we confess these things, what happens? (Eph.4:22-24)
a.
b.
c.
9.43. What are the three characteristics of the new self? (Eph.4:24)
9.44. What two things are a sure sign of demonic activity? (James 3:14-16)
9.45. What else can bring demonic activity? (Heb.12:15)
All bitterness must be confessed and forsaken.
9.46. What are two ways that we can determine what a person is held in bondage by? (Heb.4:12-13; Prov.11:9 and Dan.2:21-23; Ps.13:3-4; Ps.18:28; 1 Cor.4:5)
a.
b.
As we study the Word (Scriptures), we discover keys that will unlock the doors of those who have been imprisoned. It is ignorance of the Word (and sometimes open rebellion or disbelief) that can keep a man or woman bound. Knowledge of the Word coupled with the supernatural revelation of the Ruach (Spirit) will bring detection of these forces.
9.47. What two revelation gifts of the Ruach (Spirit) are vital for this ministry? (1 Cor.12:8,10)
a.
b.
9.48. What has the Ruach Elohim (Spirit of God) anointed us for in the area of deliverance? (Isa.61:1)
a.
b.
III. Breaking of Curses
9.49. What provision did Yah'shua (Jesus) make for us in the atonement? (Gal.3:13)
9.50. Why did He become a curse for us? (Gal.3:14)
9.51. What is the "blessing of Abraham"? (Rom.4:6-8)
a.
b.
c.
When Adam sinned, the curse came upon the earth. Freedom from this curse was offered to Israel by Elohim (God) if they would obey Him. Final deliverance from the curse that is in the earth was provided for by Yah'shua (Jesus) through His atoning work on the cross. We, as Christians, must appropriate this provision by faith just as we do healing, forgiveness of sins, deliverance, and so on.
9.52. What did Yahweh set before Israel? (Deut.30:15,19)
a.
b.
9.53. Why did Yahweh say the curse would come upon Israel? (Deut.30:17-18)
We see, then, that deliverance from this curse was only provided as Israel was faithful to Yahweh.
9.54. Upon whom did Yahweh say that this iniquity and curse would come? (Ex.20:5)
9.55. What did Yahweh say about those who kept His commandments? (Ex.20:6)
9.56. What are some other sins that Yahweh names that will bring curses upon your family? (Deut.27:15-26; Deut.28:45)
a.
b.
c.
d.
e.
f.
g.
h.
i.
j.
k.
l.
9.57. What will be the effects of these curses on future generations? (Deut.28:46)
For those who have hated God and turned from Him or sinned in the ways mentioned previously, curses have been passed down upon them, generation to generation. However, many children of God live under these curses unknowingly.
9.58. How are we alienated from the life of God and His blessings? (Eph.4:17-18)
Through the knowledge of the Word and the appropriation of deliverance from these curses by faith in the finished work of Yah'shua (Jesus) on the cross, the power of these curses can be broken over the lives of those who are under them. As we examine the Scriptures, we find a list of these curses given in Deuteronomy. From studying them, we can quickly discern when a person is suffering from one of them.
Study Deuteronomy 28.
9.59. List some of the curses of poverty. (Deut.28:16-20,29,33)
a.
b.
c.
d.
e.
f.
g.
h.
i.
j.
9.60. How can you detect if a physical infirmity is a curse? (Deut. 28:27,35,58-61)
a.
b.
c.
d.
e.
f.
g.
h.
Notice that the majority of these illnesses are incurable using natural medicine.
9.61. What mental problems are the result of curses? (Deut.28:28,34,65-67)
a.
b.
c.
d.
e.
9.62. Of what curse do the following verses speak? (Deut.28:36,43,49-50)
9.63. What curse is mentioned in verse 30? (Deut.28:30)
9.64. What is the curse mentioned in the following verse, and what are the effects? (Deut.23:2)
The effects of this curse can usually be detected in those Christians who never feel fully accepted by the believers.
9.65. If you do serveYahweh but do it with complaining and murmuring, what will happen? (Deut.28:47-48)
By revelation of the Ruach (Spirit), causes for these curses can be discerned; and the sin and effects of the curse removed from the believer and his descendants forever.
9.66. What reference is made to this ministry in Isaiah (Yeshayahu)? (Isa.61:4)
a.
b.
c.
Conclusion
9.67. In this aspect of inner healing, deliverance and liberation from curses, what has Yahweh become to us? (Hosea 11:4)
9.68. As a result of receiving this ministry into our lives, what will be recognised about us and our descendants? (Isa.61:9)
9.69. Having received this ministry as part of our redemption rights in Yah'shua (Jesus), what will happen in your soul and why? (Isa.61:10)
Write down and memorise the following scripture: Isa.61:1-2a
Next Bible Study in the Series | Parallel Sermon to this Study