The Definitive Story Told

Inside a New Age Mormon-Essene Fertility Cult


THIS CULT WILL WRECK YOUR MARRIAGE AND FAMILY!
---
Original Scanned SAI Documents
Because of the huge amount of harddisk space scanned images take up we are only able to give a few selected items here. We have picked out some of the more radical documents by SAI leaders. More are available upon request and as time and server space allows.
---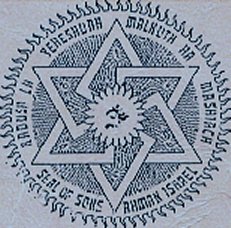 The original SAI logo scanned from the back page of the second edition of The (Abridged) Oracles of Mohonri. It consists of a sun within which is a Hebrew Star of David rearranged into a six-armed Swastika. In each of the points of the stars are astrological symbols - Saturn (at the top), Jupiter, Venus, the Moon, Mercury and Mars. Between the points and in a watery matrix lie the symbols of the 12 constellations of the Zodiac, two between each point. In the centre is the Buddhist Lotus and within that lies the Sanskrit AUM character of Hinduism and Busshism. The text reads: "KADUSH LA YEHESHUAH MALKUT HA MESSIACH" (translated from the Hebrew meaning, literally, "Holiness to Yah'shua (Jesus) Saviour of the World") and "SEAL OF SONS AHMAN ISRAEL". If this logo is a symbolic condensation of SAI beliefs then it may be described as a syncretism of Zoroastrianism, Christianity, Astrology, Judaism, Buddhism and Hinduism. Its core is represented by the symbol at the centre - the Hindu AUM or OM, the Primal Sound of paganism and the false Nimrodian-derived religions, from which Mormonism derived its own god-name "Ahman", changed subsequently by Clark to "Aum" or "Om". In the true faith of the Bible a Hebrew YOD lay at the centre of the Star of David, being the first letter of the Name of God, Yahweh. But Clark has dismissed the Deity of the Bible who he demeans as an unredeemed gnostic "Demiurge" and had replaced His Hebrew symbol with a PAGAN HINDU one. Thus SAI's own original Seal shows its Hindu provenance.
---

"Letting people believe there may be some unorthodox sexual practice in a higher order betwixt here and godhood is an effective "scare tactic" that psychologically prepares people to begin to think in a new and different manner." [Gilbert Clark, aka Davied Israel]
---

"If one does away with Matriarchal Marriage [polyandry], & by this I mean marriage to a Patriarch who has at least 2 other spouses, then one will rob a Holy Order [SAI] of its balance of light, & it would cease to be. Homosexuality could not be cured either, for sufficient Chochmah energy can never be absorbed man to man, but must be ingested via a female. Yang plus yang equals yin. Male to male equals the feminization of those males. Only from yin can yang come. Only from a woman can a man absorb masculine energy to the proper degree. As the genitals of the man are the organ to transmit Ra-Shin light to a female, so the breasts are the female counterpart which transmits Ra-Mem light. They both protrude from the body in order to fulfill this function.
"The ordinance to cure homosexuality is to take the man back to the beginning, back to his birth symbolized by Firstborn Baptism. The water is consecrated thru union [sexual intercourse] therein..." [Gilbert Clark, aka Davied Israel]

"...Some light can be absorbed by a homosexual man just by social contact in a Firstborn community, but not enough to actually change a well rooted feminized soul. By sleeping in the aura of a Matriarch, more light can be gleaned, but only thru actually sucking [the Matriarch's breasts] can enough be absorbed, & even this takes time. As this ordinance is repeated time & time again, the "child" will find himself reverting back to infancy during this feeding on light, & will eventually find himself maturing, rewalking the steps of adolescence that terminate in sexual feelings arising from the breast feeding instead of maternal ones. This marks the time of healing.
"These are the things the Lord has taught me concerning the cure of homosexuality. I know without a shadow of a doubt that such can not work without endowed women becoming true Matriarchs thru living Messianic [mixed] Marriage laws." [Gilbert Clark, aka Davied Israel]
---

"I never said Priesthood had to be transmitted sexually, only Patri-Matriarchal Priesthood."

"The Patriarchal Priesthood is not automatically given thru marriage, but must be given in a very special way under very special circumstances. There is a certain prayer or body posture, as well as a certain uttering of a divine name jointly by both, in order for this Priesthood to be passed on. The laying on of hands only sets someone apart to receive such, in the same way as a Priesthood blessing on a couple is only the first step of their marriage sealing which is completed then the two become as one." [Gilbert Clark, aka Davied Israel]
---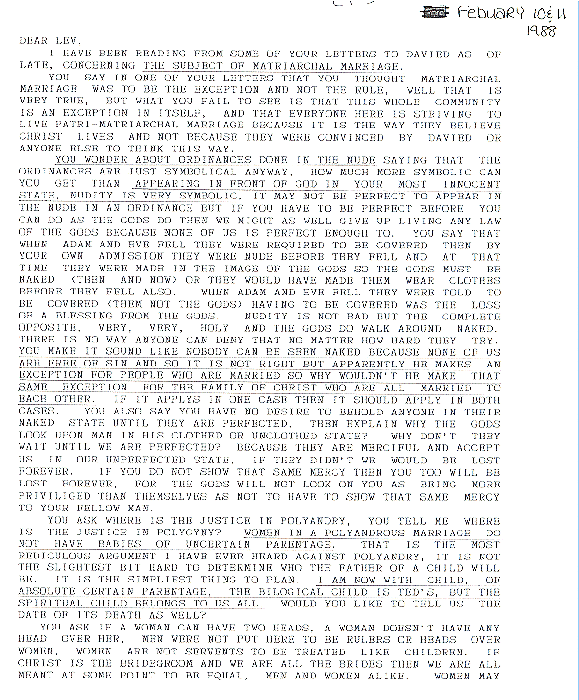 The first page of a letter from Faith, first wife of Gilbert Clark [aka. Davied Israel], 10 & 11 February 1988, confirming the practice of nude ordinances, polyandry, denial of male headship, and belief in, and practice of, polytheism.
---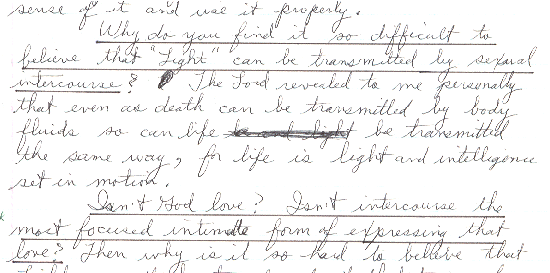 "Why do you find it so difficult to believe that 'Light' can be transmitted by sexual intercourse? The Lord revealed to me personally that even as death can be transmitted by body fluids so can life be transmitted the same way, for life is light and intelligence set in motion.
"Isn't God love? Isn't intercourse the most focused intimate form of expressing that love?..." [Robert (Bob) Cummins, 30 December 1988, male concubine to Hava Pratt (aka Jean Poulsen & Hava Bryant), co-founder of SAI]
---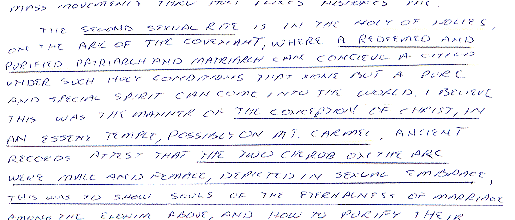 "THE SECOND SEXUAL RITE IS IN THE HOLY OF HOLIES, ON THE ARK OF THE COVENANT, WHERE A REDEEMED AND PURIFIED PATRIARCH AND MATRIARCH CAN CONCEIVE A CHILD UNDER SUCH HOLY CONDITIONS THAT NONE BUT A PURE AND SPECIAL SPIRIT CAN COME INTO THE WORLD. I BELIEVE THIS WAS THE MANNER OF THE CONCEPTION OF CHRIST, IN AN ESSENE TEMPLE, POSSIBLY ON MT.CARMEL. ANCIENT RECORDS ATTEST THAT THE TWO CHERUB ON THE ARC WERE MALE AND FEMALE, DEPICTED IN SEXUAL EMBRACE, THIS WAS TO SHOW SOULS OF THE ETERNALNESS OF MARRIAGE AMONG THE ELOHIM [gods] ABOVE..." [Gilbert Clark, aka Davied Israel]




This page was created on 14 April 2000
Last updated on 29 April 2000
Copyright © 1987-2008
New Covenant Ministries - All Rights Reserved