RESOURCES
5-144000
A
B
C
D
E
F
G
H
I
J
K
L
M
N
O
P
Q
R
S
T
U
V
W
Y
Z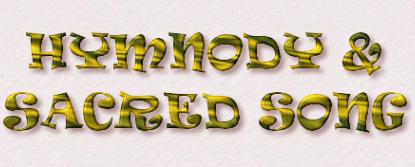 NCAY HYMNS

4. There is No Sweeter Ring

(Christopher C. Warren)

Second (Sacred Name) Edition, 2002
First Edition, 1992, Songs of the New Covenant, Vol.3, #126

---

There is No Sweeter Ring was written in Oslo, Norway, in 1991 to the Norwegian Gospel melody, Frelser hÝr meg (Saviour Hear Me). It's theme is praising Yah'shua the Messiah (Jesus Christ) and total comitment on the part of His talmidim (disciples).

---

CHORUS
There is no sweeter ring,
there is no song I'd rather sing;
Than the song of my Saviour dear,
Yah'shua, my King

1. I'll sing to His holy Name,
Yah'shua ever the same;
Master from all eternity,
He who suffered, bled, and died for me:

2. Who could ever praise with timid voice,
He who took the most painful choice;
To break His heart for you and me
on Calvary.

CHORUS

3. Love never won a victory
So great as Yah'shua won for me;
So, let us sing, "Hallelujah!"
Praise His Name, Holy Messiah!"

4. There is no greater prize in life,
no better way from pain and strife;
Than the arms of Yah'shua, Christ,
Son of Yah.

CHORUS

5. I'll sing day and night to Thee,
I'll sacrifice my life for Thee;
I'll live by Your every Word,
Master Yah'shua.


This page was created on 17 March 2002
Last updated on 13 February 2017
Copyright © 1987-2017 - NCAY - All Rights Reserved