RESOURCES
5-144000
A
B
C
D
E
F
G
H
I
J
K
L
M
N
O
P
Q
R
S
T
U
V
W
Y
Z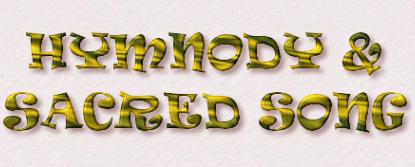 NCAY HYMNS

3. Pride Ruined Me

(Christopher C. Warren)

Second (Sacred Name) Edition, 2002
First Edition, 1992, Songs of the New Covenant, Vol.3, #107

---

Pride Ruined Me, one of the more unusual NCAY songs, was written to the tune a slow-moving Elvis Presley love song -- unusual inasmuch as most early New Covenant hymns and songs were almost exclusively written to classical melodies.

---

1. Pride ruined me,
it crowned me with deceit;
Then Yah'shua came unto me
and washed my feet.

2. Come Yah'shua,
into my lonely heart;
And fill it with Your love
forever more.

My soul cried
"Save me, dear Yahweh,
"else I shall die;
"I -- have -- no place
to go -- than Thee":

3. He said to me:
"My blood will make you free;
"take up your cross at once,
and follow Me."

4. O happy day!
When Yah'shua showed me the way;
I'll love Him all my days,
and praise His Name!


This page was created on 17 March 2002
Last updated on 13 February 2017
Copyright © 1987-2017 - NCAY - All Rights Reserved