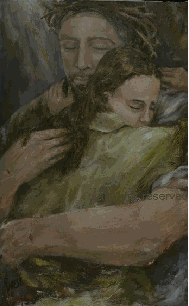 One of the most talked-about words in the Churches and Assemblies - and indeed the world - is love, but how quickly that word gets distorted into vague and mushy meaninglessness. Love is certainly a deep and powerful inner moving force but it is not emotions themselves. Emotions are one expression only. However, the same emotions may equally well be expressed by other things that have little or nothing to do with true ahavah (love).
Ahavah (love) is true teachings or Torah in action. The end-time Messianic Community (Church) must not only manifest the apostolic gifts of authority and authentic teaching but it must be possessed of divine ahavah (love). That ahavah (love) is well defined by the apostle Paul and includes patience and long-suffering. It is free of malice and the desire to control, dominate or manipulate other people. There are many false apostles riding the wave of a megalomanic desire for wealth, popularity and power. True apostolic power exalts Elohim (God), not man, and certainly not the apostles. The apostolic walk is one of humility and subjection to Messiah.
The end-time Messianic Community (Church) must be an apostolic gathering of ahavah (love) which fills its vessel to overflowing. And that vessel must be authentic teaching. It's how Yah'shua (Jesus) started His ministry, before the miracles started. He preached the undiluted, authentic Davar (Word), telling people to make teshuvah (repent) because the Kingdom of Heaven was close by (Mark 1:14-15). He preached and demonstrated the spirit of prophecy in action (Mark 1:21ff).
That is where we stand today in 2017. The end-time leaders at NCAY have brought forth powerful, authentic teachings and been blessed with the spirit of prophecy to uncover much of what has been hidden by false traditiony but we are nowhere near where we need to be yet to be fully anointed apostles.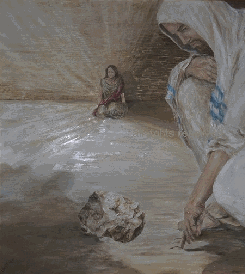 The end-time Messianic Community (Church) has many accusers, all too anxious to cast stones at it. It knows that has been an adulterer, fornicating with the world and with false tradition. But of that it is truly repenting and is casting off the false doctrines and practices that gave grounds for its execution.
This little gathering - the New Covenant Assemblies of Yahweh (NCAY) - has been attacked by packs of wolves in sheep's clothing year after year bearing stones of accusation. It knows it's a sinner but it also knows that its repentance has led to its forgiveness. More important than that, it has been given an impossible (in human terms) call - a call to establish the end-time Messianic Community (Church). This call it received many, many years ago - back in 1984, in fact, and it has been preparing for its mission ever since.